Republican National Committee chairman Reince Priebus dismissed the speculation surrounding a possible Paul Ryan GOP nomination Sunday. Speaking on CNN's "State of the Union," Priebus told host Jake Tapper that a Ryan nomination is "highly highly unlikely."
"I think our candidate is someone who is running," he said, adding, "But even if something like that were remotely possible, that candidate would actually have to have a floor operation and an actual campaign going on with the delegates to make something like that possible. And Paul's not gonna do that."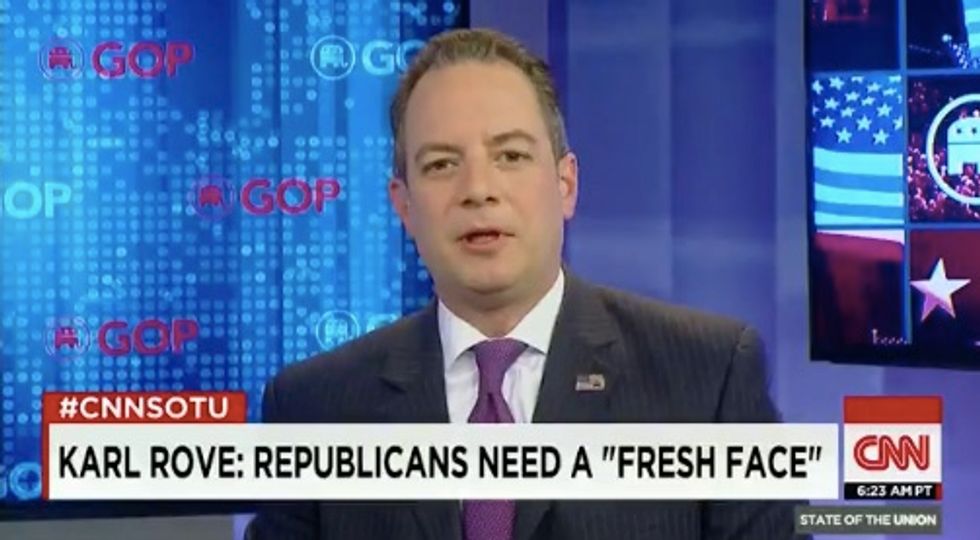 Image source: CNN
Former White House Deputy Chief of Staff Karl Rove suggested on Hugh Hewitt's radio show Thursday that a "fresh face" picked at the convention may be the thing to unite the currently divided GOP.
Talk of a possible Ryan nomination began circulating this week after Politico reported Thursday that many Cruz supporters in Wisconsin would much prefer the House speaker to run in the Texas senator's place.
Priebus noted Sunday that "clearly there's a lot of information out that that people are spreading around," which has caused "a lot of confusion" among Republican voters.
In response to a question Tapper asked regarding Republican front-runner Donald Trump's controversial "tone and tenor," the RNC chair responded by saying, "we're in the middle of a pretty tight race right now," claiming that at this point, it remains uncertain who the GOP nominee will be.
Watch:
RNC chair Reince Priebus on a possible Paul Ryan nomination: "Our candidate is someone who is running" #CNNSOTU https://t.co/gY5ydLTUdE

— CNN (@CNN) April 3, 2016