Former Secretary of State Hillary Clinton tore into her Democratic primary opponent and two potential Republican opponents in an interview with Politico.
"He's a relatively new Democrat, and, in fact, I'm not even sure he is one," Clinton said of Sanders. "He's running as one. So I don't know quite how to characterize him. I'll leave that to him, but I know there's a big difference between Democrats and Republicans."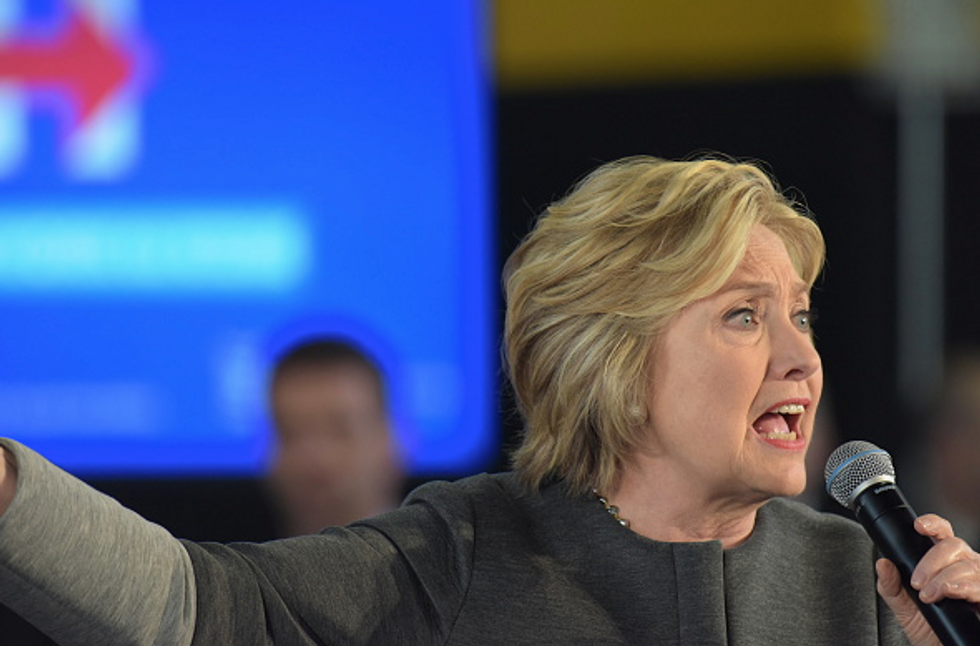 Candidate Hillary Clinton speaks passionately during town hall. Democratic presidential candidate Hillary Rodham Clinton held a town hall meeting at Medgar Evers College auditorium in Brooklyn sponsored by Congresswoman Yvette Clarke. (Andy Katz/Pacific Press/LightRocket via Getty Images)
The interview, posted Wednesday morning, occurred before Clinton's loss to Vermont Sen. Bernie Sanders in the Wisconsin primary, the latest in a string of Sanders wins.
"I know that Senator Sanders spends a lot of time attacking my husband, attacking President Obama, you know, calling President Obama weak and disappointing, and actually making a move in 2012 to recruit somebody to run a primary against him," Clinton continued. "I rarely hear him say anything negative about George W. Bush, who I think wrecked our economy."
Clinton was asked about the negative tone of Republican presidential candidate Donald Trump's campaign, to which she immediately responded, "I don't think that, you know, Ted Cruz is any better."
"I think he is a very, you know, mean-spirited guy," Clinton continued. "You can see it from how the Republican party responds to him. It's, you know, a difficult dilemma that they're in, trying to figure out what to do. I mean, some of the things he did, even in his primaries, to fellow candidates."
Cruz soundly defeated Trump in the Wisconsin Republican primary Tuesday. But Clinton said he crossed the line in campaigning against his Republican opponents.
"The people who were quite agitated about it, and I don't think that's good for a presidential campaign," Clinton said. "We can have differences. Look, I'm well aware that it's a contact sport. I understand that. But when it gets right down to it, you've got to offer Americans your credentials, because it's a huge interviewing and hiring process."
Clinton said Trump's campaign is harming the United States in the eyes of the world.
"I believe that what he is saying now is very destructive," Clinton said. "It's not only offensive, it's dangerous. I believe it has repercussions for our relations with other countries, how we are viewed, because I learned, in depth, what I had suspected when I was secretary of state. The way that other nations, both people and leaders, follow our presidential election is intense, and so we think of a throw-away comment -- they think it's a change in direction."
Clinton noted, "It's fair to say there is a demagogic path that Europeans, South Americans, Asians have pursued, and we know where that leads. It uses xenophobia, it uses paranoia, it uses prejudice, it uses nationalism to really stir people up and to, you know, begin an us-versus-them contrast, which is dangerous."
Hear Clinton's remarks here from Politico: