© 2023 Blaze Media LLC. All rights reserved.
Pro-Lifers Demand California AG's Resignation After 'KGB-Like Tactics' in Planned Parenthood Case
Harris is currently running for the U.S. Senate as a Democrat.
Pro-life groups have called for the resignation of California Attorney General Kamala Harris after agents with the state's Department of Justice raided the apartment of the filmmaker behind undercover videos of Planned Parenthood executives and seized his video footage.
David Daleiden, founder of the Center for Medical Progress said Tuesday that the California Attorney General's office seized his footage and personal information during a raid on his home.
California Attorney General Kamala Harris attends TheWrap's "Power of Leadership" brunch on Dec. 13, 2012 in Los Angeles. (Getty Images)
Harris is currently running for the U.S. Senate as a Democrat. On her campaign website, she urges supporters to sign a petition in defense of Planned Parenthood, and she has accepted donations from Planned Parenthood PACs.
Representative's for Harris' office have declined to comment on "an ongoing investigation."
Harris' critics have called the raid politically motivated. Several pro-life groups have called for her to resign.
Penny Nance, president and CEO of Concerned Women for America, said that Harris "is engaged in the highest level of corruption and abuse of power."
"While she uses her KGB-like tactics to seize personal property of an innocent American citizen, she's simultaneously running for U.S. Senate and using her campaign web site to promote and defend Planned Parenthood and its atrocious practice of harvesting, trafficking and selling baby parts," Nance said in a statement. "She is abusing her power as Attorney General for political gain in her Senate race and doing the bidding of Planned Parenthood – a taxpayer-funded organization that has contributed to her campaigns in the past. This outrageous abuse of power makes her unworthy to maintain the people's trust, she should resign her office and end her Senate campaign immediately. The American people and the citizens of California have had enough of corrupt politicians who abuse their power for political gain."
Marjorie Dannenfelser, the president of the Susan B. Anthony List, also called for Harris' resignation and for her to end her Senate bid.
"In her zeal to succeed longtime abortion advocate Senator Barbara Boxer, California Attorney General and U.S. Senate Candidate Kamala Harris this week leaped across the line between her duties as Attorney General to uphold the rule of law and the public trust and her political interests in running for elected office," Dannenfelser said in a statement. "The fact that Ms. Harris is seizing private property of a pro-life California activist who has exposed horrific practices conducted by Planned Parenthood, which donated thousands to her last campaign, while her Senate campaign promotes and defends them – the nation's largest abortion provider – is a conflict of interest and abuse of government power."
"To use the heavy hand of her office for personal political gain in a Senate campaign is the epitome of conflict of interest and abuse of power. Ms. Harris should resign from her Attorney General post and end her bid for the U.S. Senate. She has abused her government office and no longer deserves the public trust," Dannenfelser added.
Kristan Hawkins, president of Students for Life of America, called Harris' actions "corrupt."
"California Attorney General Kamala Harris, who sent agents to raid the home a citizen journalist who exposed Planned Parenthood's practices of harvesting and selling the body parts of aborted babies, is using her Senate campaign website to advocate for the abortion giant, promoting a petition to defend Planned Parenthood," Hawkins said in a statement. "Ms. Harris is engaging in exceptionally corrupt behavior, using her office as AG to aide a staunch supporter of her campaign. This is exactly the kind of puppeteering and blatant of conflict of interest that the American public is sick and tired of. Ms. Harris should immediately resign her position as the California Attorney General."
During an interview with Fox News' Sean Hannity on Wednesday evening, Daleiden said "the very worst baby body parts violations in Planned Parenthood's baby parts harvesting program took place in California."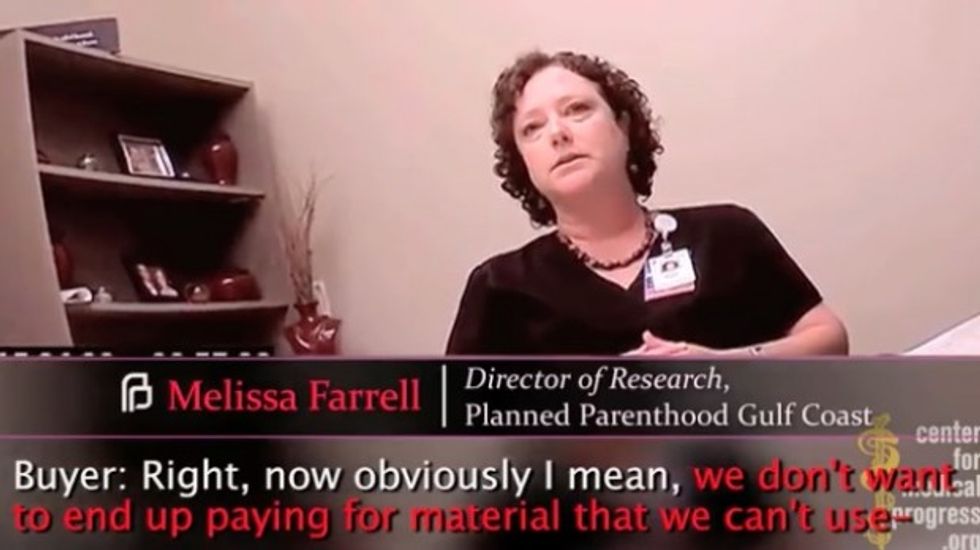 Image source: YouTube
"Attorney General Kamala Harris, who is running for Senate and fundraising on her website off of Planned Parenthood, receives money from Planned Parenthood, just invaded my home the other day, and took all of the video footage, including unreleased video footage," he added.
Asked if he had duplicates of the tapes, Daleiden replied, "We're still assessing the extent of what they took, and what kind of backup copies might be available, but they took everything, including footage that has not seen the light of day yet."
The Center for Medical Progress' most recent video was released Tuesday, the same day as the raid on Daleiden's home.
—
Follow Kate Scanlon (@kgscanlon) on Twitter
Want to leave a tip?
We answer to you. Help keep our content free of advertisers and big tech censorship by leaving a tip today.
more stories
Sign up for the Blaze newsletter
By signing up, you agree to our
Privacy Policy
and
Terms of Use
, and agree to receive content that may sometimes include advertisements. You may opt out at any time.