Sports journalist Bomani Jones, a regular on ESPN Radio's "Highly Questionable," showed up at ESPN studios Thursday morning to co-host the network's "Mike & Mike" show, which would have been fine, had he chosen a different outfit.
The shirt he wore, which has been around for nearly a decade, is a parody on the classic Cleveland Indians logo, but instead of "Indians," the shirt says "Caucasians" and the Chief Wahoo character is edited to have white skin and a dollar sign instead of a feather.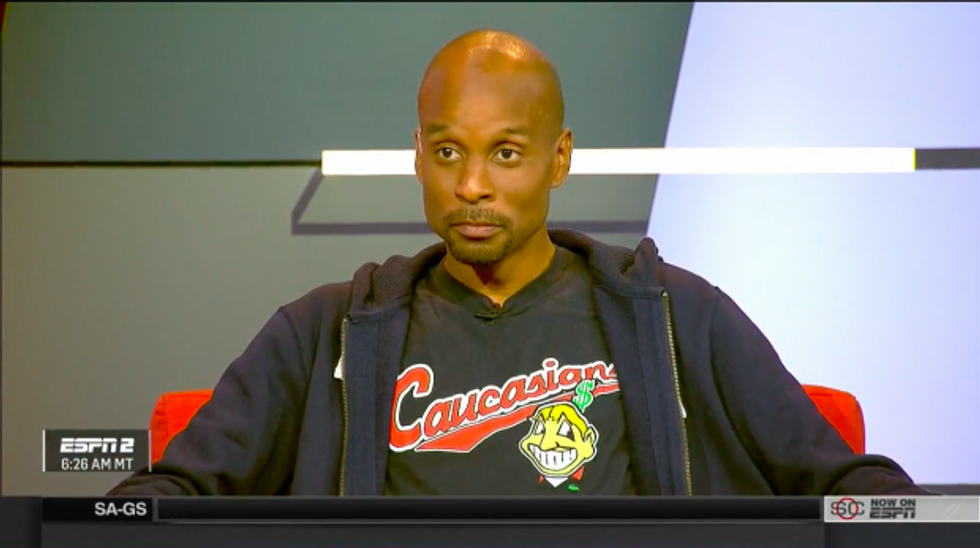 Image: Vimeo/ESPN2
Jones finds the Cleveland team's logo to be offensive, so he wanted to use his TV appearance to make a statement by wearing the controversial Shelf Life Clothing T-shirt. But ESPN wasn't cool with that.
"As the show progressed, we felt Bomani had made his point and had openly discussed why he was wearing the shirt, and we wanted to keep the focus to the topics of the day," a spokesperson for ESPN told TMZ.
As it turns out, the sports conglomerate was not alone in its frustration. Some on Twitter didn't like Jones' bold move, either.
One person, identified only as Jimmy, said he blames ESPN for allowing a "disgrace" like Jones onto its television network.
I don't blame Bomani for being a disgrace, I blame @espn for allowing it. @bomani_jones who hurt you? I'm serious, I don't want ppl in pain.

— Jimmie (@Jimmie_Knows) April 7, 2016
But others offered praise for Jones' decision.
Helluva shirt there @bomani_jones cc: @ClevelandFrowns pic.twitter.com/Tg1IK255hO

— Vince Grzegorek (@vincethepolack) April 7, 2016
[live look at you being upset with @bomani_jones's "Caucasians" shirt] pic.twitter.com/3Lm6FSQRrC

— Ryan Hudson (@ry_hudson) April 7, 2016
Once again, anyone offended by that Caucasians shirt is just plain stupid.

— • (@Midwestkickss) April 7, 2016
Following the kerfuffle, Jones took to Twitter to offer a brief statement accompanied by an appearance he made later Thursday on ESPN 2's "Molly's Take," in which he explained his wardrobe choice to host Molly Qerim.
"Ppl emailing asking me for a comment: my bosses asked that I reply to said requests with this," he tweeted with the video.
ppl emailing asking me for comment: my bosses asked that i reply to said requests with this. https://t.co/82zPoorcUx

— El Flaco (@bomani_jones) April 7, 2016
As for why Jones wore the shirt, he says "the fact that it was clean was a good start" and that he just "thinks it's funny."
"The statement is obvious," he told Qerim. "This is the same thing — what we have here is the same thing that goes on with the logo for the Cleveland Indians, right, so to have a problem with the logo of this, would be to have a problem with the Indians."
"But if you're quiet about the Indians, but now you've got something to say about my shirt," he continued, "then it's time for introspection."
—
Follow the author of this story on Twitter: