Administrators at a New Jersey high school voiced their disappointment and concern after discovering a disturbing photo students posted to social media.
The image, shared on the popular app, Snapchat, shows Princeton High School students playing what looks like beer pong — but there's a disturbing twist: The game, titled "Holocaust Pong" or "Alcoholocaust" is set up as a "Jews vs. Nazis" face-off.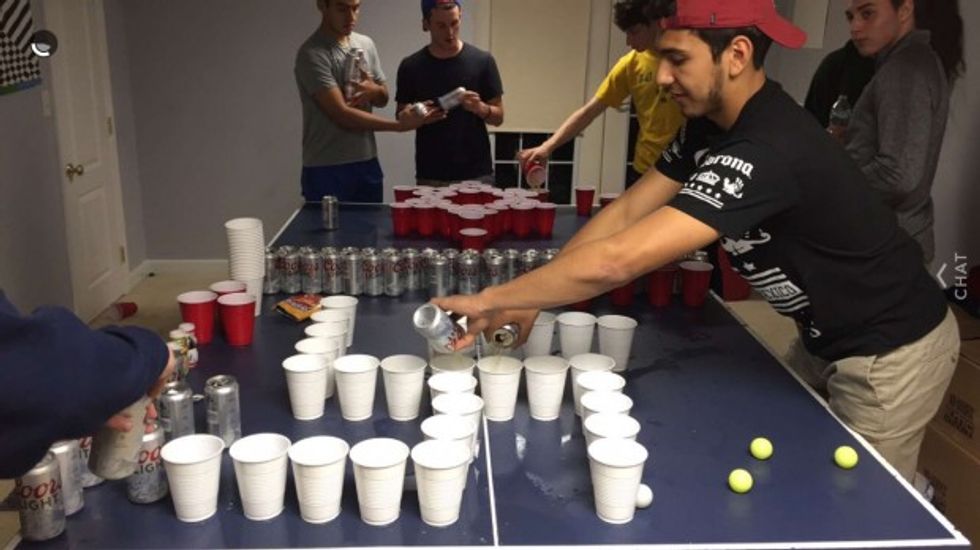 Image source: Jamaica Ponder
Students arranged plastic party cups in the form of a Star of David on one end of the table and a swastika on the other end.
One Princeton High student took a screenshot of the Snapchat photo and included it in a blog post titled "Drinking Games."
"Well, perhaps it is a joke. But then I guess the punchline would be: genocide. Pardon me if I don't find that to be hilarious," Jamaica Ponder wrote in the post, published Thursday.
The post continues:
Putting the picture on social media means that someone was proud enough of the game to want to show it off. Meaning that they must be trapped in the delusional mindset that making a drinking game based off of the Holocaust is cool. Or funny. Or anything besides insane. Because that's what this is: insanity.

I'm not even Jewish and I'm still offended. This type of behavior makes me believe that this group of guys would readily play 'pin the noose on the n*gger,' just as readily as they incorporated an 'Anne Frank' cup in their noxious little game of pong. Yes, that happened. No, you can't just make this stuff up.
Ponder noted that some of the students present for the drinking game were Jewish.
"I kid you not — I went to one of these guy's bar mitzvah," she wrote. "I think what's most confusing to me is that they chose to participate in this heinous, anti-Semitic activity as opposed to trying to shut it down. I don't get it."
Princeton Superintendent Steve Cochrane said in a statement Thursday that he was "deeply upset" that students would participate in a drinking game that had "clearly anti-Semitic overtones," NJ.com reported. He also shared the district's plans to discuss the photo with students and their families.
The Princeton Police Department said Friday morning that they were conducting an investigation into the circumstance surrounding the photo.
Police Lt. John Bucchere told NJ.com that the department had received a tip about the photo Friday morning from an anonymous source.
"We're going to take a look at the information we have and go from there," Bucchere said.
Watch: