For the second week in a row, "Saturday Night Live" kicked off with a politically charged cold open. This week's skit featured Kate McKinnon as Hillary Clinton feigning optimism following a week of personal and political failures.
Clinton (McKinnon) began her televised address by acknowledging her recent difficulties in the Democratic caucuses ... sort of.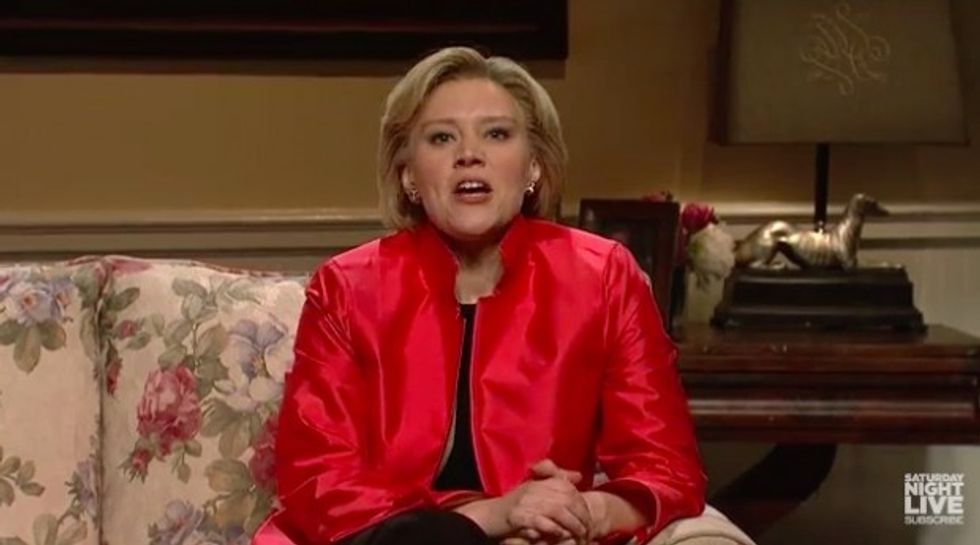 Image source: YouTube / "SNL"
"Hello America. It's true, I have not been winning as of late," she said with a forced smile while attempting to look comfortable on her floral sofa. "In fact, I have not won a state in almost three weeks — because that was the plan. I did not want to win those and so I didn't. It doesn't bother me one bit. I'm not rattled. Like the old adage says, 'You win some, you lo... You la ... ."
The dejected candidate could not quite bring herself to actually say the word "lose" as a repairman interrupted her address to announce that he had come to fix seven holes Clinton presumably punched into her wall after each loss.
"But enough about the past," Clinton said. "It's time to look forward to the future, and right now my focus is here in New York."
She proceeded to speak fondly of her "home state," which she mistakenly referred to as "the Fat Apple."
McKinnon's Clinton parodied the Democratic candidate, whose attempts to portray herself as an authentic New Yorker backfired this week when she unsuccessfully swiped her Metro card five times before gaining entry into the New York City subway. Following the blunder, former Republican Rep. Michele Bachmann tweeted a video of herself demonstrating the correct swiping method.
That's how a turnstile works, right? #SNL pic.twitter.com/eT4Fq5LbMt

— Saturday Night Live (@nbcsnl) April 10, 2016
The "SNL" spoof portrayed Clinton as a fraud and a crowd-pleaser. At one point in the skit, she pulled out a New York Yankees cap (which doubled as a Mets cap), pretended to eat a hot dog and raved about the "new hot Broadway show that has NYC abuzz" — No, not "Hamilton," but "Chicago."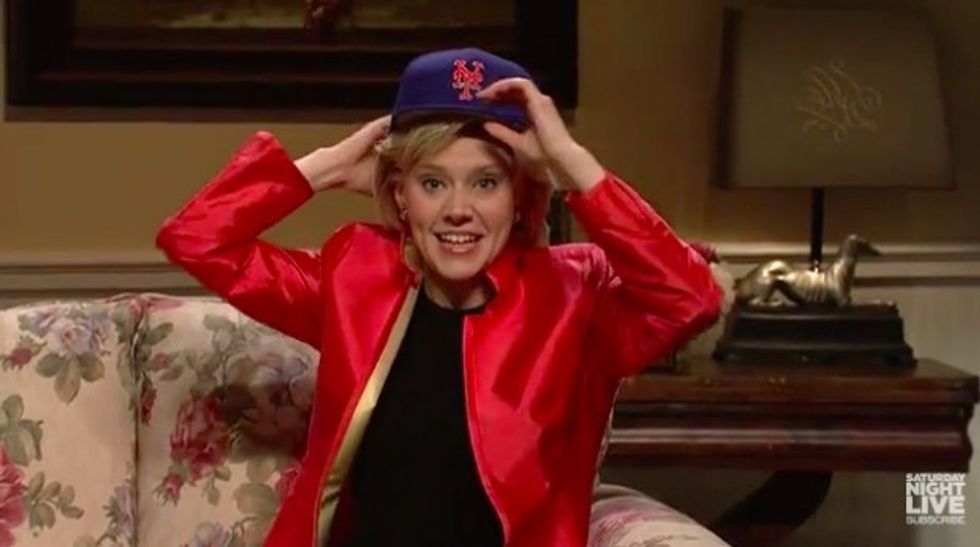 Image source: YouTube / "SNL"
Clinton explained how she's just like every New Yorker: "I never sleep, I'm in a hurry to get to work and when I'm running, I really hate it when a slow, old Jew gets in my way."
Watch: