Male executives who work at the Clinton Foundation reportedly make 38 percent more than their female counterparts, according to the Daily Caller News Foundation, which analyzed the foundation's 2013 IRS filings.
On average, male executives made $109,000 more than the women, the report found. In addition, there are nearly three times more male executives than female executives employed by the foundation.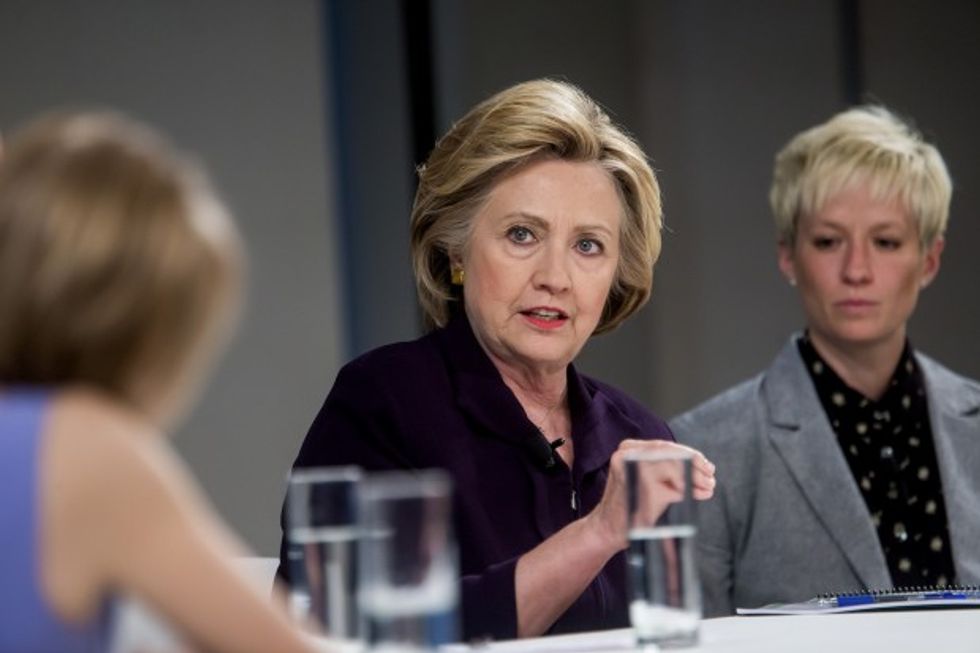 Democratic presidential candidate Hillary Clinton attends a roundtable discussion on pay equality in New York City Tuesday. (Eric Thayer/Getty Images)
The filings show that the foundation's highest-paid male executive, Frederick Post, the organization's director of "sponsor and marketing," made $484,000 in 2013. By comparison, the foundation's highest paid female executive is CEO Virginia Ehrlich, and she made only $201,000 in compensation during the same time period.
In addition, of the foundation's 11 executives, eight are men. And the filings reveal that all eight of the male executives make more than $200,000 per year. Ehrlich, however, is the only female executive to eclipse the $200,000 mark.
The findings stand in contrast to much of Democratic front-runner Hillary Clinton's political rhetoric. According to her campaign website, Clinton pledges to "ensure equal pay for women."
"Hillary will promote pay transparency across the economy and work to pass the Paycheck Fairness Act — a bill she introduced as senator — to give women the tools they need to fight workplace discrimination," the website states.
The former secretary of state even spoke at an "Equal Pay Day" event Tuesday in California. According to Yahoo News, she told the crowd that it "is way past time to end the outrage of so many women still earning less than men on the job."
An explanation for pay disparity was not immediately available, and the Clinton Foundation did not immediately return a request for comment from TheBlaze.
—
Follow the author of this story on Twitter and Facebook:
[facebook //www.facebook.com/plugins/like.php?href=