Appearing on NBC's "The Tonight Show With Jimmy Fallon" Thursday, Republican presidential contender Sen. Ted Cruz took a phone call from show host Jimmy Fallon's impersonation of GOP front-runner Donald Trump, allowing the Texas senator to blow off some steam ahead of New York's April 19 primary.
During the five-minute skit, Fallon's Trump offered to help Cruz do a "pre-interview" for his later interview with Fallon on "The Tonight Show."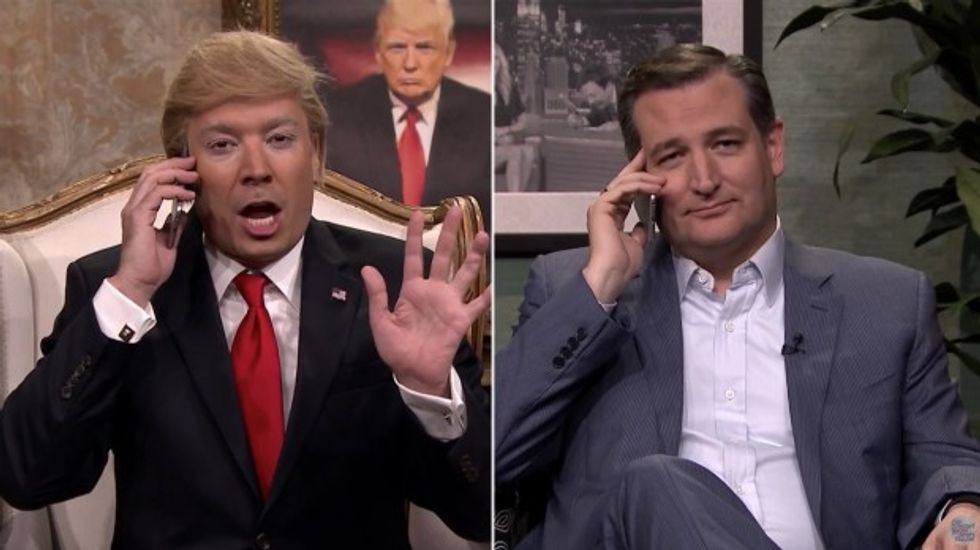 Image source: YouTube
"Well, that's a very generous offer, Donald," Cruz said. "I appreciate you being the bigger man."
"Oh, I'm the bigger man. With the bigger hands. And the bigger—" Fallon's Trump said back, before pointing down to his pants. "You can't see me, but I'm pointing at my Trump Tower."
Cruz responded, "I'm really glad not to be on FaceTime right now."
"Trump" went on to pester Cruz on how he won Colorado's Republican delegates "without anyone even voting."
Cruz explained that in 2015, the Colorado Republican party voted to cancel their statewide primary, and instead, voted to hold district conventions to elect their 34 delegates. "We've known this all along — and I won those elections fair and square," Cruz said.
However, the fake Trump wasn't buying it: "You know what I think? I think the people of Colorado did vote, but they were so high, they completely forgot," he said. "And let's face it, anyone that high definitely voted for me. So basically, I won Colorado."
The pair then discussed immigration policy. While Cruz calmly explained his position, Fallon's Trump was insistent on saying the word "wall."
"I believe we need to secure the border once and for all," Cruz said, "and start enforcing the rule of law."
"Law spelled backward is wall," the comedian interjected, dragging out the pronunciation of the word "wall."
As the exchanges continued, "Trump," at one point, offered Cruz some advice about New York City, insisting that he write down his suggestions. Instead, Cruz reached for a bottle of liquor and poured himself a glass of whiskey or bourbon.
Watch the skit below:
—
Follow the author of this story on Twitter and Facebook:
[facebook //www.facebook.com/plugins/like.php?href=