North Carolina Gov. Pat McCrory appeared on NBC's "Meet the Press" Sunday to defend the state's controversial LGBT bathroom law that has led many businesses to boycott the state for its "discrimination" against transgendered individuals.
McCrory, 59, spoke with host Chuck Todd about the issues concerning House Bill 2 (HB2), which has created significant backlash since it was passed into law last month. This new law creates a statewide policy that excludes gender identity and sexual orientation as protected classes under the law, as the News & Observer noted. The law also requires people to use the public bathrooms that correspond with their biological birth gender — not the gender with which they may personally identify.
Since the bill was signed into law, North Carolina has garnered severe backlash from many organizations and companies threatening to remove their businesses from the state in protest, as well as musicians and entertainers who have cancelled their concerts in protest. In the wake of this backlash, McCrory stated that the issue of bathroom use by transgendered individuals requires discussion and debate — not bullying.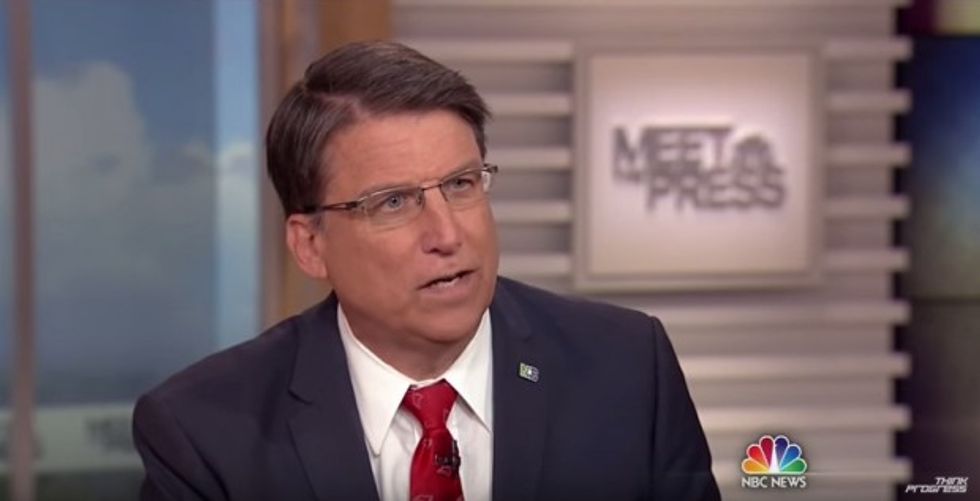 Pat McCrory (Image source: YouTube)
"We have to have more dialogue — not threats," McCrory said before adding that he was surprised by just how much power the pro-LGBT advocacy groups are wielding during the ongoing controversy.
"The Human Rights Council. My gosh, they're more powerful than the [National Rifle Association]," McCrory told Todd. "And they have millions of dollars ... But they are putting on a lot of pressure, instead of having good dialogue."
Todd pressed the governor, noting that NBC estimates that North Carolina has lost at least $39.7 million to $186 million due to the new law because companies and events are protesting against the law and removing their business from the state.
McCrory responded, saying, "You know, I was in Hamlet, North Carolina, a small town that can be any town in the United States of America. I walked into a buffet restaurant, African-American buffet restaurant, and the people just welcomed me with open arms and said, 'Thanks for protecting us.' I got back in my car, and I got a call from someone in corporate America going, 'Man, you've got to change this. We're getting killed.'"
He added, "And it showed me the disconnect we had between the corporate suites and Main Street on a very complex subject and a very personal subject regarding government policy of all things which didn't exist before this group brought it up."
Watch the rest of the interview below.
—
Follow Kathryn Blackhurst (@kablackhurst) on Twitter