Republican Rep. Adam Kinzinger (Ill.) told CNN host Wolf Blitzer Monday that Republican presidential front-runner Donald Trump is wrong about the GOP delegate system being "rigged."
According to the congressman, the fact that Trump and GOP rival Ted Cruz are the current Republican leaders is proof that the system is not "rigged" at all.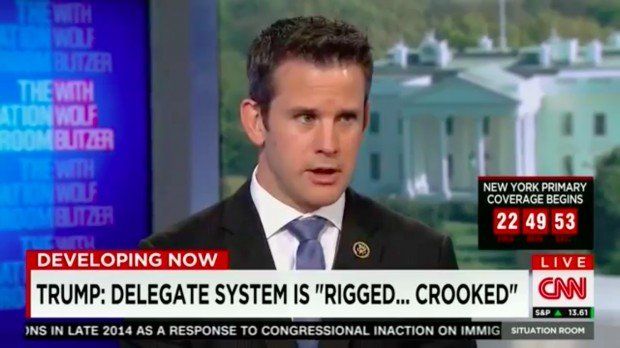 Image source: CNN/YouTube
"If the process was rigged, you would not have Ted Cruz and Donald Trump as the two front-runners for the Republican Party right now — it would be someone else," Kinzinger said chuckling.
Kinzinger went on to say the race isn't fixed, but instead each state has its own rules: "We believe in federalism, the state parties can choose how they want to do nominations."
"The rules are known," he continued, "and Donald Trump, basically, all he brags about — being able to bring people together and make deals and all this stuff — he's unable to simply run for president."
In the end, Kinzinger chalked Trump's complaints up to nothing more than "whining" because he's "not getting his way."
"He's running a strong campaign, he's the front-runner of the Republican Party, I'm not going to take that away form him," he said. "But don't whine when you don't get your way when you probably could have gone on the internet and figured out what the rules are in each of the states."
During the interview, Kinzinger said he would "have a hard time" voting for Trump, adding that he would "be OK with" Cruz, but "would really like to see" Ohio Gov. John Kasich become the GOP nominee, acknowledging that he has a "tough path" forward.
See the congressman's comments:
—
Follow the author of this story on Twitter: