Famed feminist writer Camille Paglia opened her essay for Salon Thursday with a simple but oh-so-pointed question: "What is it with the Hillary cult?"
With that the self-proclaimed "lifelong Democrat" — who made no bones of her support for Vermont Sen. Bernie Sanders — went on a tear, taking to task those who back Hillary Clinton for president and the "fuzzy rosy filter through which" they see "their champion."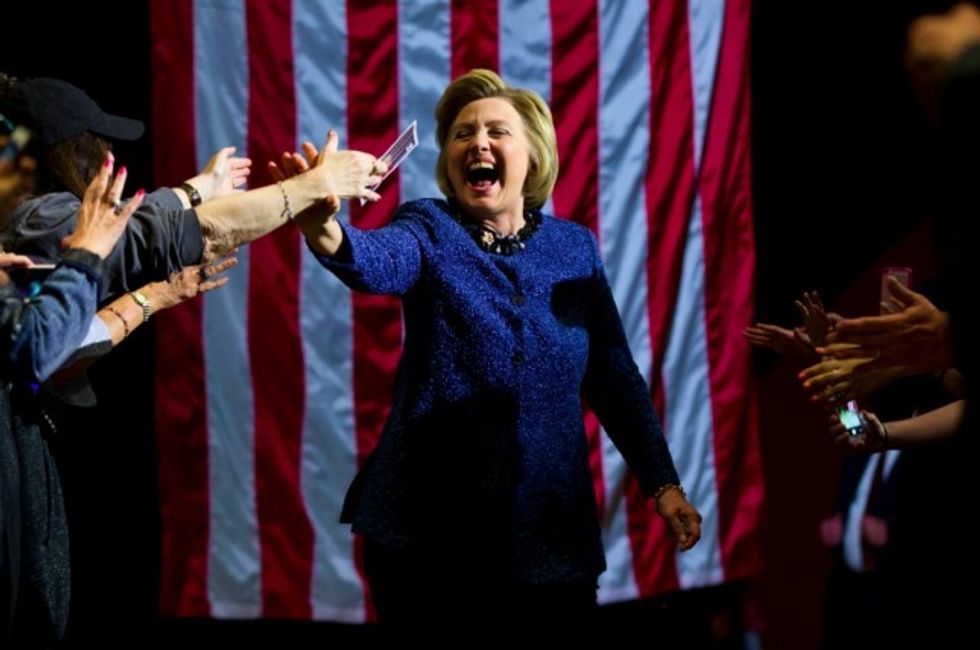 Democratic presidential candidate Hillary Clinton arrives at a campaign stop in Philadelphia Wednesday. (AP Photo/Matt Rourke)
"So much must be overlooked or discounted," Paglia continued, "from Hillary's compulsive money-lust and her brazen indifference to normal rules to her conspiratorial use of shadowy surrogates and her sociopathic shape-shifting in policy positions for momentary expedience."
Despite her liberal leanings, Paglia hasn't been shy about fiercely criticizing those who share her politics — particularly Clinton. On an earlier occasion, Paglia wrote that Clinton's "blame-men-first-feminism" isn't doing her campaign any favors.
More from Paglia's latest salvo on Clinton:
Hillary's breathtaking lack of concrete achievements or even minimal initiatives over her long public career doesn't faze her admirers a whit. They have a religious conviction of her essential goodness and blame her blank track record on diabolical sexist obstructionists. When at last week's debate Hillary crassly blamed President Obama for the disastrous Libyan incursion that she had pushed him into, her acolytes hardly noticed. They don't give a damn about international affairs — all that matters is transgender bathrooms and instant access to abortion.

I'm starting to wonder, given the increasing dysfunction of our democratic institutions, if the Hillary cult isn't perhaps registering an atavistic longing for monarchy. Or perhaps it's just a neo-pagan reversion to idolatry, as can be felt in the Little Italy street festival scene of The Godfather, Part II, where devout pedestrians pin money to the statue of San Rocco as it is carried by in procession. There was a strange analogy to that last week, when Sanders supporters satirically showered Hillary's motorcade with dollar bills as she arrived at George Clooney's luxe fund-raiser in Los Angeles.
Paglia even tore into Clinton's clothing — though with deeper gusto than what you'd hear on an episode of "Fashion Police." Paglia called out Clinton's "long white jacket" she donned at last week's debate, saying it likely was a "major gaffe" since it resembled a "lab coat" and might remind people of "abortion clinics."
She added that "affluent politicians like Hillary can afford glam squads of stylists and an infinite range of clothing choices, hairstyles, and cosmetic aids. Male candidates with their boring cropped hair and sober suits fade into the woodwork when the queen bee flies in."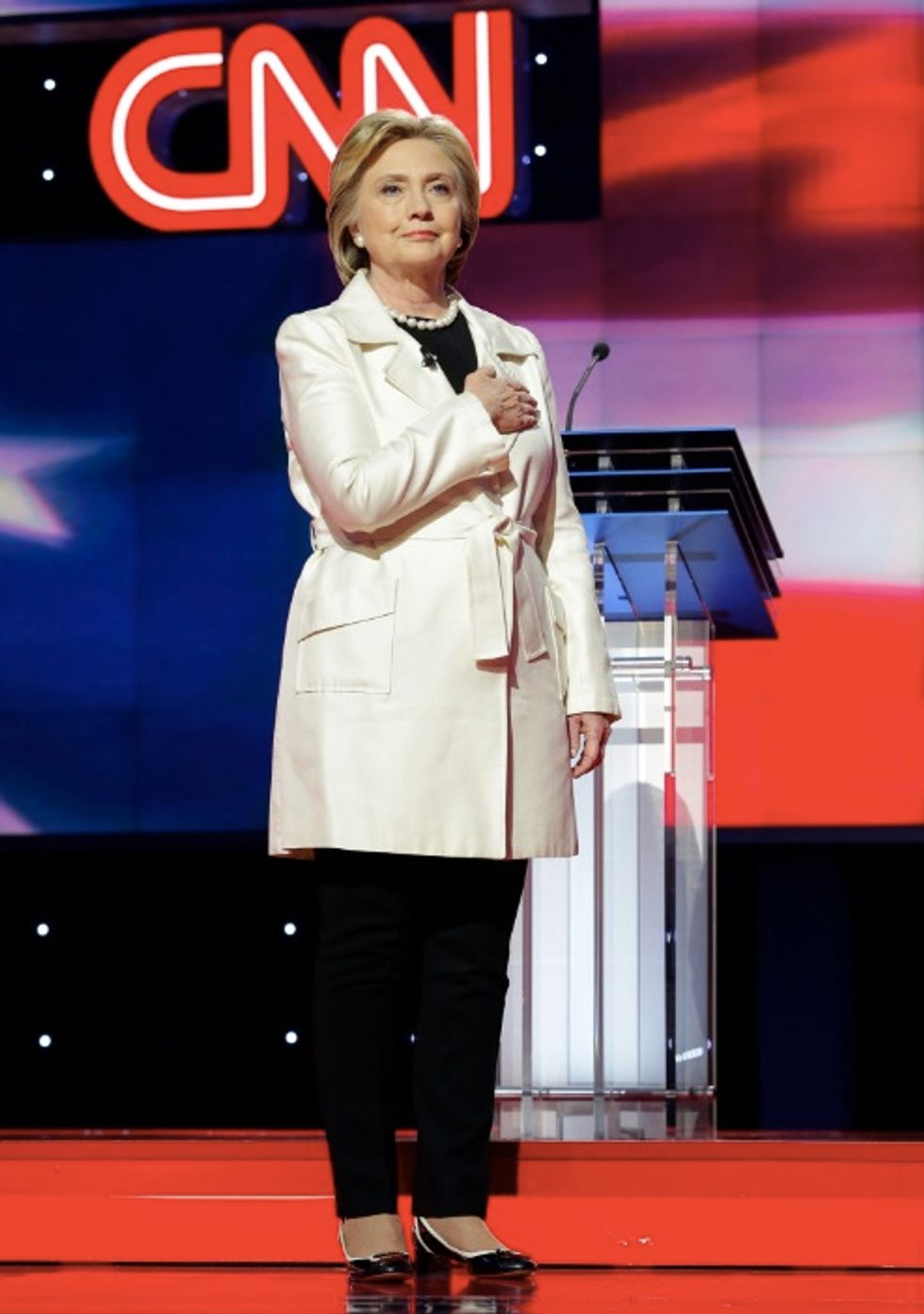 Democratic presidential candidate Hillary Clinton stands during the singing of the National Anthem during the CNN Democratic presidential primary debate  in New York City April 14. (AP Photo/Frank Franklin II)
Oh, and Clinton's coughing deal that many have been wondering about? Paglia offered some thoughts about that, too.
"Am I the only one who noticed Hillary's high-wrap collar, pallid, puffy face, and bulging eyes during her choleric New Hampshire primary concession speech in February?" she asked.
More from Paglia:
My tentative theory is that Hillary may have sporadic flare-ups of goiter, worsened under stress. Coughing is a symptom. High collars mask a swollen throat. In serious cases, an operation may be necessary. Is this chronic thyroid condition disqualifying in a presidential candidate? Certainly not in my view, but I don't like being lied to — by candidates, campaign staffs, or their media sycophants.