This week a Philadelphia radio station interviewed Kaeley Triller, a victim of sexual abuse, about her views on the so-called "bathroom laws" being debated across the country. Triller told WPHT-AM host Rich Zeoli that many victims of sexual abuse share her view that people should be allowed access to only the bathrooms that correspond with their biological sex.
"A lot of the people across the country feel the same way," Triller said Thursday. "This has nothing to do with transgenderism. It has everything to do with policies that are really bad and written on subjective terms."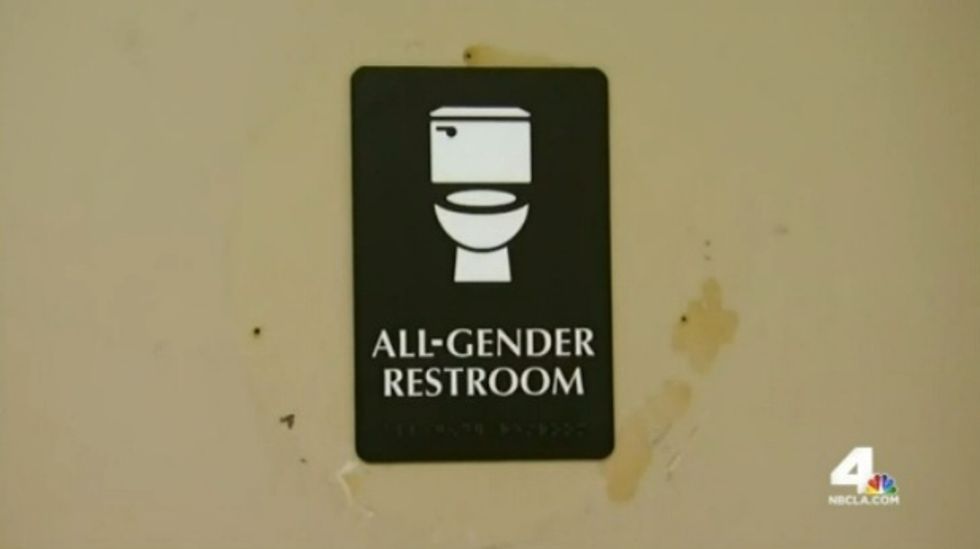 Image source: KNBC-TV
The debate over whether or not public places should have to accommodate transgender individuals and allow them to use the bathroom of their choosing took off last month when North Carolina enacted HB2, a bill that ruled against such accommodations.
Triller caught Zeoli's attention when the radio host saw an article she'd written for the Federalist, expressing her views on why the debate over these "bathroom laws" is not an issue of civil rights, as many have claimed, but rather one of public safety.
"I was sexually abused for 10 years of my life. I had to work really, really hard to overcome some of the damage that that caused, just in my ability to function normally or to see things clearly," she shared. "I knew this would affect a lot of women the same way it affected me."
She clarified that though she has nothing against transgender people, she would feel uncomfortable encountering someone who identifies as transgender in a locker room or bathroom.
"The possibility of being in a locker room situation, in particular, and showering, which is already a vulnerable spot, and you turn around and you're confronted with the male anatomy, that's a trigger. That's a legitimate trigger for quite a few victims of sexual trauma," Triller explained.
In her piece, Triller notes an alternative option that has been proposed to accommodate transgender people: single-occupancy restrooms and showers. She explains, however, that this proposition has been largely struck down by those who see such a compromise as discriminatory.
"I'd much rather risk hurting a smaller number of people's feelings by asking transgender people to use a single-occupancy restroom that still offers safety than risk jeopardizing the safety of thousands of women and kids with a policy that gives would-be predators a free pass," Triller argues in the article.
On Thursday, Triller shared that since her piece was featured in the Federalist, she's received backlash in the form of aggressive online harassment.
"So much of this particular issue is fought on the realm of emotion," Triller said. "Since I've come out with this, I've been called an accessory to murder. 'Children's blood will be on your hands' — things like that. I get those messages every day. This is such an emotional manipulation. I think that's what we're seeing straight across the country. You can't speak out or you're a bigot."
Listen to the interview below, and read Triller's piece here.