Former U.S. Sen. Harris Wofford announced that he will be marrying a man 50 years younger than himself almost 20 years after his wife passed away from leukemia, according to an op-ed that was published in the New York Times Sunday.
Wofford, 90, a former Democratic senator from Pennsylvania, had also been a top adviser to John F. Kennedy and Martin Luther King Jr., according to CNN. In his op-ed, Wofford attempted to explain his reasoning behind his decision to marry a man significantly younger than himself after having been previously married to a woman.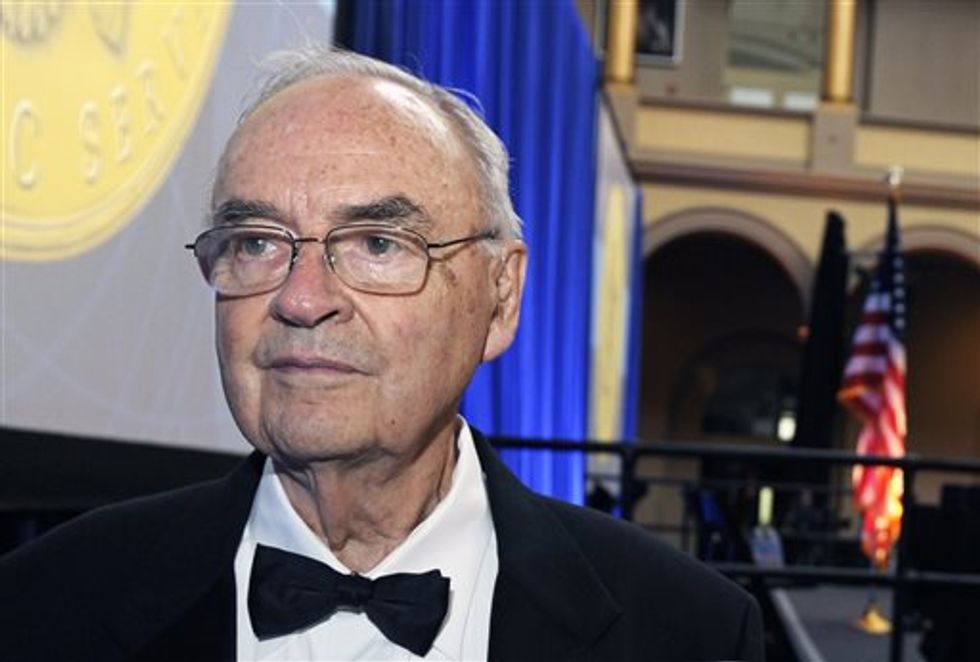 In this June 21, 2011, file photo, former Sen. Harris Wofford attends the National Building Museum for the Jefferson Awards for Public Service in Washington. (AP Photo/Cliff Owen, File)
"Too often, our society seeks to label people by pinning them on the wall — straight, gay or in between," Wofford wrote in the op-ed. "I don't categorize myself based on the gender of those I love. I had a half-century of marriage with a wonderful woman, and now am lucky for a second time to have found happiness."
Wofford proceeded to explain how at age 75 he met the then 25-year-old Matthew Charlton standing on a beach in Fort Lauderdale, Florida.
"As we talked, I was struck by Matthew's inquisitive and thoughtful manner and his charm. I knew he was somebody I would enjoy getting to know. We were decades apart in age with far different professional interests, yet we clicked," Wofford recalled. "We took trips around the country and later to Europe together, becoming great friends. We both felt the immediate spark, and as time went on, we realized that our bond had grown into love."
Wofford also spent time explaining in the op-ed his relationship with his late beloved wife, Clare, who passed away in 1996. Wofford wrote that the two of them "fell in love trying to save the world during World War II."
"... I held her hands in mine as she died. During 48 years of marriage, we had spent a lifetime together," Wofford wrote. "We spent a happy half-century together with different perspectives on life. Growing up during the Depression, in which her father suffered while my family prospered, she became a skeptic while I emerged an optimist."
The former senator indicated that he felt the need to write his op-ed to explain his new relationship that "comes as a strange surprise."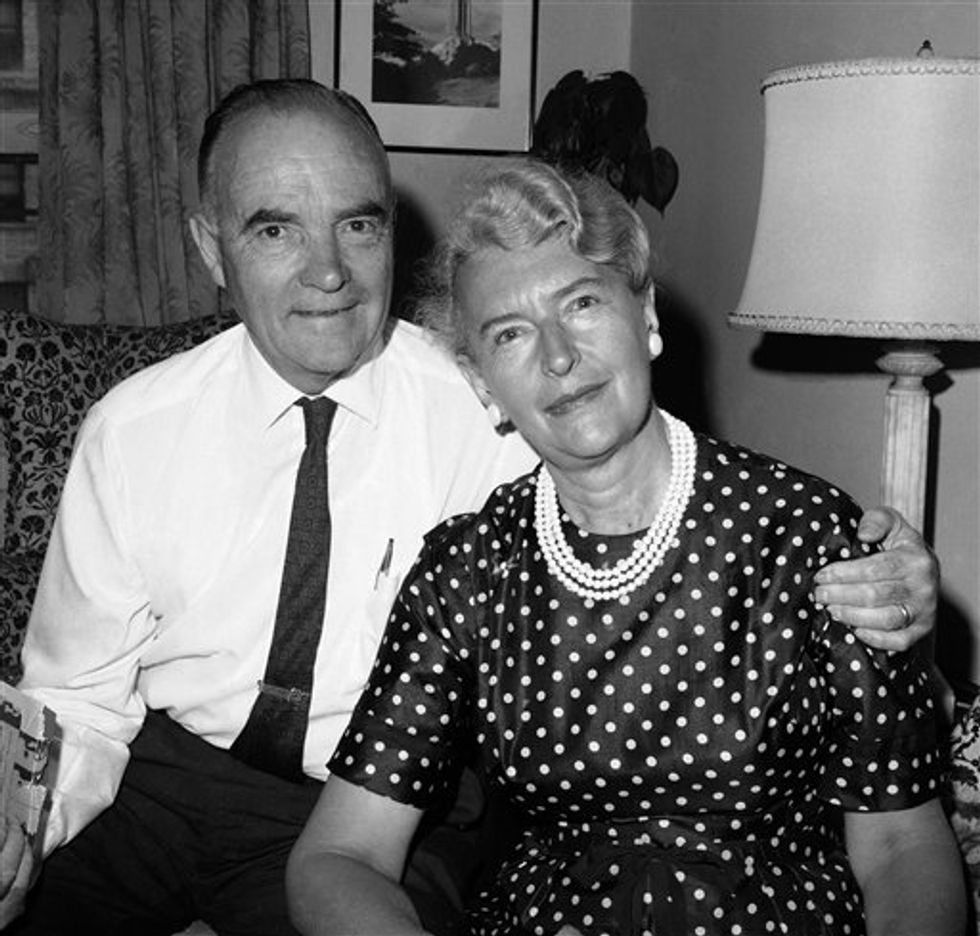 Mr. and Mrs. Harris Wofford (AP Photo/John Lindsay)
"To some, our bond is entirely natural, to others it comes as a strange surprise, but most soon see the strength of our feelings and our devotion to each other. We have now been together for 15 years," Wofford wrote. "Twice in my life, I've felt the pull of such passionate preference. At age 90, I am lucky to be in an era where the Supreme Court has strengthened what President Obama calls 'the dignity of marriage' by recognizing that matrimony is not based on anyone's sexual nature, choices or dreams. It is based on love."
Wofford revealed that he and Charlton will marry on April 30.
The former senator's op-ed was met with a variety of responses on social media.
After reading ex-Sen. Harris Wofford (D-PA), at age 90, is marrying a man who is 50, all I can say is "con men are now conning men."

— John Gizzi (@johngizzi) April 24, 2016
Beautiful story of love and loss. Congratulations to Senator Harris Wofford and Matthew Charlton on their marriage. https://t.co/EliooQD82S

— Chad Griffin (@ChadHGriffin) April 24, 2016
I have to admit that Harris Wofford saying he is marrying a man who is 50 years younger than he is probably is more unexpected than Trump.

— Harry Enten (@ForecasterEnten) April 24, 2016
I was a huge Harris Wofford fanboy in college. If I'd known I had a shot with him romantically, my life might be very different.

— Angus Johnston (@studentactivism) April 24, 2016
Harris Wofford is marrying a man? Reminds me of Louis CK joking he might "do the second half gay." No joke this time https://t.co/pV1ZYZWq9u

— Will Saletan (@saletan) April 25, 2016
—
Follow Kathryn Blackhurst (@kablackhurst) on Twitter