TOKYO (AP) -- Organizers unveiled the new official logo of the 2020 Tokyo Olympics on Monday, opting for blue and white simplicity over more colorful designs.
The winning logo, by Japanese designer Asao Tokoro, is entitled Harmonized Checkered Emblem. It features three varieties of indigo blue rectangular shapes to represent different countries, cultures and ways of thinking.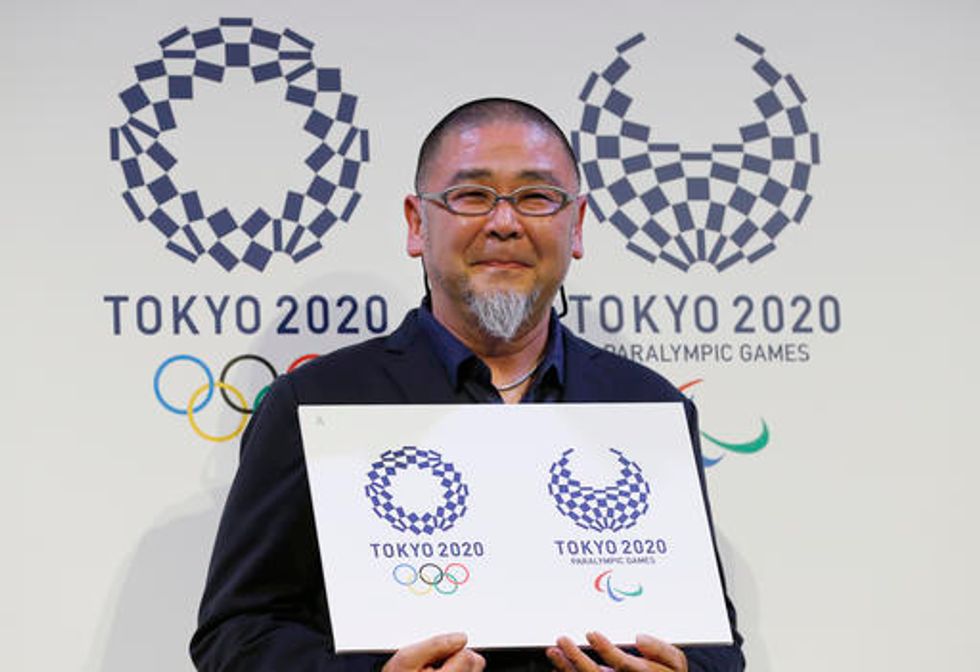 Japanese designer Asao Tokolo holds new official logos of the 2020 Tokyo Olympics, left, and the 2020 Tokyo Paralympic Games after a press conference in Tokyo, Monday, April 25, 2016. A ring of interconnected indigo blue rectangular shapes is the new symbol of the Tokyo 2020 Olympics. (AP Photo/Shizuo Kambayashi)
"My mind has gone blank as I just found out my design won," Tokoro said. "I put a lot of time and effort into this design as though it was my own child."
The initial logo by Japanese designer Kenjiro Sano was scrapped last year over allegations of plagiarism because of its similarity to the logo of a theater in Belgium.
A special selection committee was subsequently established to choose the new logo. The committee selected the winning design from four finalists that were shortlisted from 14,599 entries submitted in a contest open to the public.
The logo has a corresponding design for the Paralympics.
Inspired by a traditional motif, "Harmonized chequered emblems" are selected as the emblems of the #Tokyo2020 Games! pic.twitter.com/sFtYcc8ODg

— Tokyo 2020 (@Tokyo2020) April 25, 2016
Japanese baseball great Sadaharu Oh, who was a member of the selection committee, announced the winning design. The unveiling ceremony was attended by Tokyo 2020 president Yoshiro Mori, International Olympic Committee vice president John Coates and Tokyo governor Yoichi Masuzoe.