Evangelist Franklin Graham is joining hundreds of thousands of Americans in boycotting Target Corp. over the company's recent announcement that it will continue to allow transgender customers and employees to use the bathrooms and fitting rooms of their preference.
Graham, who is known for openly — and oft-times bluntly — sharing his views, published a Facebook post on Tuesday proclaiming that Target is putting both shareholders and customers at risk, noting that hundreds of thousands have decided to boycott the retailer over the past week.
"Target certainly has the prerogative to make this decision, but it's proving to be bad for business," he wrote. "I'm glad people are standing up and letting them know this is wrong."
Graham continued, "I agree with the American Family Association – this policy encourages sexual predators and puts women and children in danger."
He went on to say that a man shouldn't be able to enter female restrooms or dressing rooms simply because he "feels like a woman today," calling such a dynamic "ridiculous," and blatantly outlining his views on "gender identity."
"The fact is, gender identity isn't something we choose or feel. We are the sex God created us to be — male or female," Graham continued. "How a person feels doesn't change the facts. Baltimore Raven's tight end Benjamin Watson was right this week when he said, 'We are buying the lie that feelings trump all else and that how one feels can only be accepted and celebrated instead of addressed and challenged.'"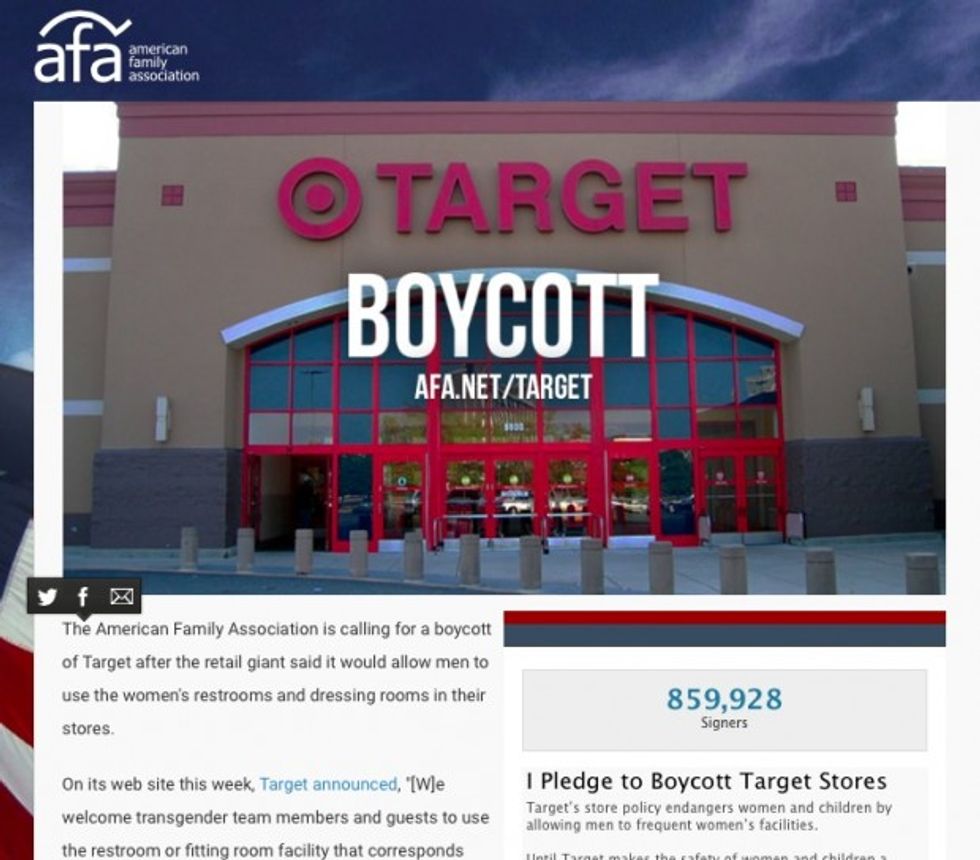 A screen shot of the anti-Target petition

Graham's words come as the American Family Association, a conservative Christian group, has attracted nearly 860,000 signatures over the past week for a petition urging the public to boycott Target's transgender bathroom and dressing room policy.
--
Follow the author of this story on Twitter and Facebook: