In his first interview since dropping out of the 2016 race for the White House, former Florida Gov. Jeb Bush said Thursday that Republican candidate Ted Cruz's unconventional decision to name Carly Fiorina as his running mate was a "smart move."
"I'm impressed with her," he said. "[I] thought it was a smart move."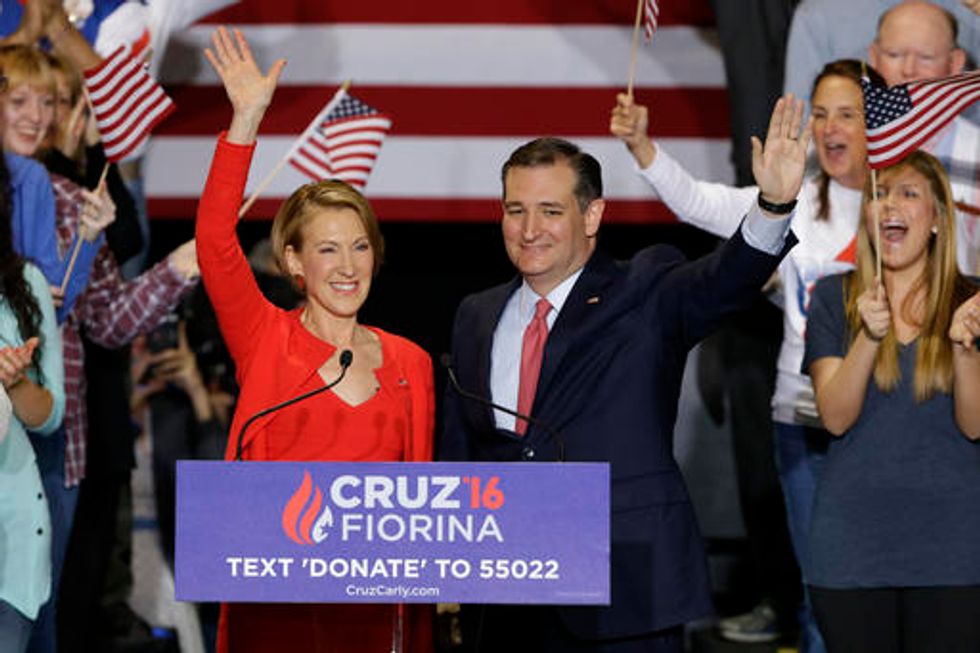 Republican presidential candidate Sen. Ted Cruz, R-Texas, joined by former Hewlett-Packard CEO Carly Fiorina waves during a rally in Indianapolis, Wednesday, April 27, 2016, when Cruz announced he has tapped Fiorina to serve as his running mate. (AP Photo/Michael Conroy)
Bush, who has endorsed Cruz, told CNN reporter Jamie Gangel that choosing Fiorina, who suspended her bid for the GOP nomination in February, will prove helpful when going after Republican rival Donald Trump and Democratic front-runner Hillary Clinton.
"Picking a candidate that is talented, tough — she takes on Trump really well, I think, and she takes on Hillary Clinton very well, as well," Bush said. "[She's] someone who's got a proven record, who's been vetted by a candidate, I thought it was a smart move."
Though the invincibility of a Trump nomination continues to build, Bush seemed confident it is still possible to block the billionaire businessman from becoming the GOP nominee.
"There's a possibility that he won't get 50 percent on the first ballot," he said. "And if he doesn't do that, there are a whole lot of people who don't believe he's the proper guy."
Ultimately, Bush voiced concerns over a potential Trump nomination because he feels the current delegate leader is "unpredictable."
"I don't think he's a serious person," he told Gangel. "I don't know which Donald Trump to believe. ... The one that read from a teleprompter a speech that was inside the lines, or the one that wants to build a wall and make Mexico pay for it."
Bush said he is "hopeful" Trump will not win on the first ballot at the GOP convention this summer, increasing the chances that Cruz could secure the nomination on a subsequent ballot.
—
Follow the author of this story on Twitter: