It was supposed to be one of the biggest nights of Laremy Tunsil's life.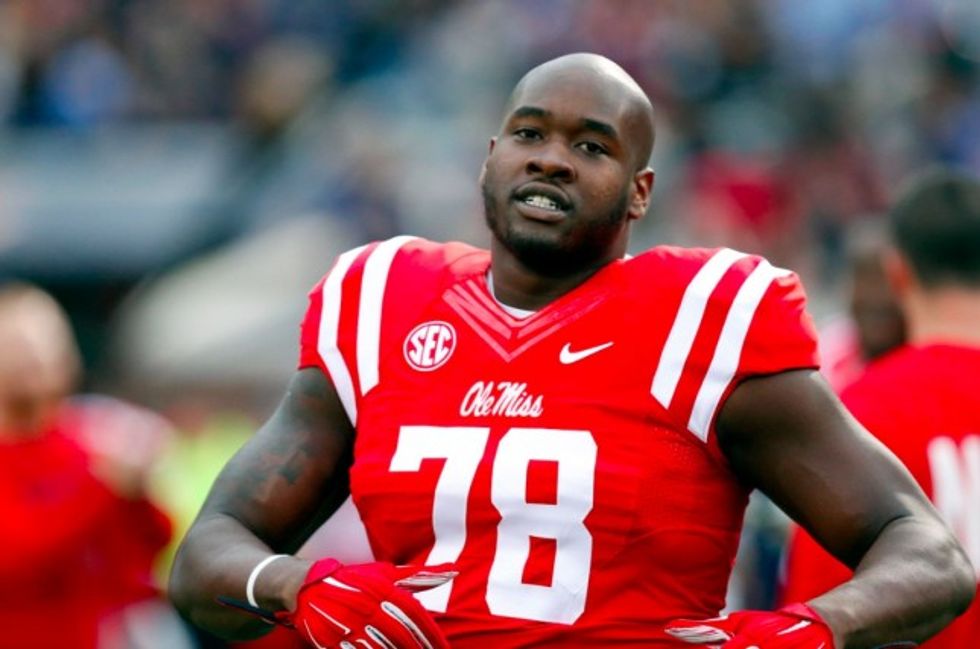 Then-Ole Miss offensive lineman Laremy Tunsil loosens up prior to an Oct. 24 game against Texas A&M in Oxford, Miss. (AP Photo/Rogelio V. Solis, File)
The former Ole Miss offensive tackle had been one of the highest-rated players in the 2016 NFL draft  — ESPN said he was even considered a likely No. 1 pick at one point — but that all came crashing down Thursday.
Just minutes before the draft's first round began, a video was posted to Tunsil's verified Twitter account showing him wearing a gas mask and apparently smoking from a bong. The tweet was deleted minutes after it was posted, ESPN said, followed by his Twitter account shortly after the draft began.
This video of Laremy Tunsil was the reason why he went from a potential #1 overall pick to #13 to the Miami Dolphins https://t.co/hhWsh02XAi

— Lee Harvey (@MusikFan4Life) April 29, 2016
So instead of becoming one of the top 10 picks of the draft, Tunsil got the nod at No. 13 by the Miami Dolphins — and the drop off may have cost the 21-year-old millions of dollars, ESPN's Ian O'Connor wrote, as he "became the prospect teams were afraid to touch."
Judging by last year's salaries…if Tunsil was supposed to go 3rd, he's already lost $10M at this point. pic.twitter.com/odukFTpe58

— Eddie Maisonet, III (@edthesportsfan) April 29, 2016
Later Tunsil confirmed to ESPN's Suzy Kolber that he was in the video and that he's "blessed" that the Dolphins picked him.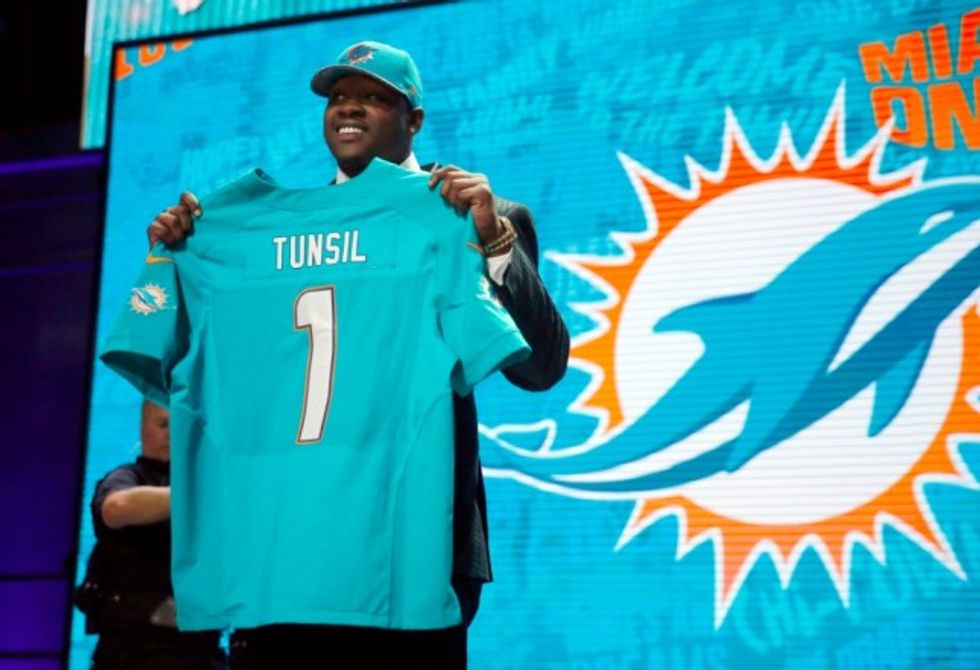 Laremy Tunsil poses for photos after being selected by the Miami Dolphins as the 13th pick in the first round of the 2016 NFL football draft Thursday in Chicago. (AP Photo/Charles Rex Arbogast)
As for the curiously timed tweet, agent Jimmy Sexton told ESPN it's "B.S. Somebody hacked into his account." Tunsil told the outlet "we're trying to find out" who hacked it.
More from ESPN:
There appeared to be another hack after he was chosen, with an image going up on his Instagram account showing a text message conversation, allegedly between Ole Miss assistant athletic director John Miller and Tunsil, about paying rent and electric bills for Tunsil's mother. Tunsil's Instagram account has since been deleted.

Tunsil told ESPN Radio on Thursday night that he did not know anything about the Instagram material and that he has no control over his social media accounts.

In a news conference at the NFL draft in Chicago, Tunsil admitted to reporters that he took money while at Ole Miss.

"I made a mistake. That happened," he said.

When reporters asked Tunsil if he meant he had taken money from a coach, he said, "I'd have to say yeah."

Tunsil was ushered out of the news conference when asked if he had met with NCAA investigators.
"We're very comfortable with all the information we have on the situation," Dolphins general manager Chris Grier said after the Tunsil pick, ESPN said. "We had heard rumors, and we had done [background] work. The video is two years old. So from all the information we have, we are comfortable with it."
Ole Miss coach Hugh Freeze was in Chicago for the draft with Tunsil and told ESPN the video is "from a long time ago."
"How this came out today, I don't understand," Freeze told the outlet. "I don't know how. He doesn't deny it. He owned it."
Tunsil told reporters he doesn't have a drug problem, ESPN reported. "You can check all my college tests. I never failed one," he said, the outlet added.
More from ESPN:
Tunsil was sued earlier this week by his stepfather, Lindsey Miller, who is accusing Tunsil of attacking him and defaming his character in an incident last summer.

Miller and Tunsil filed domestic violence charges against each other last year. Tunsil said he attacked Miller after Miller attacked Tunsil's mother, Desiree Polingo, and Miller said Tunsil attacked him unprovoked. The charges were dropped in August. [...]

Tunsil had to sit out the first seven games of the 2015 season after the NCAA ruled that he received improper benefits, including the use of three loaner cars.
Mississippi said Friday in a statement that it will investigate Tunsil's comments that he accepted money from a member of the football staff while playing at the school and "will aggressively investigate and fully cooperate with the NCAA and the SEC."
Ole Miss is currently under NCAA investigation and received a "notice of allegations" from the governing body in January regarding violations in football and other sports.
The Associated Press contributed to this story.