White House press secretary Josh Earnest drew parallels between the Boston Tea Party that helped spark the American revolution and the anti-Donald Trump protest in California, where police cars were damaged and there was even an attempt to overturn a vehicle.
Asked about the protect during the press briefing Friday, Earnest chalked it up to "a long history and a long tradition of protest in the American political system."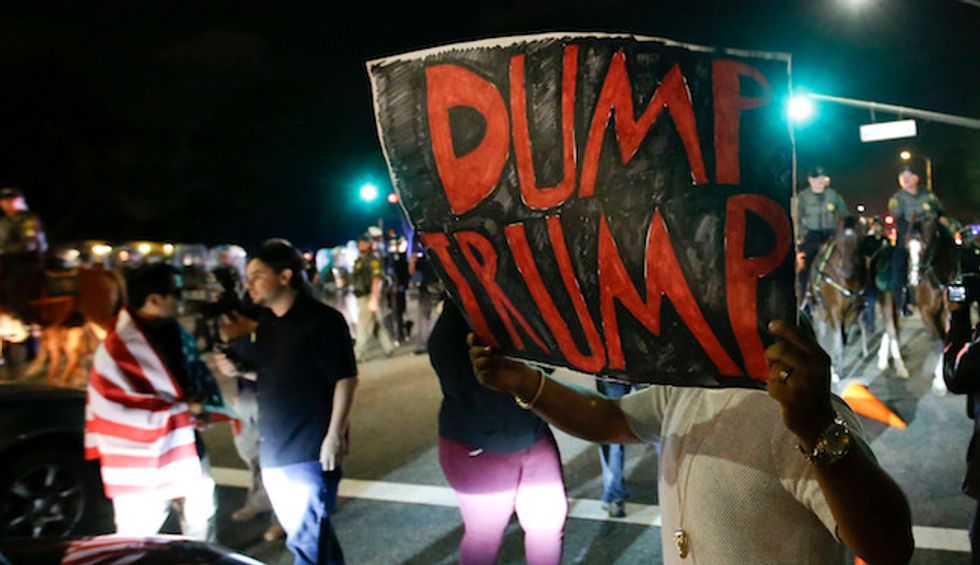 Protestors are pushed off the street by law enforcement after a rally for Republican presidential candidate Donald Trump in Costa Mesa, California, Thursday. (AP Photo/Chris Carlson)
"In fact this country was started by a bunch of protesters, some of whom decided they were pretty unhappy about taxes and threw some barrels of tea into the Boston harbor," Earnest said. "So there is a history of protest in this country. What the president believes is that we also have a system of government and there is an opportunity for voters to make their voices heard at the ballot box and there should be a debate, and should be a public debate. "
A total of 17 people were reportedly arrested after hundreds of protesters blocked an intersection and vandalised a police car Thursday during a Trump rally the Orange County Fairgrounds in Costa Mesa, California. Many of the protesters rushed a Costa Mesa police cruiser and smashed out the rear window. Others reportedly joined in to attempt to overturn a police car before officers moved in to stop them.
Earnest, however, clarified that this tradition of protest did not justify violence. "While people surely should take advantage of the history and tradition in this country of engaging in political protest, to do so with some respect for the system and the country and the government and to ensure that protest isn't a source of violence, doesn't incite violence," he said. "The protest should not be used to drown out the ability of other people to participate in our political system or to participate in the political debate."