A video of a North Carolina high school girl asking her friend with Down syndrome to accompany her as her prom date has gone viral since it was posted to Facebook earlier this week.
The video, which was posted to Beau's Coffee Shop's Facebook page Monday, shows teen Lillie Wright, the daughter of the coffee shop's owner, Amy, approaching an employee named Trevor inside the Wilmington store. Trevor, who has Down syndrome, can be seen going about his assigned tasks while wearing an apron before Lillie approaches him.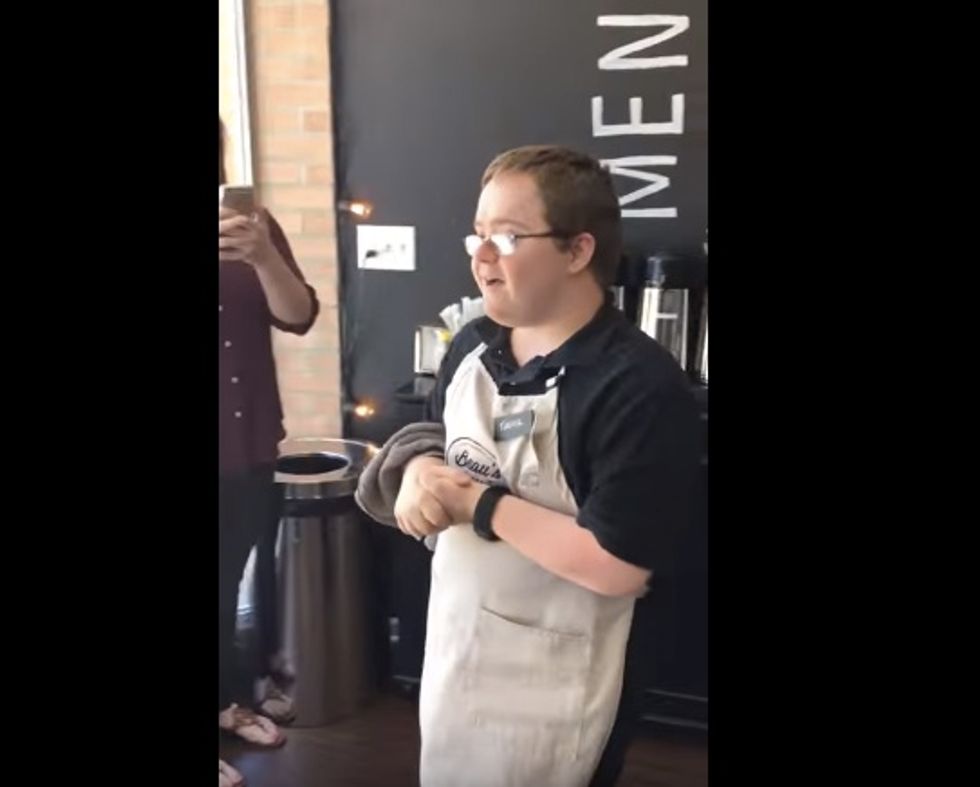 Image source: YouTube
"I wanted to ask you something," Lillie says in the video. "You know what this says?"
Trevor proceeds to walk over to Lillie and read the sign out loud, which said, "I like coffee, I like tea. Would you go to prom with me?" 
After Trevor read the question, he immediately responded, "Yes!" before the two embraced and onlookers clapped and cheered for the successful "promposal." Trevor was all smiles as he was asked if he was excited.
"Yes!" he replied with a grin.
For the video that was posted to YouTube Tuesday, Lillie's mother wrote a caption saying, "He said YES! Lillie & Trevor have been friends for years. Lillie has always seen the value in every person — especially Trevor. She couldn't wait to ask him to prom and he enthusiastically said YES! Having Down syndrome is just one of the things that makes Trevor special — he also has a job at Beau's Coffee, a coffee shop that is run by people with intellectual and developmental disabilities."
(H/T: WFXT-TV)
—
Follow Kathryn Blackhurst (@kablackhurst) on Twitter