Republican presidential candidate John Kasich attended a news conference in California yesterday where he was pressed by a man in the crowd who asked him, "Do you feel people are born gay?"
Kasich initially dismissed the question, saying he'd prefer not to get into "analysis of this or that."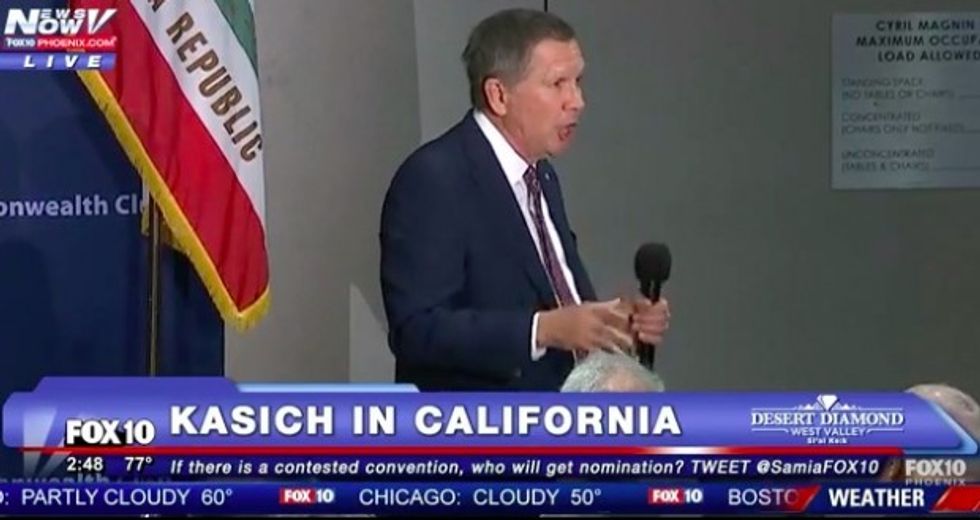 Image source: WALA-TV
The moderator then called for the next question, but the man didn't let up.
"It's not analysis, are people born gay?" he asked.
Instead of moving on,the Ohio governor offered a different response.
"Probably," he said. "I don't — I don't know how it all works, okay? I mean, look — are they? In all probability they are."
Kasich and the man who asked the question then got into a mini-debate over gay rights. Kasich asserted that he does not support discrimination or denying rights to any Americans.
When the moderator again called for the next question, Kasich insisted on finishing the discussion.
He even added at one point, "I don't agree with gay marriage, but I've been to a gay wedding!"
"We don't want to discriminate anybody, but we also don't want to run over anybody's … deeply held religious beliefs either."
Kasich noted that if he saw anti-gay discrimination becoming a "huge problem," then "we would have to write a law" to protect against such behavior. He added, however, that legislating such issues can be tricky, and laws often have to be amended "because they never get it right."
Watch: