Conservative radio show host Rush Limbaugh believes the establishment wing of the Republican Party actually wants to see 2016 candidate Ted Cruz earn the GOP nomination this summer.
During his radio program Monday, Limbaugh suggested that establishment Washington believes both Republican front-runner Donald Trump and Cruz will lose "in a landslide" in the general election, but it's the Texas senator who the they would "rather never have to deal with again."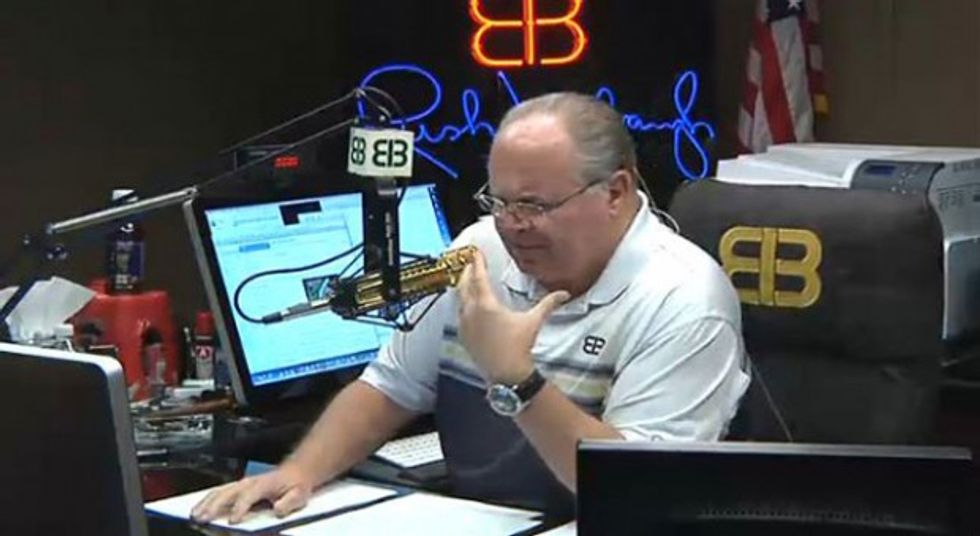 Image source: YouTube
With Cruz, Limbaugh argued, the GOP establishment can finally kill "principled" conservatism, proving to grassroots conservative voters that they do not produce candidates who have broad enough appeal to win nationally.
"The Republican Party is filled with potential Ted Cruzes," he said. "So they don't think they have to worry about another Trump ever again, 'cause he's the only one there is. But Cruz? Well, there's a lot of potential Cruzes out there.  And how do they get rid of them once and for all?  And the answer to that is, Cruz getting the nomination and losing 50 states."
He continued, "They will say, 'You keep telling us that we pick these RINOs or these moderate, these Northeastern liberals like Romney or these moderates like McCain and Dole, and they lose all the time. What happens when you guys run? You guys lose in landslides! You guys lose. Just go away.'"
Limbaugh said it would be a "dream" for establishment Republicans if "principled" voters would leave the party, taking with them their hardline positions on issues like abortion and gay marriage, and nominating Cruz is the way to achieve that goal because there are a lot of conservatives like him who also want to "shake up the establishment."
As for Trump, though Limbaugh said establishment Republicans think he'll lose, too, they aren't really worried about reproductions because he's a "genuine outsider" who they "don't know how to deal with."
"He has his own money, doesn't need any part of the apparatus. They don't figure there's very many of those, if any," he said. "So that's where I think they line up on all this."
—
Follow the author of this story on Twitter: