For Fu Wangz frequenter Clarissa Gagum, it wasn't that the Wilmington, North Carolina, chicken wings outfit got her order wrong — it's how the whole thing was handled.
"Any other time, like I order my food they get the order wrong," she told WECT-TV. "They replace it for me. Yesterday, they did not do that. They didn't want to give us the money back. They didn't even want to replace the food."
The woman who allegedly pulled out a gun over a bonless wing mixup speaks out. https://t.co/TvkfBOzKTL pic.twitter.com/GDA1CsXyBz

— WECT News (@wectnews) April 29, 2016
The owner of Fu Wangz told the station that Gagum wanted boneless wings but got the bone-in version instead.
Gagum, 24, offered a theory to WECT: "I guess he had a bad day and took it out on us or whatever."
But the owner said that Gagum threw the wings carton on the floor, left the premises and came back with a gun, WECT reported. The owner added that Gagum waved the gun around violently and hit her hand on the glass tip jar, cutting it, the station said.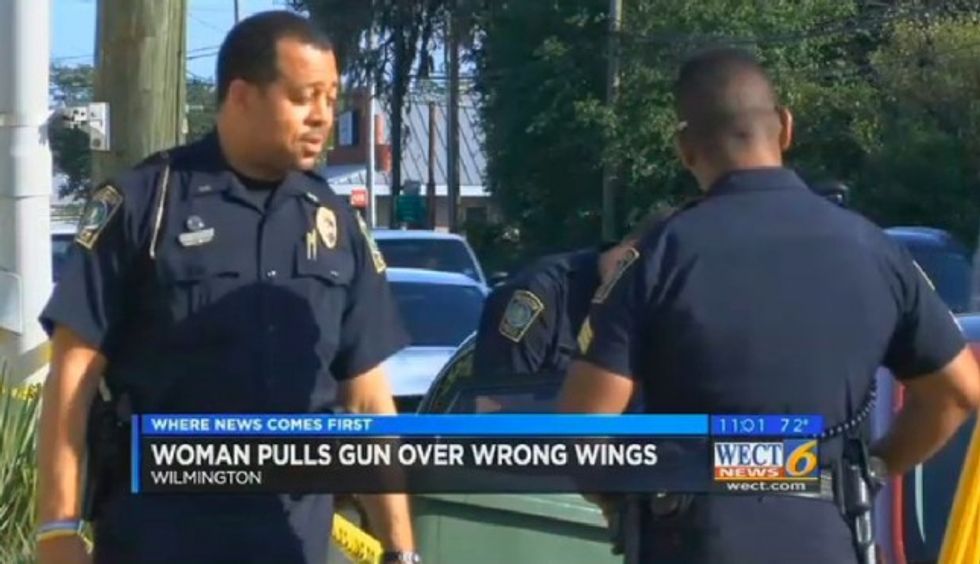 Image source: WECT-TV video screenshot
Police told WECT that when they arrived Gagum was outside holding the gun. She was arrested along with her husband.
Clarissa Gagum was charged with assault by pointing a gun and injury to personal property; Rasheem Gagum, 24, was charged with resisting arrest, WECT reported. They both bonded out after the incident, the station said.