Fox News' Charles Krauthammer drew parallels between President Barack Obama and Republican front-runner Donald Trump Monday night, saying that the campaigns of both men were a success because they were the "right man for the moment."
Krauthammer, responding to a question from Fox host Bill O'Reilly, said that Obama and Trump both likely have excellent marketing skills, but "that's not what gets you the presidency."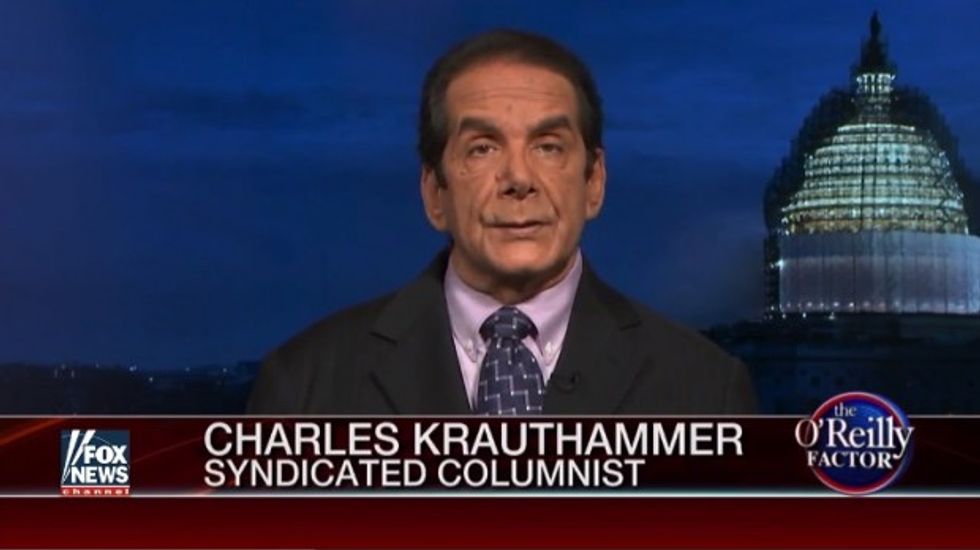 Image source: Fox News
"It has to be that you're the right man for the moment and that you sort of get what's in the air," Krauthammer said.
Krauthammer explained that, in 2008, then-Sen. Obama understood that "the country was looking for change after eight years, war-weary, had the financial crisis," and he because understood the complexity of the moment, he was able to resonate with the American people. Trump, Krauthammer said, "also understood the moment."
"That was the anti-establishment fear, furor — and in many ways — resentment," Krauthammer said. "He played it to the hilt."
Krauthammer went on to explain that he believes Texas Sen. Ted Cruz is "falling apart" because he's been "labeled" as an establishment politician who plays by the establishment's rules, citing Cruz's victories among unbound delegates and in states that don't hold a delegate-binding primary.
—
Follow the author of this story on Twitter and Facebook:
[facebook //www.facebook.com/plugins/like.php?href=