Ohio Gov. John Kasich officially suspended his presidential campaign Wednesday evening — leaving billionaire businessman Donald Trump the last man standing after a tumultuous year of GOP primaries.
Kasich's announcement came after he cancelled a scheduled press availability near Washington, D.C., Wednesday morning, choosing instead to stay in his home state of Ohio.
"Throughout my campaign I've said the Lord may have another purpose for me. That sent all the pundits a Twitter: 'Does that mean he's not committed, or he's not focused, or he's not energetic,'" Kasich said Wednesday night in Columbus. "It shows to some degree how little they understand about life."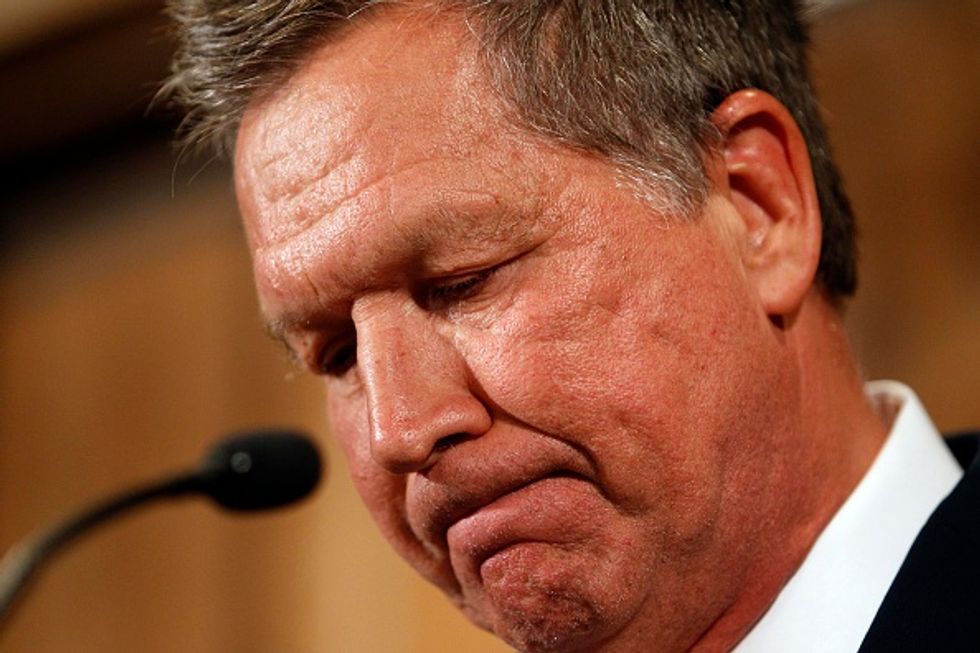 Republican presidential candidate Ohio Gov. John Kasich speaks to the media announcing he is suspending his campaign May 4, 2016 in Columbus, Ohio. Kasich is the second Republican candidate within a day to drop out of the GOP race. (Getty Images/J.D. Pooley)
"I've always said the Lord has a purpose for me as he has for everyone," he continued. "As I suspend my campaign today, I have renewed faith — deeper faith — that the Lord will show me the way forward and fulfill the purpose of my life."
He added that "some missed his message," as "it wasn't sexy" and "wasn't a good soundbite."
Both Kasich and Texas Sen. Ted Cruz suspended their campaigns after suffering devastating losses in Indiana to Trump. While he didn't focus on the state, as he left it up to Cruz to win, Kasich finished a dismal third with only 7.5 percent of the vote in the Hoosier state.
The governor, who garnered much media attention for his food and eating habits while on the campaign trail, spent much of his speech naming members of his staff and thanking volunteers for knocking on doors in New Hampshire's snowy climate and South Carolina's rainy days. He also recalled several of the supporters' stories he heard while on the campaign trail.
Kasich, 63, also implored lawmakers to "do their job" in order to achieve economic growth.
"Let me be clear: We all know that economic growth is imperative to the success of our country," Kasich said, adding that job loss negatively impacts the family, community, state and country.
"I can tell you that economic growth can be achieved by our public officials if they just do their job," he continued. "But they have to ignore polls, they can't focus on focus groups and they have to overcome the fear of reelection or criticism."
The former congressman continued to say that "there is nothing more imperative" than adding a Constitutional amendment in regards to balancing the country's budget.
While Kasich didn't make any mention on whether or not he will support Donald Trump as the Republican nominee, the billionaire businessman did say he "would be interested in vetting" Kasich for his running mate during an interview with CNN that aired Wednesday night.
"Whether John is vice president or not, I think he'll be very, very helpful with Ohio," Trump said.
Kasich's decision to drop out of the race was a last minute one, according to a campaign aide who spoke to TheBlaze earlier Wednesday. Just Tuesday night, the campaign released a memo from the campaign's chief strategist, John Weaver, who outlined Kasich's path forward.
"Gov. Kasich will remain in the race unless a candidate reaches 1,237 bound delegates before convention," the memo unequivocally stated.
But by Wednesday, Kasich apparently had a change of heart as he did not board a plane to Washington Dulles International Airport and stayed in his own state of Ohio, the only state he won, and ended his campaign.
John Kasich suspends his 2016 presidential campaign https://t.co/qSaIRF3oW3https://t.co/jXBWkGDJUv

— CNN (@CNN) May 4, 2016
—
Follow Kaitlyn Schallhorn (@K_Schallhorn) on Twitter