HOWARD BEACH, N.Y. — GOP presidential hopeful Ohio Gov. John Kasich visited a Queens pizzeria Wednesday in his gambit to win over New Yorkers — one slice of pie at a time.
But as the candidate took his first bites of a pepperoni and green peppers slice, a woman's voice rang out: "Is anyone going to teach him how to eat that?"
Kasich had made a blunder, which didn't go unnoticed by the New Yorkers congregated at Gino's Pizzeria near JFK airport. As the midwestern governor bit into his slice, he held it on either end of the crust — flat.
"I've been eating pizza since long before you were born," he told the critic.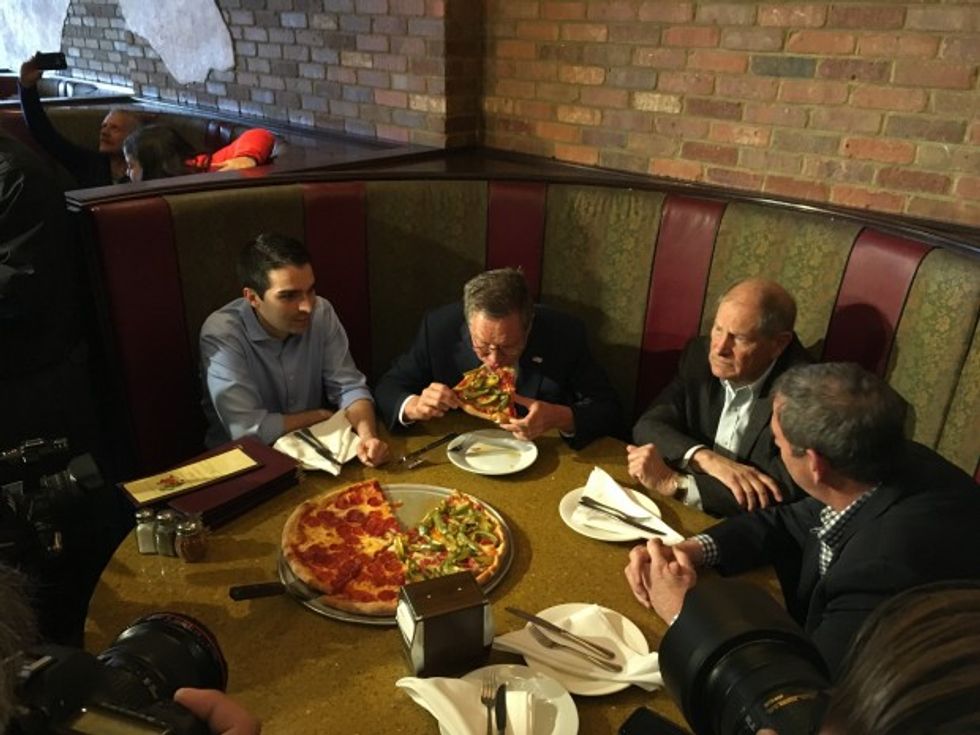 Ohio Gov. John Kasich eats pizza before talking to voters in New York. (TheBlaze/Kaitlyn Schallhorn)
Even worse, Kasich had used a fork to cut the slice before taking his first bite.
Kasich uses his fork to cut and eat his pizza slice via @NowThisGIF https://t.co/bGiaXpsiQa

— Kaitlyn Schallhorn (@K_Schallhorn) March 30, 2016
Luckily, Jack, a Gino's employee, was on hand to teach TheBlaze the "correct" way to eat a slice of pizza.
"You fold it in half like this," Jack said, demonstrating the fold method. "And you take a bite."
After Kasich finished his lunch, he headed behind Gino's counter to serve pizzeria patrons — only requiring minimal assistance from the paid staff when one New Yorker asked for a "regular."
A "regular" slice of pizza, in New York parlance, means a slice of cheese or plain pizza.
Kasich looked back to the restaurant staffers behind him and they pointed to the cheese pizza, which he then handed to the customer.
Kasich, the pizza server of the people. https://t.co/ZrT1uCct7d

— Kaitlyn Schallhorn (@Kaitlyn Schallhorn) 1459364545.0
Speaking to reporters prior to his lunch, Kasich criticized fellow GOP presidential contender Sen. Ted Cruz's call for law enforcement to monitor Muslim communities to thwart potential terrorist threats. Kasich said that strategy would complicate further the relationship between the "civilized world" and "that group of murderers."
The Ohioan added that he wasn't worried that New York is the home state of businessman and front-runner Donald Trump, and said he didn't feel as though he was stepping on the Republican candidate's turf.
"I really feel like I'm in the Big Apple — you know, the place where people all over the world want to come and visit because they get a glimpse of the most exciting place you can be in the United States of America," Kasich said. "New York is so dynamic. Somebody was saying this thing about 'New York values.' I'll tell you what New York values are for me: excitement, innovation, change — and time just flies when you're here."
New York's presidential primary will be held on April 19.
Kasich, who's polling below rival Trump but ahead of Cruz in the Empire State, will continue to campaign in Wisconsin and Pennsylvania over the weekend.
—
Follow Kaitlyn Schallhorn (@K_Schallhorn) on Twitter