After Matthew and Terces Engelhart launched Cafe Gratitude in Los Angeles a few years back, their vegan restaurant chain became quite popular — particularly among celebrities such as Beyonce, Ariana Grande and Jake Gyllenhaal.
But problems began for the couple after animal-rights activists recently found a blog post penned by Terces Engelhart nearly a year and a half ago describing the pair's return to a meat diet after 40 years of vegetarianism — including raising cattle on their own Be Love Farm as well as a shot of Matthew Engelhart taking his first bite of a hamburger in quite some time.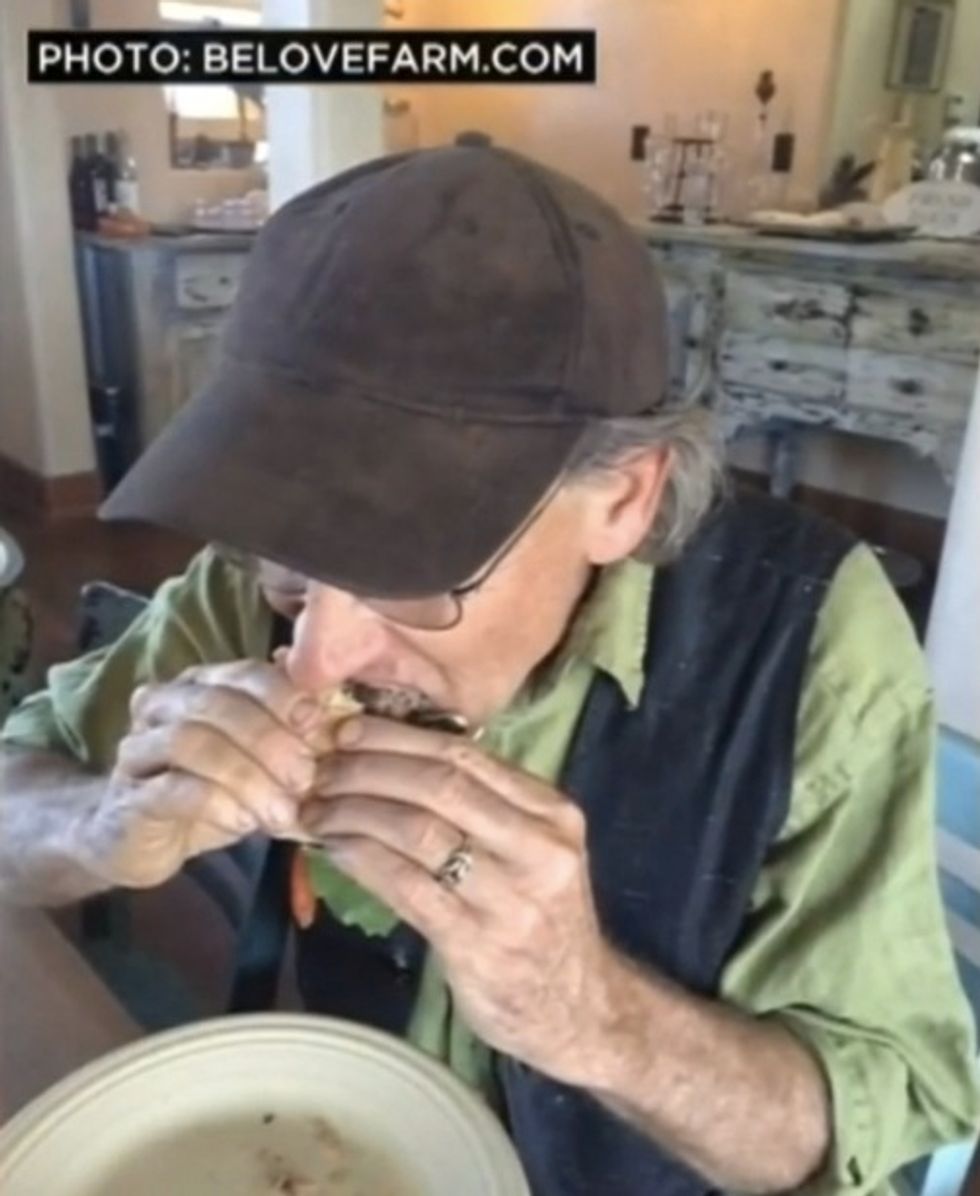 Image source: KCAL-TV
While a Facebook page boycotting Cafe Gratitude has attracted nearly 900 likes and sign-carrying protesters have been active in front of the restaurant, Matthew Engelhart said there's been more serious fallout — even death threats.
"People have taken up the mob mentality," he told the Hollywood Reporter. "It saddens me that the choices we made in the privacy of our home would lead people to feel so betrayed that it's elevated to threats on our lives. I'm very discouraged."
And although the Engelharts said Cafe Gratitude will remain a vegan establishment, it doesn't matter to protesters who are excoriating the couple as hypocrites.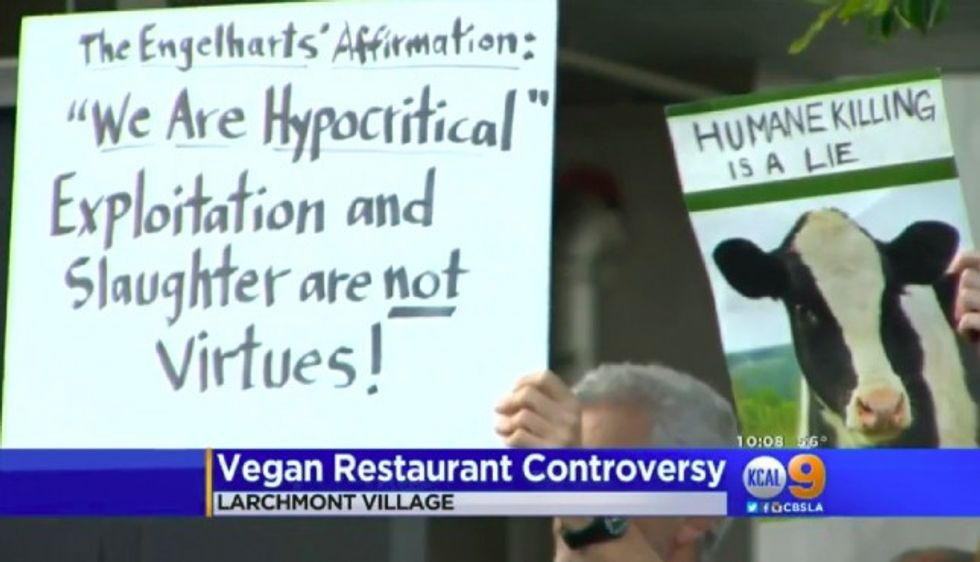 Image source: KCAL-TV
"... you CANT have a VEGAN establishment while killing animals on your farm that you have sworn to protect," one detractor wrote on the Facebook boycott page. "I mean you can, but it's way more hypocritical than anything I can imagine and no longer makes the establishment vegan but a part of the problem."
But Matthew Engelhart is having none of it.
"Somehow we got made mom and dad of some vegan movement," he added to the Reporter. "We never signed up for that. It's crazy. Do [the protestors] check in on the diets of every other vegan restaurant owner? Do they check in on the diets of the owners of Whole Foods? We are baffled. And believe me there are lots of vegan enterprises where the principals are not vegan, or they have other enterprises that are not vegan."
He added to the outlet: "I am allowed to change my mind. And by the way, I never even told them what my mind was. All I told them was it's a vegan restaurant. And it still is! And it always will be!"
Matthew Engelhart told the Reporter that their return to "sustainable, regenerative" meat eating occurred just by noticing the world around them.
"We started to observe nature, and what we saw is that nature doesn't exist without animals," he told the Reporter. "Neither does natural farming. You know, you can't buy organic vegetables that aren't fertilized with animal residue. So that was our discovery. We aren't on a soapbox."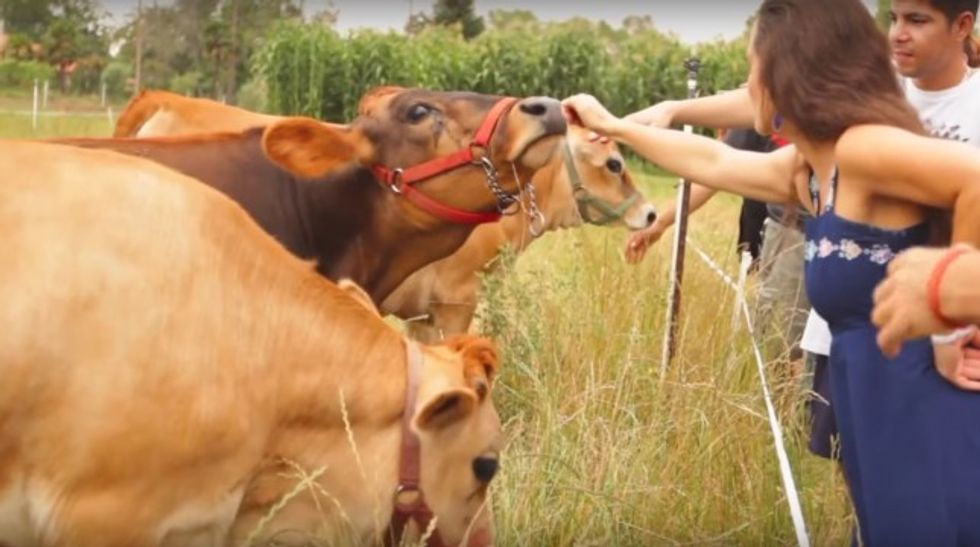 A scene from Be Love Farm. (Image source: YouTube)
Check out a short clip about the Engelhart's Be Love Farm, which includes their take on animals' importance not only with respect to farming but also nature itself:
Amid the controversy, the Engelharts on Tuesday posted a thank you note to their supporters:
This is a message of gratitude. Gratitude for those who have supported us through the years, gratitude for those who have passionately voiced their opinion (whatever it may be), and gratitude for those who have flooded us with messages of love during the past week. Thank you for the reminder of why it is we do what we do, and why we started Café Gratitude in 2004: To create a space where everyone can feel accepted.
But that didn't seem to quell others' anger.
"I have had my fill of smarmy, pseudo-spiritual bulls**t," one commenter wrote. "You guys reek of it and now your hypocrisy comes into the light. I am disgusted. You have duped well-meaning people into supporting you. Leave the animals alone. They don't want to die any more than you do. There is no spiritual justification for murder."
Another added: "Well now you might as well change your name to Cafe Ingratitude. You made a name for yourself as a vegan establishment and now you turn around and kill poor innocent animals on your very own farm. Not a fan of fake, all in the name of the dollar bill."
(H/T: New York Daily News)