WASHINGTON (TheBlaze/AP) -- The chairman of the House Benghazi panel fired back Friday at the Defense Department for criticizing the Republican-led investigation into the deadly 2012 attacks in Benghazi, Libya.
AP Photo/J. Scott Applewhite
Rep. Trey Gowdy, R-S.C., outlined his objections in a letter to Defense Secretary Ash Carter, telling the Pentagon chief that his top assistant for legislative affairs had in recent correspondence intentionally mischaracterized the inquiry.
"It is also riddled with factual inaccuracies, which not only does a disservice to the public but also does a disservice to the women and men who work for the Department of Defense," Gowdy wrote.
-- Read the full letter here. --
Four Americans, including U.S. Ambassador Chris Stevens, died during the twin assaults on Sept. 11, 2012. Questions about security at the diplomatic facility have hounded front-running Democratic presidential candidate Hillary Clinton, who was secretary of state at the time.
In an April 28 letter to Gowdy, Stephen C. Hedger, assistant secretary of defense for legislative affairs, expressed frustration with what he described as the House Select Committee on Benghazi's potentially futile calls for witnesses and information. He also cited the inquiry's "crescendo" of costly, duplicative and unnecessary requests, including a few based on claims made on Facebook or talk radio.
"This type of questioning poses the risk that your final report may be based on speculation rather than a fact-based analysis of what a military officer did do or could have done given his or her knowledge at the time of the attacks," Hedger wrote.
In his letter to Carter, Gowdy said Hedger's remarks could have been communicated personally to the committee or through all other channels. But, he said, "that would have denied your assistant secretary the chance at an overtly partisan letter, which was both drafted and leaked for said purposes."
Gowdy said Carter's department apparently has a "different definition of burden" depending on who is investigating the department - itself or Congress. He said Hedger's letter cited unrealistic timelines set by the committee, which launched its inquiry in May 2014. Yet according to Gowdy, the department was able to complete an exhaustive review of the bombing of a civilian medical facility in Afghanistan within two months.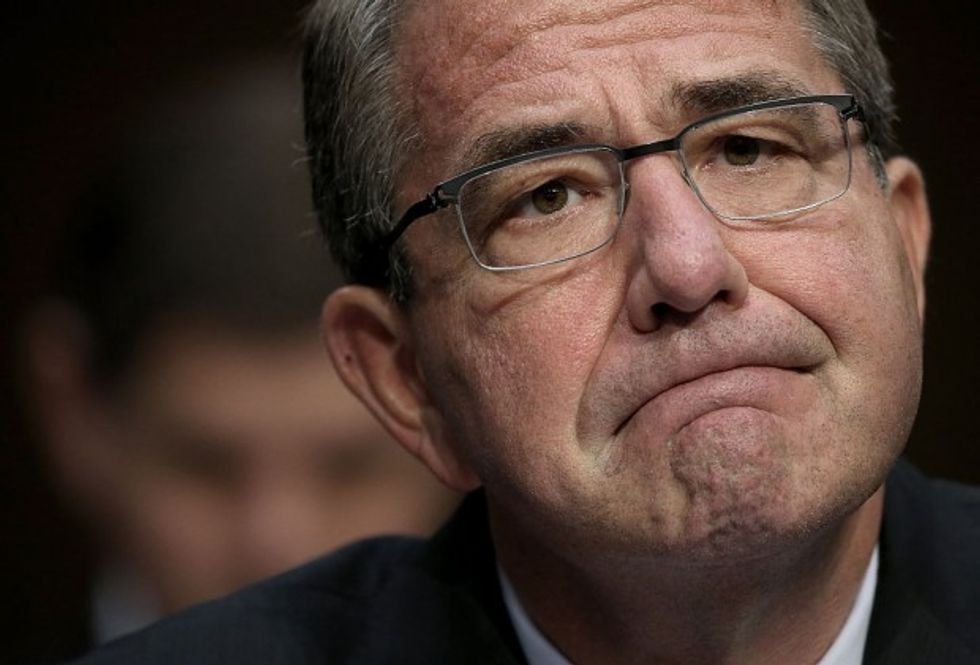 U.S. Defense Secretary Ashton Carter (Win McNamee/Getty Images)
"All of this work was completed without the burdens of which the department now complains," Gowdy wrote.
Jennifer Werner, a spokeswoman for the Benghazi committee's Democrats, said Hedger's letter makes clear that the department is "tired of getting jerked around" while trying to fulfill its primary mission of national defense.
"Select committee Republicans should stop blaming everyone else for their own failings and put an end to this wasteful charade of an investigation," she said.
Carousel image via Getty