The wife of a prominent Turkish journalist ran at a gunman who fired at her husband, likely saving his life in a dramatic incident captured by the many cameras staked out at a high profile media trial in Istanbul on Friday.
Dilek Dundar, the wife of newspaper editor Can Dundar, with the help of another man overpowered the assailant after he fired two shots and shouted "traitor."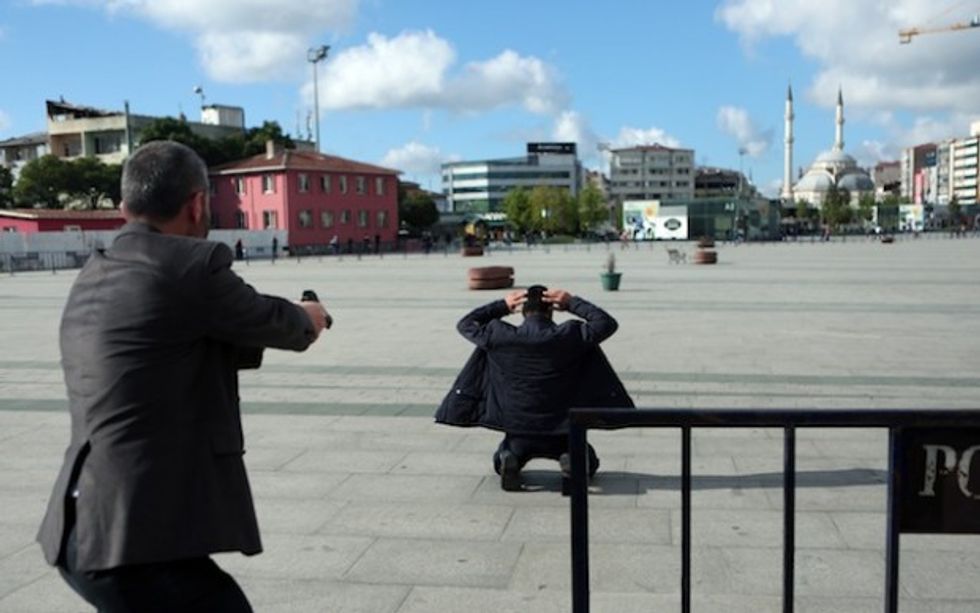 A plainclothes police officer orders the overpowered gunman to lay down just after an attack on Turkish journalist Can Dundar outside city's main courthouse in Istanbul, Friday, May 6, 2016. (Can Erok, Cumhuriyet via AP)
In video posted online, Mrs. Dundar appeared to be the first to run at the gunman, grabbing his collar and trying to take the gun out of his hand before another bystander grabbed the assailant around the neck from behind.
Reports on the identify of the man who helped Dundar conflicted, with the Associated Press identifying him as Dundar's lawyer and Hurriyet referring to him as an opposition politician.
"I advanced towards him [the assailant] when I saw the gun. At that moment he shouted, 'You are a traitor,' and fired two shots. Meanwhile, they took Can somewhere else," Dundar, whose husband is editor-in-chief of the secular opposition Cumhuriyet newspaper, said.
Photographers staked out at the courthouse also captured the drama: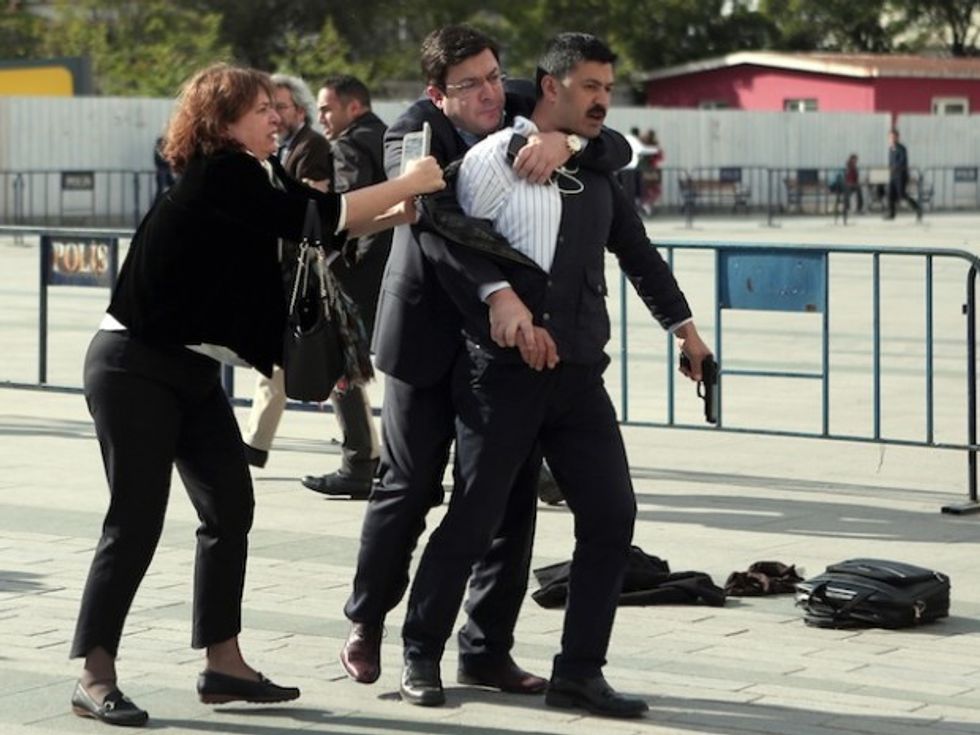 Dilek Dundar, journalist Can Dundar's wife, and his lawyer, 2nd left, overpower a gunman just after the attack on Can Dundar outside city's main courthouse in Istanbul, Friday, May 6, 2016. A man shouted "traitor" and fired two shots prominent Turkish journalist Can Dundar outside a courthouse where he is on trial accused of revealing state secrets for his reports on alleged government arms smuggling to Syria. Can Dundar, editor-in-chief of opposition Cumhuriyet newspaper, escaped the attack unhurt, but Yavuz Senkal, a journalist working for private NTV television was slightly injured in the leg. (Can Erok, Cumhuriyet via AP)
Dundar was not harmed in the attack but hours later was sentenced by the Istanbul court to more than five years in jail for revealing state secrets.
Reuters reported that a journalist covering the trial was injured in the shooting.
Dundar and a fellow journalist were on trial for publishing footage in 2014 purporting to show Turkish intelligence agency trucks carrying weapons to Syria.
The shooting occurred outside the courthouse while Dundar was awating the verdict.
Turkish police detained the gunman at the scene and two suspected accomplices a day after the shooting.
Reuters noted that Turkish President Tayyip Erdogan had acknowledged that the trucks reported on in 2014 belonged to the National Intelligence Organization and asserted that they were transporting aid to Turkmen fighting against Syrian President Bashar al-Assad's forces and the Islamic State terror group.
Watch: