Should Republican Donald Trump become the next U.S. president, New Jersey Gov. Chris Christie will be the man tasked with making sure the billionaire businessman has a smooth transition to the White House.
Trump's campaign announced Monday that Christie — himself a former GOP presidential contender who endorsed Trump once he dropped out of the race — will serve as Trump's transition team chairman. In his new capacity, Christie will oversee "an extensive team of professionals preparing to take over the White House, and all that entails, in the fall."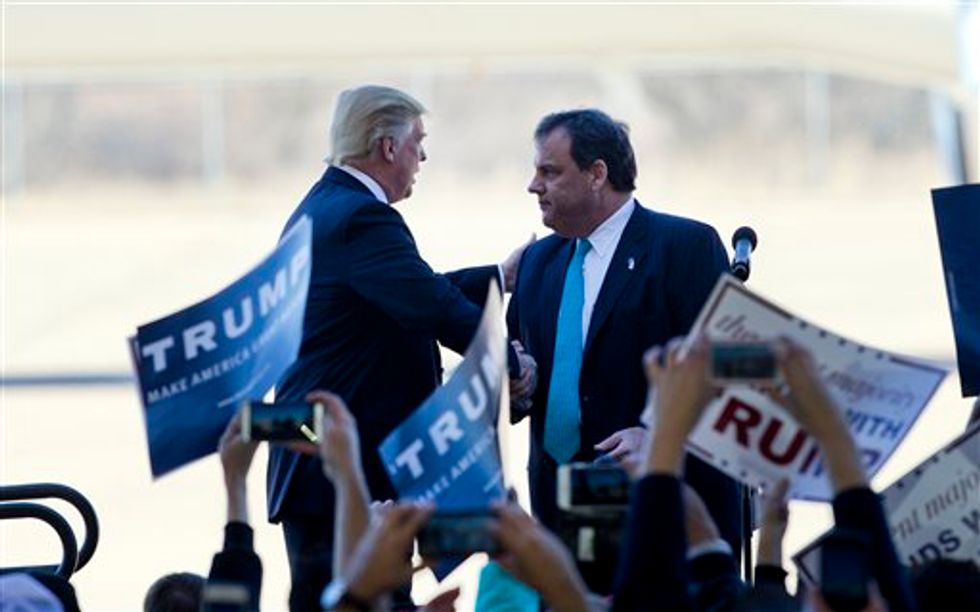 Republican presidential candidate Donald Trump talks to New Jersey Gov. Chris Christie during a rally. (AP Photo/John Bazemore)
"Governor Christie is an extremely knowledgeable and loyal person with the tools and resources to put together an unparalleled Transition Team, one that will be prepared to take over the White House when we win in November," Trump said in a statement. "I am grateful to Governor Christie for his contributions to this movement."
Christie has appeared multiple times on the campaign trail for Trump, the presumptive Republican nominee. And it seems as though his efforts have not gone unnoticed.
Besides awarding Christie with his new job on his campaign, Trump also charged supporters $200 to attend a May 10 rally in New Jersey with the proceeds going to Christie to help pay off his campaign debts.
"I am honored by the confidence being placed in me by Mr. Trump and look forward to putting together a first-rate team to assemble an administration to help best serve the president-elect and the nation," Christie said Monday.
Trump's campaign also announced that he has started to shift toward a general election strategy as he's become the presumptive nominee after a big win in Indiana last week that resulted in the suspension of the campaigns for Ohio Gov. John Kasich and Texas Sen. Ted Cruz — who were the only two remaining GOP challengers to Trump.
—
Follow Kaitlyn Schallhorn (@K_Schallhorn) on Twitter