Presumptive Republican nominee Donald Trump is so unpopular, voters prefer head lice, root canals and the frequently-mocked rock band Nickelback to the billionaire businessman.
According to the Public Policy Polling research released Tuesday, voters have a "higher opinion" of root canals by a 49 to 38 percent margin, lice by 54 to 28 percent margin and Nickelback by 39 to 34 percent margin.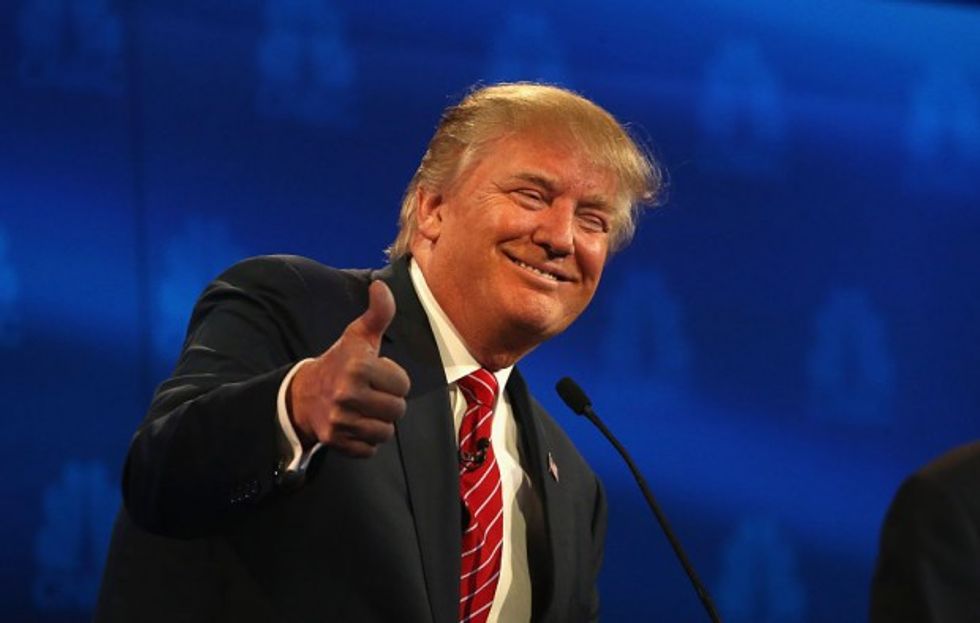 Photo by Justin Sullivan/Getty Images
The poll, which surveyed 1,222 registered voters from May 6 to 9, also found that Americans prefer jury duty, traffic jams, the Department of Motor Vehicles, hipsters and used car salesmen to Trump.
In addition, only 34 percent of respondents had a favorable opinion of the New York real estate mogul, while 61 percent said they have an unfavorable view of him. And 49 percent of millennial voters, aged 18 to 29, said they "would consider leaving the country" if Trump wins the presidency in November.
But the polling wasn't all bad news for Trump.
Voters dislike cockroaches more than the presumptive GOP nominee by a 42 to 46 percent margin and hemorrhoids by a 39 to 45 percent margin.
Asked who they would vote for between Trump and Democratic front-runner Hillary Clinton in the general election, 47 percent said they would vote for the former secretary of state, compared to 41 percent who said they would pull the lever for Trump. Democratic candidate Bernie Sanders won out over Trump by an even larger margin: 50 percent to 39 percent.
Interestingly, the poll also revealed that 7 percent of voters believe Trump's bizarre accusation last week that former GOP rival Ted Cruz's father was involved in President John F. Kennedy's assassination, while 55 percent said it was untrue and 38 percent said they were unsure.
"For the most part we've found that Donald Trump's supporters lap up every conspiracy theory he pushes out there," Public Policy Polling president Dean Debnam said of the results. "But the Ted Cruz's dad was involved in killing JFK one appears to be a bridge too far even for them."
Other "conspiracies" Trump supporters believe include the assertion that President Barack Obama is Muslim (65 percent), that the commander in chief wasn't born in the U.S. (59 percent), that vaccinations cause autism (27 percent) and that late Supreme Court Justice Antonin Scalia was murdered (24 percent).
—
Follow the author of this story on Twitter: