Texas' lieutenant governor is going after a local superintendent for his adoption of "transgender student guidelines" that offer support to young people in the midst of gender transitions, calling for parents to speak out and remove the school official from his post.
"After less than a year as superintendent, Dr. [Kent Paredes] Scribner has lost his focus and thereby his ability to lead the Fort Worth ISD," Texas Lt. Gov. Dan Patrick said in a statement. "He has placed his own personal political agenda ahead of the more than 86,000 students attending 146 schools in the district by unilaterally adopting 'Transgender Student Guidelines.'"
Patrick alleged that these changes were put into effect without Scribner consulting with parents, board members, principals and other local leaderss, saying that the "unilateral action" shows that the superintendent lacks the "fitness to hold his position."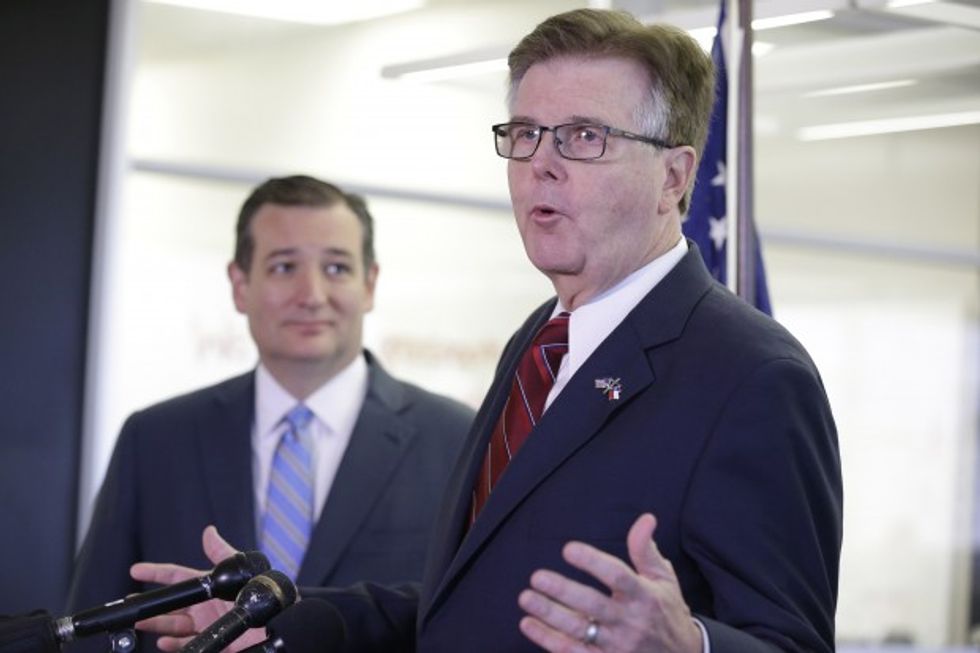 Texas Lt. Gov. Dan Patrick, right, introduces former Republican presidential candidate Ted Cruz at a press conference Monday, Oct. 26, 2015, in Houston. (AP Photo/Pat Sullivan)
According to NPR, the guidelines, which were announced on April 26, call on district personnel to support and acknowledge students' gender identity, while also having ramifications for locker rooms and restrooms; the regulations call for students to have access to "the gender identity that each student consistently and uniformly asserts."
"The district requires all personnel to achknowledge the gender identity that each student consistently and uniformly asserts," the rules read, stating that the requested names and pronouns must also be used. "School personnel must not question any student's sincerely held belief regarding his or her gender identity once established and known."
Patrick went on to say in his rebuke that the state has an "affirmative responsibility to provide a safe environment in the schools where attendance is compulsory," going on to call on parents to take action.

A section of the new transgender guidelines
"I call upon the parents within the Fort Worth ISD to take immediate steps to repeal this stealthy scheme and remove Dr. Scribner from his post," Patrick said, with the statement concluding by inviting parents to a Tuesday evening school board meeting to discuss the issue.
In a message posted to his Facebook page on Monday that offered a link to his public statement on the matter, Patrick called Scribner's move "one of the most outrageous actions by any school superintendent in Texas history."
Scribner's new guidelines were reportedly put through without a vote — something that has riled critics. Read the guidelines here.
--
Follow the author of this story on Twitter and Facebook and check out his new book "The Armageddon Code: One Journalist's Quest for End-Times Answers":