On his radio show Wednesday, Rush Limbaugh played a clip of presumptive Republican presidential nominee Donald Trump praising then-Secretary of State Hillary Clinton in 2012.
"I'm gonna play this for you, and I'm curious to know how Trump supporters react to this," Limbaugh said. "Because this is gonna be in an ad, too. This may end up being an ad. It may be chopped up and edited into an ad, but it's gonna be an ad. It's Trump from 2012. This is just, what, four years ago?"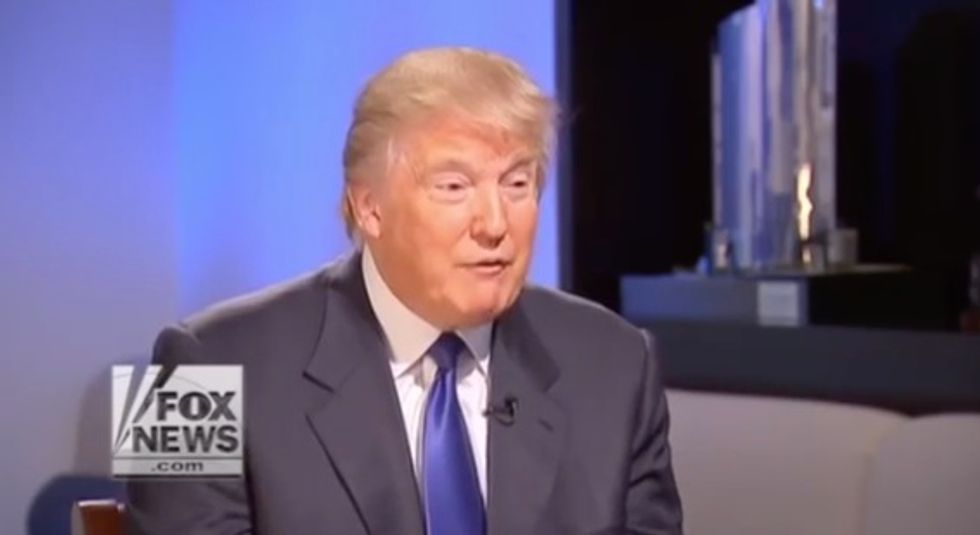 Image source: YouTube
In the interview with Fox News' Greta Van Susteren, Trump called Clinton a "terrific woman."
"I mean, I'm a little biased because I've known her for years," Trump continued. "I live in New York. She lives in New York. And I've known her and her husband for years, and I really like 'em both a lot, and I think she really works hard. And I think she, again, she's given an agenda that's not all of her, but I think she really works hard, and I think she does a good job."
"I just like her," Trump added. "I like her, and I like her husband. Her husband made a speech on Monday at Mar-a-Lago, and it was very well received."
Trump said in the clip that former President Bill Clinton is "a really good guy" and that Hillary Clinton is a "really good person and woman."
"So what's your reaction there?" Limbaugh said, laughing.
The conservative talker speculated that the "official response" from the Trump campaign will be to present Trump's remarks as a "keep your friends close, your enemies closer," approach, which he called "an interesting spin."
"I also know that the #NeverTrump-ers are gonna be livid," he added.
Limbaugh said that he played the clip "on purpose" because he "wanted to gauge reaction to it."
"I wanted to see what Trump supporters would say about it, whether I could find any Trump supporter worried or shocked or surprised or betrayed," he said.
After gauging the responses he received, Limbaugh concluded, "The Trumpists are not concerned."
"I was looking, perhaps, for any and all of that — and so far: zip, zero, nada," he said. "The reaction continues to come in, and it's either explain-it-away type reaction or supportive. ... One way or another, Trump supporters are finding a way to not be upset by that and actually turn that into a positive."
Limbaugh said that Trump supporters defended the presumptive nominee's remarks as "open-minded" or "substantive."
"I'm basically inviting people to be critical now, but there hasn't been any," he concluded. "It's all positive."