"Disgusting!" "Revolting!" "This is full on porno!" Those are just a few of the outraged reactions to a photo that was shared on Calvin Klein's official Instagram page on Tuesday, with the fashion company drawing the ire of countless critics.
The racy picture, which features 22-year-old Danish actress Klara Kristen, depicts a shot up the model's dress, showing her underwear — an image that has shocked and angered some of the company's followers on social media
"I think this might be the most disgusting and misogynistic advert I've ever come across," wrote Instagram user _sibergh_. "Those in charge of this should be utterly ashamed."
User day_mynez added, "This is full on porno! Disgusting."
See some of the comments below (strong language):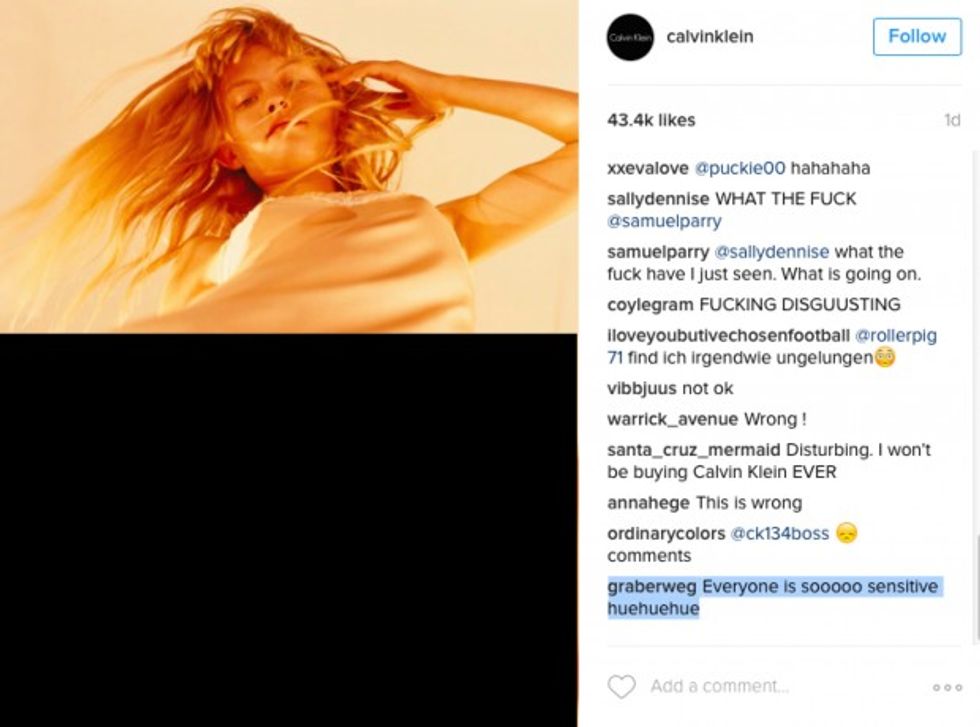 A screen shot from the Calvin Klein ad in question
Negative comments on the photo, which is intended to help advertise Calvin Klein's spring 2016 line, were plentiful, with some so shocked that they turned to expletives to highlight their total discontent.
Here are just a few of the additional descriptors that were used: "disturbing," "wrong," "creepy" and "porny," among others.
A few critics added that they felt as though Calvin Klein had made the 22-year-old model look younger, a claim that led some to start throwing around the word "pedophilia."
"This is disgusting , this is not art this is promoting pedophilia," Vroman1962 wrote.
Not everyone was so offended, though, with at least one individual wondering whether people were being too sensitive; others simply cracked jokes about the photograph in question.
What do you think? Let us know below.
(H/T: Daily Mail)
--
Follow the author of this story on Twitter and Facebook and check out his new book "The Armageddon Code: One Journalist's Quest for End-Times Answers":