Rep. Debbie Wasserman Schultz (D-Fla.) on Wednesday refused to answer whether she will debate her Democratic opponent for her congressional seat before the August primary in Florida.
Wasserman Schultz, who also serves as chairman of the Democratic National Committee, was asked point blank by MSNBC's Steve Kornacki if she would debate her challenger but did everything she could to dodge the question.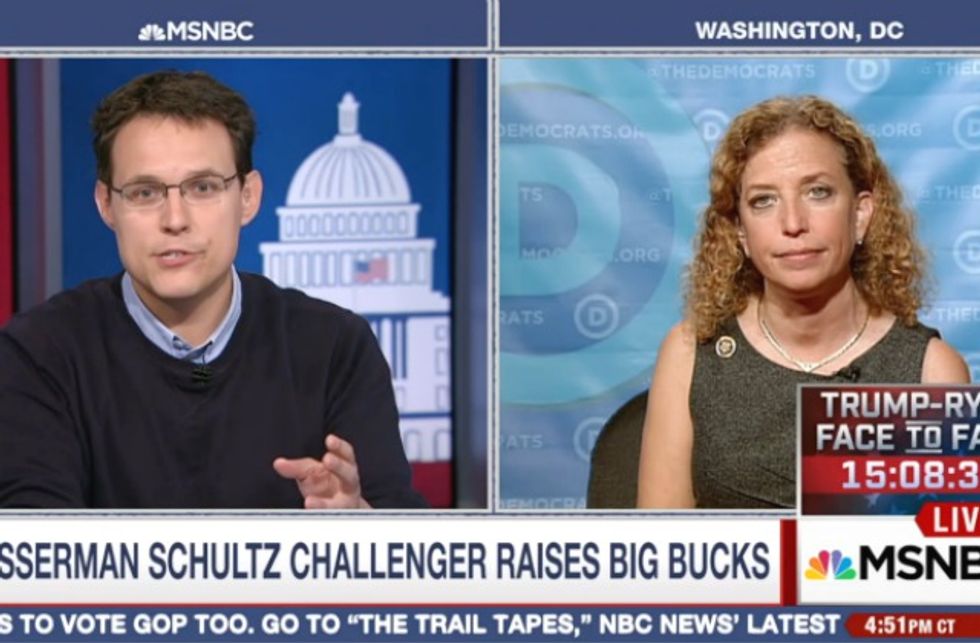 Image source: YouTube
"I'm here speak to you as the DNC chair," Wasserman Schultz responded, "I'm happy to talk to you about the presidential campaign."
When pressed further on her own congressional race, she said, "I've answered your questions."
Kornacki followed up, "Hold on now, you're a candidate for re-election. I think it's a legitimate question."
But Wasserman Schultz was having none of it. "Again, Steve, I'm going to focus on representing my constituents to the best of my ability, doing the good job that I've been able to do representing them for the last 24 years," she replied, "and making sure that when I run for reelection they know the work that I've been able to do in earning their support once again. And making sure, as DNC Chair, I help do everything we can to elect Democratic president. Those are my two responsibilities."
– 
(H/T: Mediaite)
–
Follow the author of this story on Twitter and Facebook: