Rafael Cruz, father of former presidential hopeful Texas Sen. Ted Cruz, will head to Cleveland this summer to cast a vote for his son in the GOP convention.
The Cuban preacher will be one of the 155 Texas delegates at July's Republican National Convention.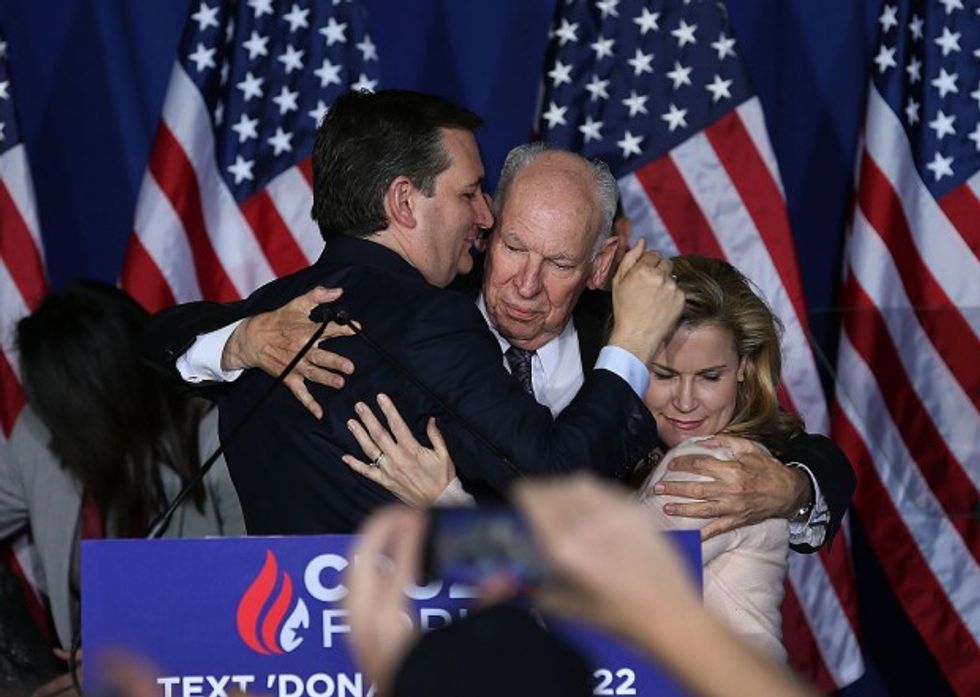 Republican presidential candidate, Sen. Ted Cruz (R-TX) hugs his father, Rafael Cruz and wife Heidi Cruz after announcing the suspension of his campaign during an election night watch party at the Crowne Plaza Downtown Union Station on May 3, 2016 in Indianapolis, Indiana. Cruz lost the Indiana primary to Republican rival Donald Trump. (Photo by Joe Raedle/Getty Images)
"He is a delegate," Butch Davis, chairman of the party's National Nominations Committee, told the Dallas Morning News.
Cruz is on the list of at-large delegates voted on by the National Nominations Committee, which selects at-large delegates who are routinely approved by Texas Republicans at the state's GOP convention, which takes place this weekend.
The elder Cruz remained steadfast to the National Nominations Committee on his intention to support his son at the Cleveland convention this summer.
Of the at-large pool, the Texas senator won 24, while presumptive GOP nominee Donald Trump secured only 17. Each of Texas' 36 congressional districts also chooses and assigns three delegates to the candidates. Cruz will lead with the most delegates, followed by Trump, then Florida Sen. Marco Rubio.
This comes a few days after sources close to the Cruz campaign suggested the former presidential candidate's top supporters would be working hard this weekend to challenge Trump in Texas and several other states also holding conventions this weekend.
The Republican National Convention will take place from July 18-21.
—
Follow the author of this story on Twitter: