Clinton and Sanders supporters were gathered under one roof Saturday for the Nevada Democratic convention in Las Vegas. But as voices rose and tempers flared, it quickly became clear to all attending that the party was anything but united.
According to the Las Vegas Sun, Bernie Sanders supporters were angry over a voice vote that employed a set of temporary convention rules as the permanent rules. They were also outraged by the count of delegates attending the convention, which they believed positioned Democratic front-runner Hillary Clinton at an advantage.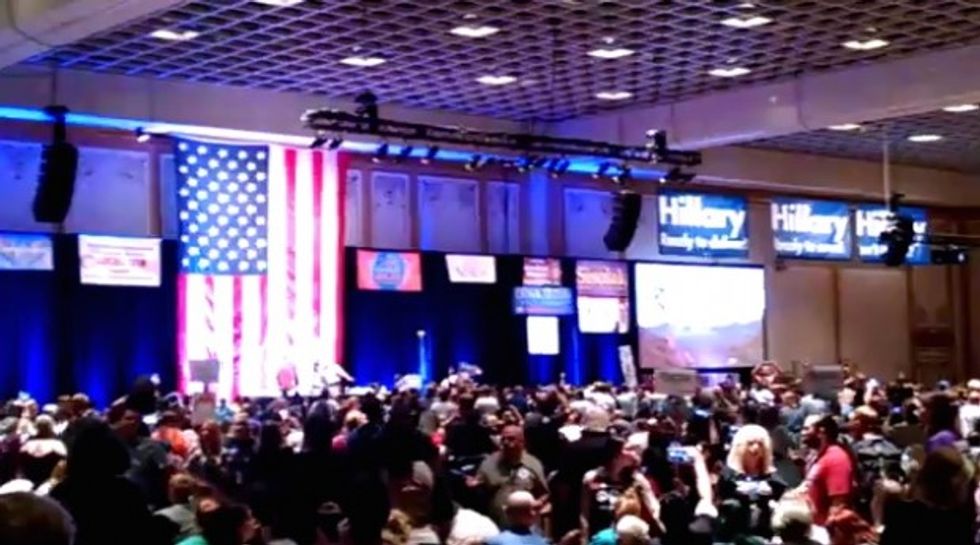 Image source: YouTube
The proportion of Clinton-to-Sanders supporters in attendance ended up being 1,695 to 1,662.
Though Sanders won an unexpected delegate victory in last month's county conventions, Clinton, who won the Nevada state primary back in February, enjoyed another win Saturday.
Sanders supporters in attendance Saturday demanded a recount, claiming that a number of their delegates were not represented at the convention.
@SenSanders Demanding a recount! NV convention getting ugly https://t.co/24Fg0t8V0Z

— Justice Seeker (@Justice Seeker) 1463246574.0
Political outcomes aside, Saturday's convention was anything but a success for either party, according to attendees. Many convention goers filmed the chaos as police officers patrolled the ballroom of the Paris Hotel and threatened arrests.
An attendee named Anie H. posted a YouTube video of event as a voiced blared over the loud speaker, asking people to leave the hotel or risk arrest.
"They are literally going to force us to leave the room," Anie said as Las Vegas Metropolitan police entered from the back of the ballroom and moved to the front.
In the video, people can be seen yelling and waving their fists and signs in the air.
"This is getting creepy and weird and … wow," she said. "So much for unity," she said, as a man can be heard yelling, "Sit down!"
Another video shows a man lying on the floor near the front of the ballroom.
"Stay back," a person yelled.
"We need a medic in the front! We need a medic in the front!" a woman shouted.
Anie H. posted another clip, which appears to have been taken on a cell phone.
"They're threatening us with arrest if we do not leave the convention site right now," she says.
"Bernie or bust!" a man shouted over the loud speaker.
"Everybody please leave out of here peacefully," a man announced to attendees. "And I promise you, we will pursue any and all remedies available under the law. Please leave!"
Some listened and filed out of the room, while others just walked around.
"Shame on you Nevada Republican — oops — Democratic party," Anie said.
One attendee tweeted a photo showing the police lining the front of the ballroom, referring to the officers as "brown shirts."
@rlange9 Run away and let the brown shirts handle it. This is not how American democracy works! #nvdemconvention https://t.co/gxphWOomF6

— #ForThePeople (@#ForThePeople) 1463293419.0
The Sun reported that there was "palpable tension" among convention goers Saturday.
"I think this was of course the fault of the party," Sanders supporter Angie Morelli told the paper. "We would've been able to do more democratic things, but the way they decided to do it messed us up."