Presumptive Republican nominee Donald Trump continued his ongoing spat with London's newly elected mayor, Sadiq Khan, Monday as he brushed off the British official's recent criticisms and challenged him to an I.Q. test.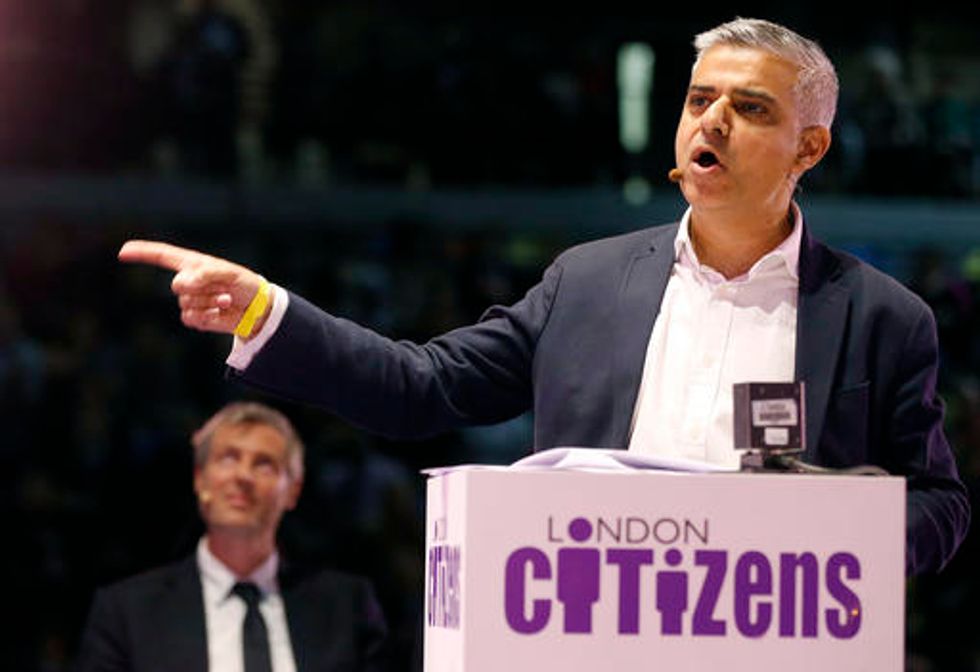 Sadiq Khan, London's newly elected mayor, speaks at an election event in London April 28. (AP Photo/Frank Augstein)
Khan, the first Muslim to hold the office, has been outspoken with his distaste for the the GOP candidate's call for a moratorium on Muslims entering the U.S. — even though Trump has said he would make an exception for the mayor. Khan has contended that Trump's view of Islam is "ignorant."
During a Monday interview with Piers Morgan on ITV's "Good Morning Britain," Trump admitted that he is offended by Khan's comments and challenged him to "take an I.Q. test."
"I think they're very rude statements, and frankly, tell him I will remember those statements — they're very nasty statements," Trump said.
"When he won, I wished him well. Now I don't care about him. I mean, it doesn't make any difference to me about him," the Manhattan businessman added. "Let's see how he does; let's see if he's a good mayor."
Later in the interview, Trump argued that, because "Britain's been a great ally," the country would not automatically move to the "back of the queue" in trade deals with the U.S. during a Trump administration if the country chose to withdraw from the European Union. The Republican was referring to a warning President Barack Obama issued in April that, should British voters choose to leave the EU, the U.S. would not immediately broker bilateral trade deals with the U.K.:
Our focus is negotiating with a the big block to get a trade agreement done. 
U.K. is going to be in the back of the queue. Not because we don't have a special relationship but because given the heavy lift on any trade agreement, the U.S. wants to have access to a big market, with a lot of countries rather than trying to do piecemeal trade agreements.
"With me, [the country will] always be treated fantastically," Trump said. "I don't want to say front [of the line] or anything else. With me, they'll be treated fairly, but it wouldn't make any difference to me whether they were in the EU or not."
(H/T: CNN)
—
Follow Kaitlyn Schallhorn (@K_Schallhorn) on Twitter