It seems Donald Trump's infamous promise to self-fund his entire presidential campaign is no more.
Both Trump and the Republican National Committee announced Tuesday night that they have entered into joint fundraising agreements. Moving forward, Trump, the party's presumptive nominee, will be allowed to access RNC campaign funds and will assist in raising money for down ballot races.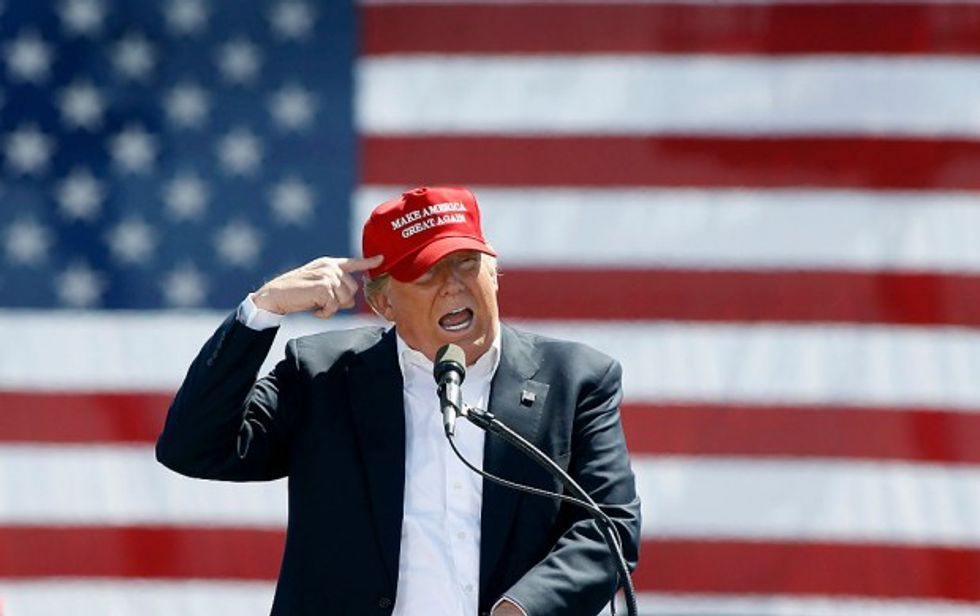 Photo by Ralph Freso/Getty Images
"The RNC is excited to team up with the Trump campaign to expand the robust ground, data, and digital operation we have in place to elect Republicans up and down the ballot," RNC chairman Reince Priebus said in a press release.
Of the agreement, Trump said he is "pleased to have this partnership in place" with the GOP, adding that by "working with the RNC to raise support for Republicans everywhere," he is ensuring Democratic front-runner Hillary Clinton, should she secure her party's nomination, is defeated in November and that Republicans maintain control of the House and Senate.
This is a marked change from his innumerable mentions to the fact that he is the "only candidate who is self-funding" his campaign. In fact, a simple Twitter search reveals it was a prominent refrain in many of his postings to the social network, where he frequently sounds off.
Remember that I am self-funding my campaign. Hillary, Jeb and the rest are spending special interest and lobbyist money.100% CONTROLLED

— Donald J. Trump (@realDonaldTrump) September 5, 2015
Super PACs should be disavowed by anyone running for President. They are a total scam on our system and country! I am self-funding.

— Donald J. Trump (@realDonaldTrump) October 30, 2015
Remember, I am the only candidate who is self-funding. While I am given little credit for this by the voters, I am not bought like others!

— Donald J. Trump (@realDonaldTrump) March 26, 2016
RNC Finance chairman Lew Eisenberg will serve as the finance chair for Trump Victory and will work closely with Trump campaign finance chairman Steven Mnuchin.
The two agreements that Trump and the RNC have entered into will establish two separate fundraising entities. The first, Trump Victory, is a joint fundraising committee between the RNC, Donald J. Trump for President and the state Republican Parties in Arkansas, Connecticut, Louisiana, Mississippi, New Jersey, New York, South Carolina, Tennessee, Virginia, West Virginia, and Wyoming.
The second, The Trump Make America Great Again Committee, will be a joint fundraising committee between the RNC and Donald J. Trump for President.
—
Follow the author of this story on Twitter: