A Connecticut woman claims she was mistaken for a transgender woman in a Walmart bathroom — and now, she's setting the record straight.
In an eight-minute video posted to Facebook last week, Aimee Toms says a woman walked up to her in the women's restroom at one of the retail stores and told her, "You are not supposed to be here! You need to leave!" according to the New York Daily News.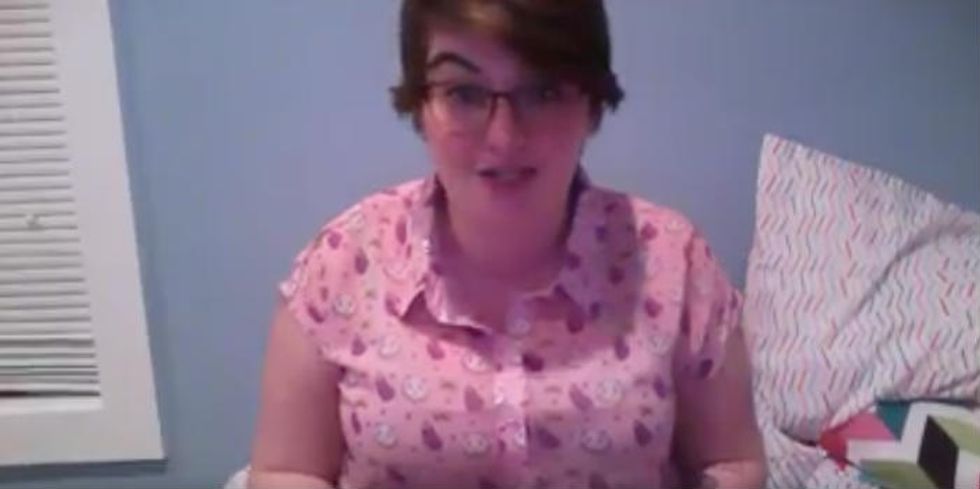 Image source: Facebook
Toms said the incident "really got my gears turning" as to how "amazingly ridiculous" this is becoming as an issue," referring to the recent controversies over whether transgender people should be allowed to use whichever restroom they choose, as opposed to the one that matches their biological sex.
Toms, who has short hair, said she was wearing a baseball cap and a plain blue t-shirt when the incident allegedly occurred. She told the Daily News that she can understand why, at first glance, the woman might have mistook her as transgender.
"But I turned around and I looked at her," she continued. "And at the sake of sounding blunt, I am not a flat chested person. I mean, I have got something going on up here."
Toms went on to voice her opposition to so-called "bathroom laws," like the one recently passed in North Carolina. She referred to such laws as "state-sponsored discrimination."
"If a guy was going to commit a crime in a woman's bathroom, this law isn't going to invite them to do it. They're going to do it anyway," Toms argued.
Toms then compared the issue to how black people wanted to use the same restrooms as whites in the 1960s. "This is nothing different. History repeats itself," she said.
Though upset, Toms did not report the incident, according to the Daily News. Walmart did not immediately respond to TheBlaze when asked about where it stands on the transgender bathroom issue.
One of the retail chain's biggest competitors, Target, recently came out in support of letting transgenders use whichever restroom they prefer.
"We believe that everyone — every team member, every guest, and every community — deserves to be protected from discrimination, and treated equally," Target said in a statement last month. "Consistent with this belief, Target supports the federal Equality Act, which provides protections to LGBT individuals, and opposes action that enables discrimination."
(Content warning: Strong language)
(H/T: New York Daily News)
— 
Follow the author of this story on Twitter and Facebook: