BEIJING (AP) — China's government fabricates and posts several hundred million social media posts a year to influence public opinion about the country, according to a new paper by U.S. researchers examining one of the most opaque aspects of the Communist Party's rule.
The academic study led by Harvard political scientist Gary King claims to be one of the first in-depth looks into the inner workings of China's push to influence public opinion by flooding social media with posts portrayed as if they were coming from ordinary people.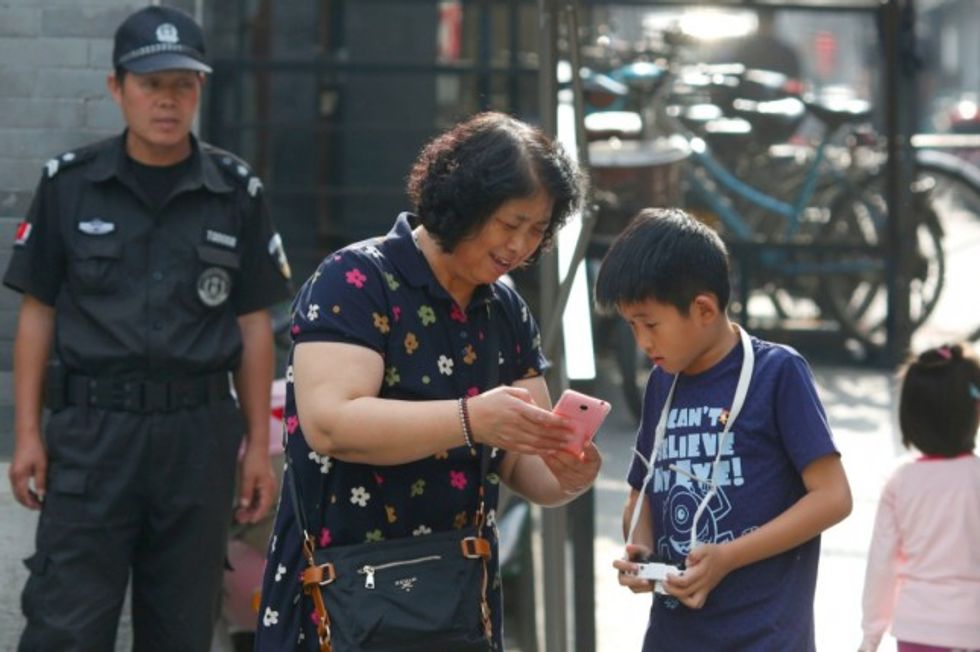 A woman shows a child her mobile device along a street in Beijing Friday, May 20, 2016. (AP Photo/Ng Han Guan)
Aside from possessing highly sophisticated censorship controls to find and delete content outright, China's government has long been known to employ a huge group of internet workers, known colloquially as the "Fifty Cent Party," to influence discourse in subtler ways. The name originates from a popular rumor — never substantiated — that such people are paid 50 cents per pro-government post.
The research project, which took advantage of a trove of government emails, spreadsheets and work reports from a propaganda office in central China leaked online in 2014, concludes that an estimated 488 million fake posts a year "enables the government to actively control opinion without having to censor as much as they might otherwise."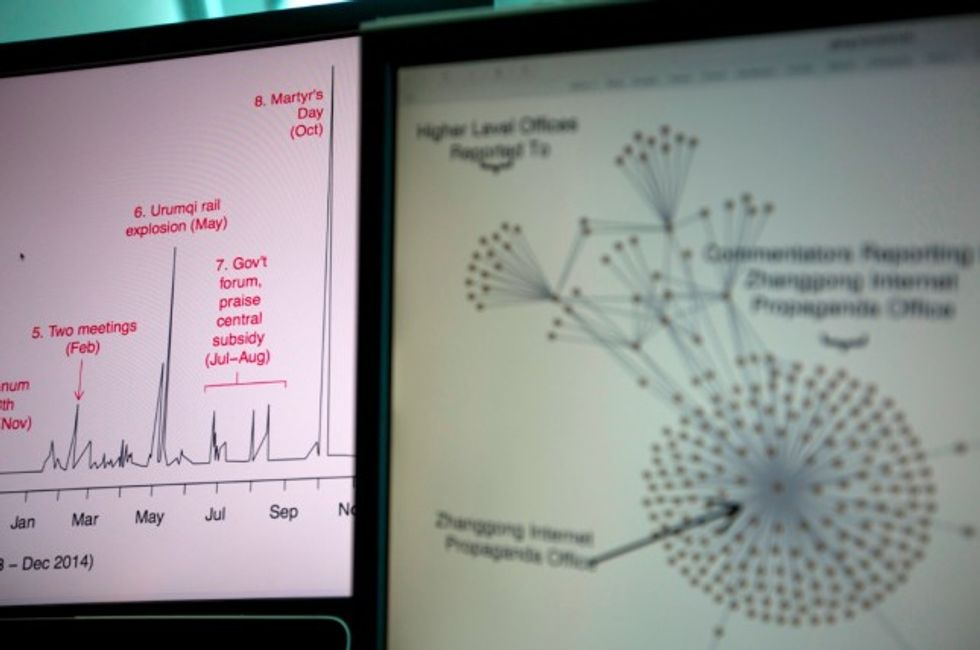 Diagrams from a Harvard academic study showing a time series of social media posts at left and a network structure of leaked email correspondents at right are shown on computer screens in Beijing, China, Friday, May 20, 2016. (AP Photo/Ng Han Guan)
The researchers also reached a slightly surprising conclusion about the goal of the massive operation: to "distract the public" during politically sensitive news events. That counters the widespread perception that Beijing employs internet workers to shout down its critics on online forums.
"They do not step up to defend the government, its leaders, and their policies from criticism, no matter how vitriolic; indeed, they seem to avoid controversial issues entirely," the paper's authors write. "Letting an argument die, or changing the subject, usually works much better than picking an argument and getting someone's back up."
The paper detailed an elaborate methodology used by the research team, which employed its own army of research assistants. After gaining a glimpse into how China's "Fifty Cent" operation organizes itself from leaked documents, the research group created numerous fake accounts of their own to ask large samples of suspected government workers an elaborate set of questions to confirm that the posters were indeed getting guidance from authorities.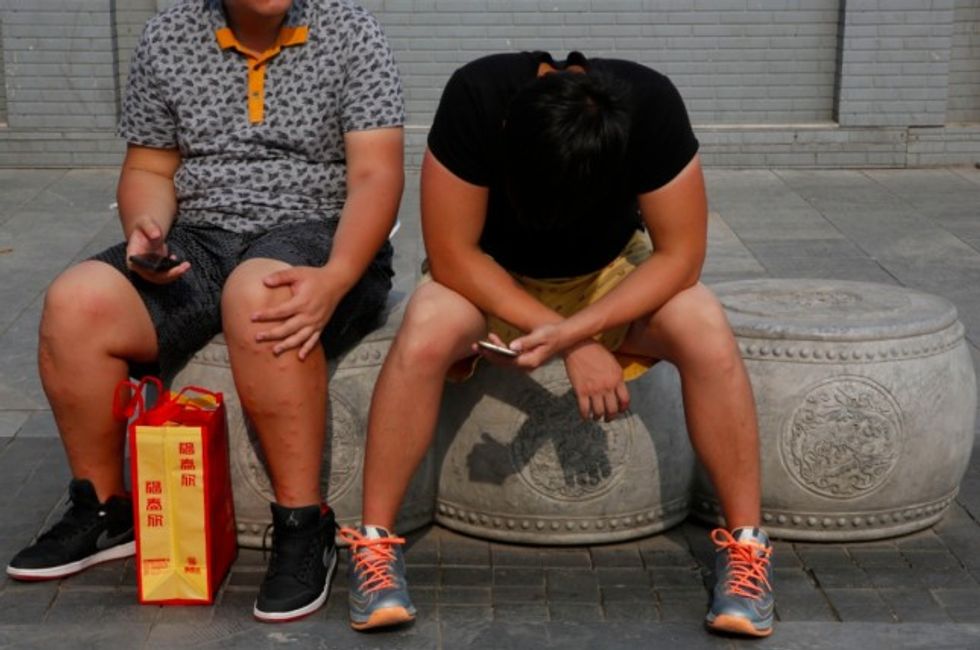 A man uses his mobile phone to look at a social media content in Beijing Friday, May 20, 2016. (AP Photo/Ng Han Guan)
One of the three co-authors, Margaret Roberts from the University of California, San Diego, said in an email that examining leaked documents or interviewing former participants could offer a biased view of the operation, but "large-scale statistical analyses of online data allow us to directly observe and summarize what people within the system are doing."
The trio of political scientists, which also included Stanford University's Jennifer Pan, has been using statistical methods for years to study China's methods of information control, sometimes reaching somewhat unexpected conclusions.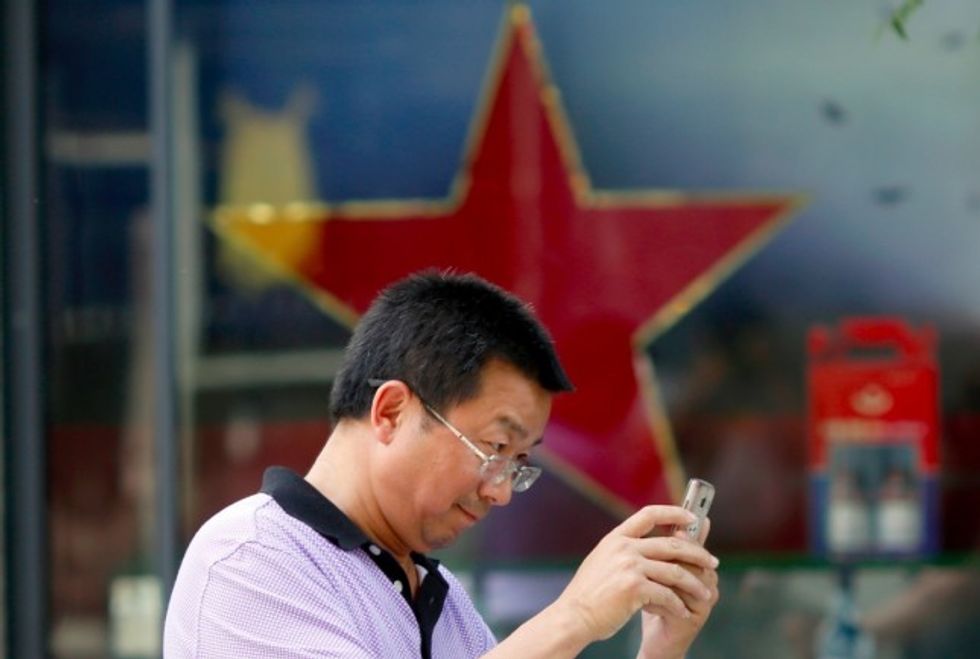 A man uses his mobile phone near a red star along a retail shop in Beijing Friday, May 20, 2016. (AP Photo/Ng Han Guan)
In a 2014 study sifting through social media posts, they found that Chinese censors allowed netizens a significant amount of freedom to vent their frustrations with the government — until any calls for organized action that could lead to street protests appeared. Those were swiftly taken down.