The guys from Dude Perfect have taken their insane basketball tricks to new heights — literally.
Known for their crazy stunts, Cory and Coby Cotton (twins), Cody Jones, Tyler Toney and Garrett Hilbert recently broke the Guinness World Record for "highest basketball shot" from atop the Cotter Ranch Tower in Oklahoma City, which stands 533 feet above the Sooner State.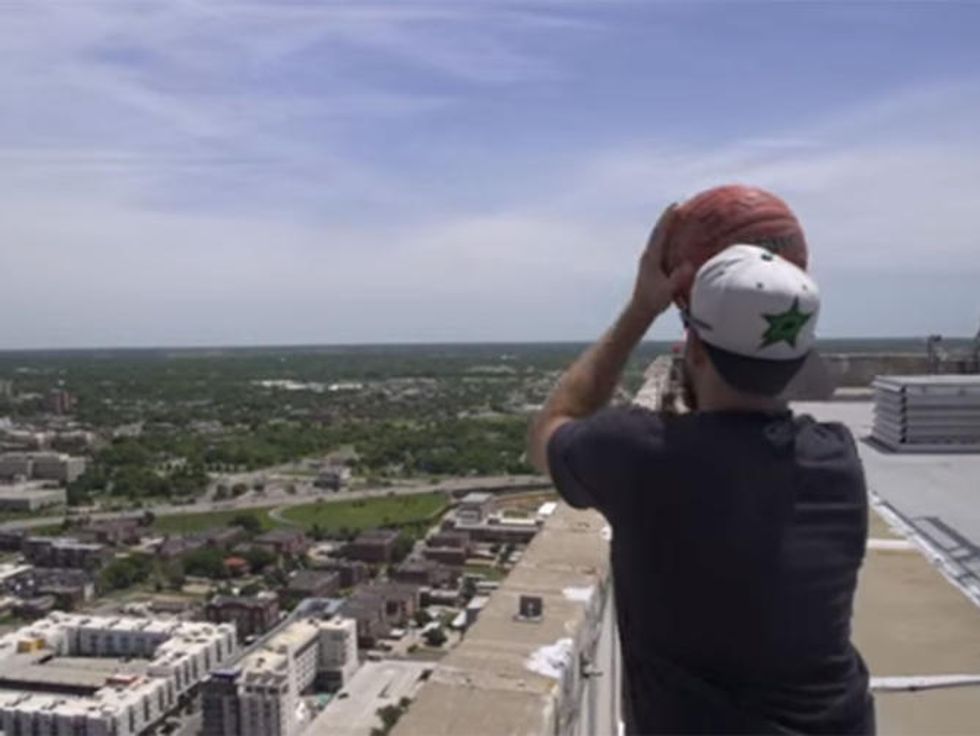 Image source: YouTube
After topping several world records from a gym at Texas Christian University, including "farthest sitting basketball shot" and "farthest behind-the-back shot," the Dude Perfect crew loaded up a basketball backboard in a pickup truck and hit the road for Oklahoma City.
That's where Toney tossed a ball from the roof of the tower, sinking it through the net more than 500 feet below. The previous record was 117 feet.
Here's the full episode. The shot from atop the tower is just before the 6:30 mark:
Dude Perfect is a group of five men based in Dallas who "specialize in the impossible," according to an interview with USA Today. On its website, the group says its ultimate goal is to "glorify Jesus Christ in everything that we do."
Their latest video has been viewed more than six million times on YouTube and more than one million times on Facebook. The group has a massive online following with more than 9 million YouTube subscribers and 17 million Facebook followers.
TheBlaze spoke with Dude Perfect in March 2013. Here's what they were up to back then.
(H/T: CBS Sports)
—
Follow the author of this story on Twitter and Facebook: