Despite the efforts of the so-called Never Trump movement, presumptive Republican nominee Donald Trump just received his highest favorable rating yet, according to Gallup.
In a report released Thursday, the polling house revealed data from a new survey showing two-thirds of Republicans have a favorable view of the Manhattan businessman. Trump's 66 percent favorable rating is up from 59 percent earlier in May in the same poll — and up considerably from his near-50 percent rating in early March.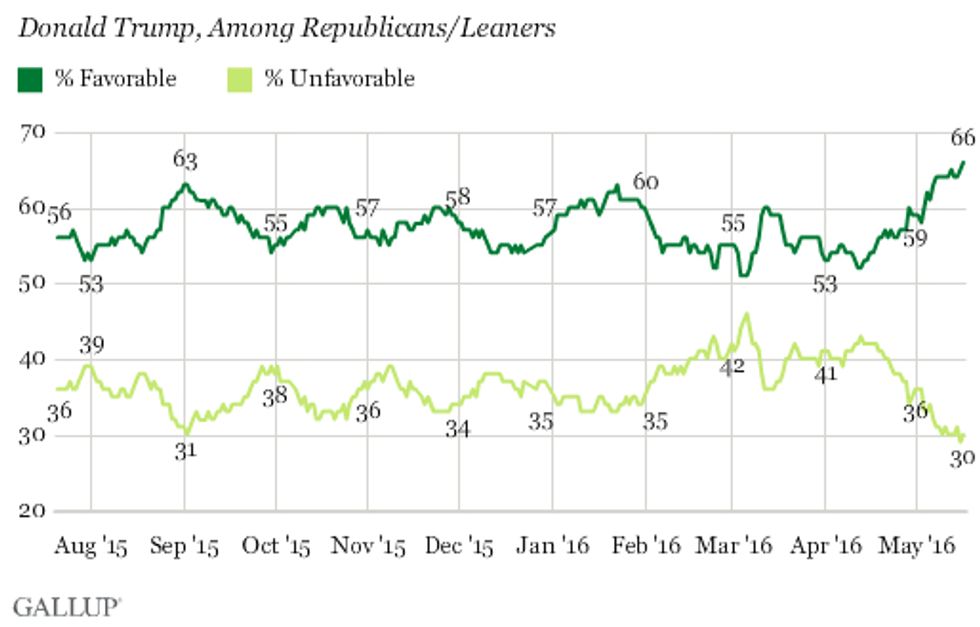 Image source: Gallup.com
Though Trump's improved numbers are good news for his campaign and for the GOP, his favorable rating is far lower and his unfavorable rating (30 percent) is far higher than the respective ratings of the three previous Republican nominees at about this time in their campaigns.
In May 2012, Mitt Romney's favorable rating was at 82 percent and his unfavorable sat at 13 percent. John McCain had similar numbers in May 2008 — 84 percent and 11 percent, respectively.
George W. Bush in early June 2000 had an 87 percent favorable rating among Republicans and a mere 9 percent unfavorable rating.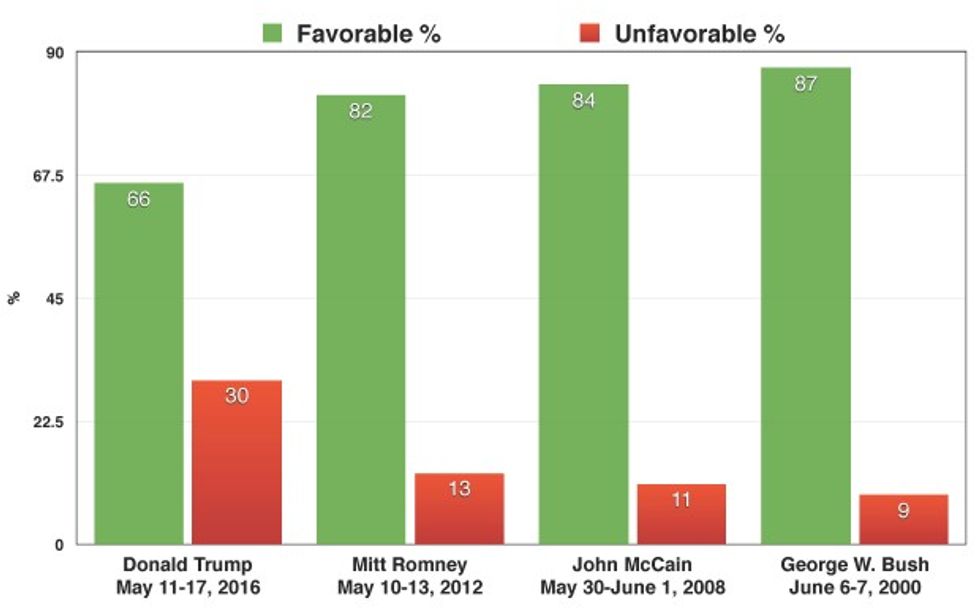 Chris Field/TheBlaze/Based on data provided by Gallup
What might be most disconcerting for GOP officials reading the new report is the result of Gallup's question asking, "Are you generally pleased with the selection of Donald Trump as the Republican nominee, or do you wish someone else was the Republican nominee?"
Fewer than half (48 percent) of Republicans told the polling outfit that they were generally pleased with the nominee, while 50 percent said they wished someone else were running.