The Democratic primaries have been fierce, and the tension only seemed to escalate this past week. In the days following the May 14 Nevada convention, the ongoing allegation posed by Sanders supporters has been the unfair weight given to superdelegates and pro-Clinton bias among party leadership. On the other hand, Clinton's camp have accused their opponent of essentially being a sore loser and inciting violence.
Needless to say, the cast of "Saturday Night Live" this week took advantage of the heightened drama between Bernie Sanders and Hillary.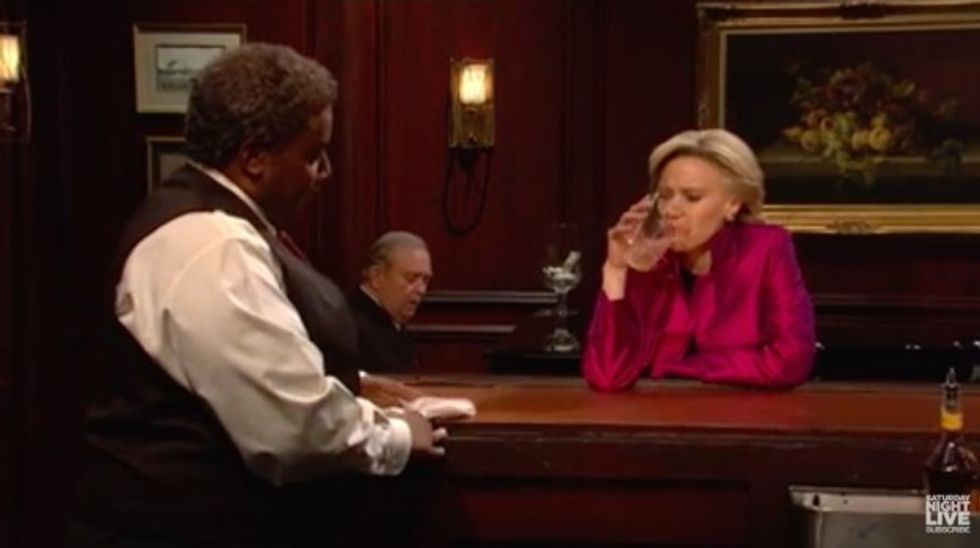 Image source: YouTube
"Well, bartender, I've done it! I've won the nomination! I mean, no I haven't — I keep losing states — but mathematically, I've done it! To math!" Clinton (Kate McKinnon), seated alone at a nearly empty piano bar, exclaims in this week's cold open.
A cheery Clinton then announces that she's heading home for the evening and tells the bartender (Kenan Thompson) not to work too late.
"Oh, I won't Mrs. Clinton. I'm actually closing up the bar right now. So everybody's gotta go — That means you too, sir!" the bartender announces to an agitated older man sulking in a corner chair.
"No freaking way! I'm not going anywhere! I can stay here as long as I want!" Bernie (Larry David) shouts, adding, "No! It's not over! It's not over till I say it's over!"
Clinton's campaign would disagree. When counting superdelegates, the delegate count between the political rivals is 2,293 (Clinton) to 1,533 (Sanders). Given that 2,383 delegates are needed to earn the Democratic nomination, a Sanders victory does seem like a longshot.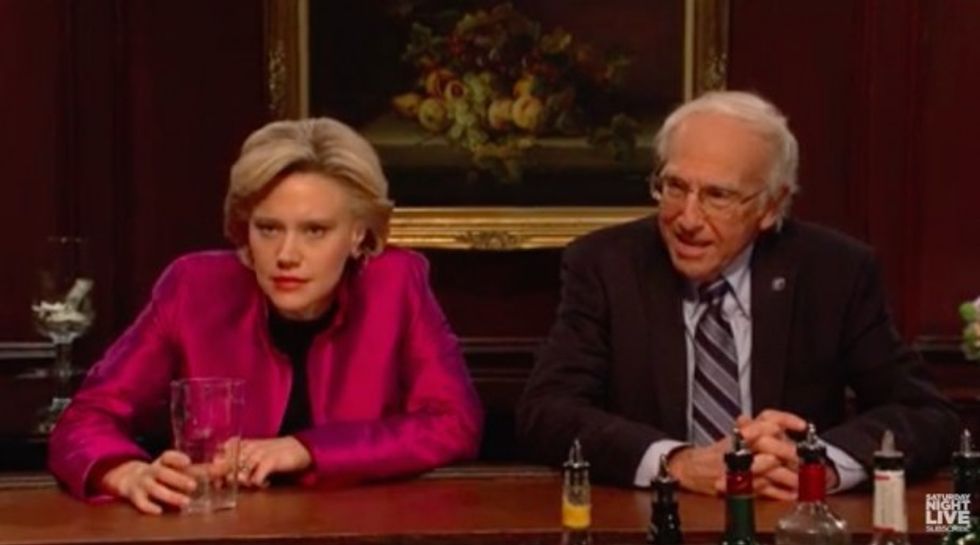 Image source: YouTube
Bernie (David) then joins Hillary (McKinnon) at the bar, where the two civilly insult each other, covering everything from Hillary's distinct taste in suit jackets ("It looks like you were just elected by the Galactic Council!"), to the email scandal (Sanders: "Remember when I told everyone to stop talking about your 'damn emails'? What a shmuck! So stupid!"), to the "special" role Bernie will have in the future Clinton administration: "Don't worry! I promise I'm going to have a very special role for you in my administration. How would you like to be — wait for it — the Senator from Vermont!"
Then, Hillary notes that, with her strong lead, she's "started pivoting towards the general" against the presumptive Republican nominee, Donald Trump. This doesn't sit well with Bernie.
"Ehhhh and I've gotta say, I've, uh, I've noticed the pivot!" he shouts. "Not a fan of the pivot. Way too early for the pivot."
"Oh, and remember all those states like Wyoming where you beat me by a lot and I got most of the delegates?!" Hillary jests, obliviously bringing up what's been a particularly sensitive topic for Bernie.
"It's rigged!" Bernie exclaims.
"It's so rigged!" Hillary admits, laughing.
Then they cheers their beers to DNC head Debbie Wasserman Schultz, who is perhaps the only person Sanders supporters detest more than Clinton, before finishing with an elaborate dance through the 'SNL' audience.
With this week's show being the last 'Saturday Night Live' until the fall season, it will likely be David's last time playing the senator from Vermount. But then again, it's not over until it's over.
Watch: