An Illinois high school is under fire for preventing one of its students from walking at graduation because she wanted to wear her military uniform rather than a cap and gown, according to WMAQ-TV.
Marine Corps Pvt. Megan Howerton completed her high school education several months ago in order to attend boot camp, but she wanted to participate in her alma mater's graduation ceremony with the rest of her class.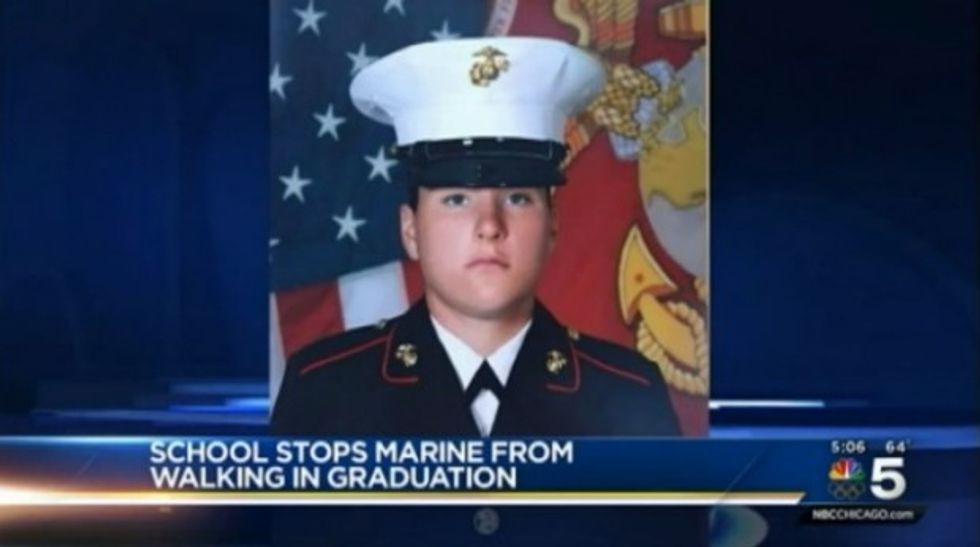 Image source: WMAQ -TV
According to WMAQ, Howerton chose to attend the ceremony in her dress blues, and school officials would not permit her to walk during the ceremony, citing dress code violations. She ultimately sat with the rest of the crowd for the ceremony.
In a statement provided to WMAQ, a spokesperson for McHenry Community High School District 156 lamented that "the attention related to last night's graduation ceremony at McHenry High School West Campus is unfortunate and draws attention away from the collective achievements of the Class of 2016":
The district and administration in no way looked to prevent the participation of this graduate or any graduate who has chosen to serve our nation. Rather, the administration communicated in advance via letter, senior meeting, and practice, all the protocols expected of graduates, including attire. In some past cases, active-duty students elected to wear their gowns over top of their military uniforms, with their military hats, which was allowed. There was no communication to the administration that attire protocols would not be followed prior to the ceremony. The tradition of cap and gown regalia is aimed at the idea that our graduates are celebrated as a whole and in similar attire.
The U.S. Marine Corps Uniform Board does not permit wearing a cap and gown over a uniform "as it is considered similar to outerwear."
Several of Howerton's classmates plan to address their concerns over her exclusion at an upcoming school board meeting.