Former Republican presidential candidate Rick Santorum said Tuesday he is "100 percent" behind presumptive GOP nominee Donald Trump because the Supreme Court is the most important issue of the election.
While attending the funeral of late Supreme Court Justice Antonin Scalia, an icon in conservative circles, earlier this year, Santorum told Fox News host Greta Van Susteren that it became clear to him that "the most important issue right now is to preserve the Constitution."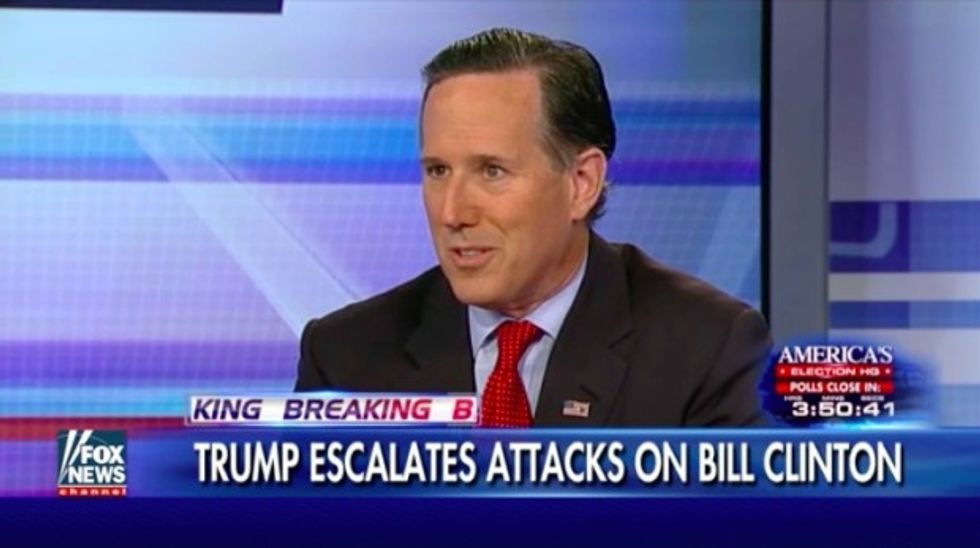 Image source: Fox News screen grab
Should likely Democratic nominee Hillary Clinton win the general election in November, Santorum told Van Susteren that the nomination of five "progressive, ultraliberal" justices would "rewrite the Constitution and the next 25 years of America would be changed."
Santorum added that he approved of the billionaire businessman's Supreme Court picks, which he announced last week.
"They are solid folks," he said. "They will preserve the Constitution, and that is the most important thing we can have in this election."
However, along with Santorum's strong comments in support of Trump, he also told the Fox News anchor that he does not favor the way in which the presumptive Republican nominee is campaigning.
"I don't think you're going to see a lot of good for discourse over the next several months, from either camp," Santorum said of the personal attacks currently plaguing the political cycle.
Of Trump's rhetoric when it comes to the way he's going after Clinton, Santorum said the real estate developer's brash style has "worked very well for him."
"I think maybe Americans want a little unvarnished, and I can't say that I'm crazy about it," he added.
—
Follow the author of this story on Twitter: