House Speaker Paul Ryan plans to endorse presumptive Republican presidential nominee Donald Trump, "senior-level Trump campaign sources" told ABC News.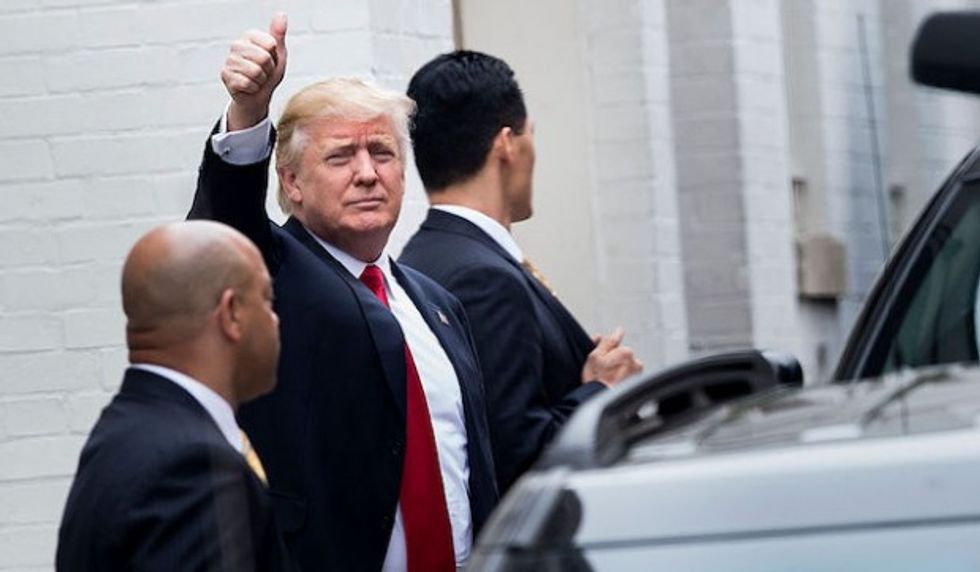 Republican US Presidential candidate Donald Trump arrives for a meeting with Speaker of the House Paul Ryan (R-WI) at the National Republican Congressional Committee May 12, 2016 in Washington, DC. (BRENDAN SMIALOWSKI/AFP/Getty Images)
A Ryan spokesperson, however, told TheBlaze, "There's no update and we've not told the Trump campaign to expect an endorsement."
"He's also not told anyone he regrets anything," the spokesperson added.
It's unclear if or when Ryan plans to announce his endorsement of Trump. Bloomberg has more on the potential endorsement:
Ryan aides say nothing has been decided about a possible Trump endorsement. But Trump's campaign manager, Paul Manafort, told a small group of Republican lawmakers Thursday that he expects Ryan to endorse the party's nominee as early as this week, according to two people in the meeting.

If Ryan were to endorse Trump, the move would end a nearly unprecedented standoff between the House speaker and his party's presumptive presidential nominee, and remove the biggest remaining obstacle to Trump's efforts to unite Republicans around his campaign.
The House speaker created some GOP controversy when he told CNN earlier this month that he simply wasn't ready to support the presumptive nominee.
Trump and Ryan ultimately met in Washington D.C. to discuss their differences. Though both men said the meeting was productive, Ryan still wasn't prepared to support Trump's candidacy after the sit-down.
---