Republican National Committee chief strategist and communications director Sean Spicer used a Fox News appearance to dismiss the potential of a third-party conservative candidate — a hot topic being stoked by Weekly Standard editor Bill Kristol.
Kristol, a prominent leader in the movement to block Donald Trump from becoming president, is floating the idea of a third-party run by National Review staff writer David French, a constitutional lawyer and Operation Iraqi Freedom veteran, calling him an "impressive" potential candidate "with a strong team and a real chance."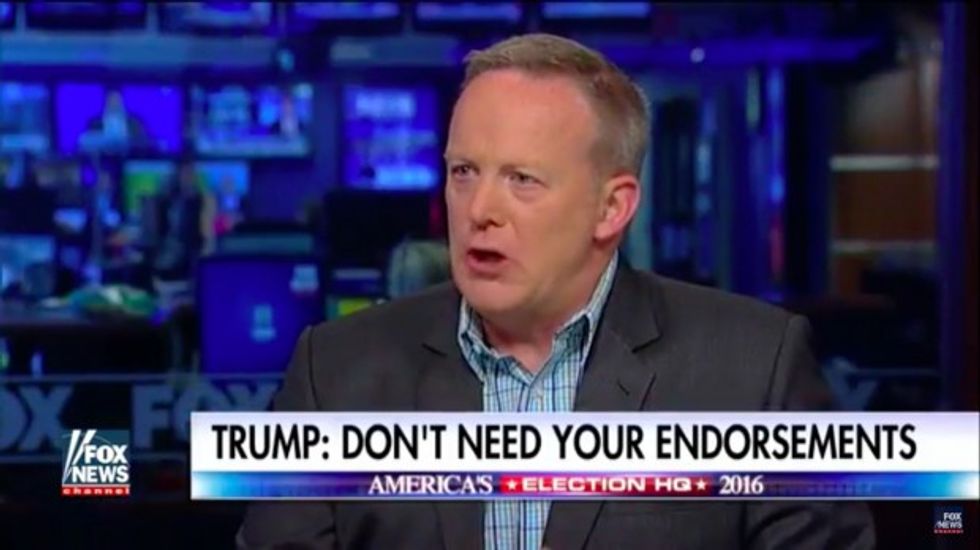 Sean Spicer talks to Fox News (Image source: YouTube/Fox News)
Former Massachusetts Gov. and 2012 GOP standard-bearer Mitt Romney offered tempered praise in a tweet Tuesday night about French, falling just short of an endorsement. He described the vet as an "honorable, intelligent and patriotic person," adding that he looks forward to hearing what French has to say.
I know David French to be an honorable, intelligent and patriotic person. I look forward to following what he has to say.

— Mitt Romney (@Mitt Romney) 1464740912.0
But Spicer was not so quick to offer any support for the potential conservative alternative, telling Fox that anyone challenging Trump would help Hillary Clinton "because there is no path to electability" for a third-party candidate.
"A candidate for president needs three things: a candidate, organization and money. And none of the tweets discuss any of that," Spicer said. "It is purely a tweet discussion. That's all it amounts to because there's no substance there."
—
Follow the author of this story on Twitter: