Filmmaker Michael Bay's "13 Hours: The Secret Soldiers of Benghazi" should be mandatory viewing for Americans planning to vote in the next election. That is, according to Eric Trump, son of presumptive Republican nominee Donald Trump.
Eric Trump and his wife, Lara, spent Memorial Day weekend watching the popular film, which portrays the 2012 attacks on the U.S. consulate in Libya and depicts the way in which an armed forces team responded to the deadly situation.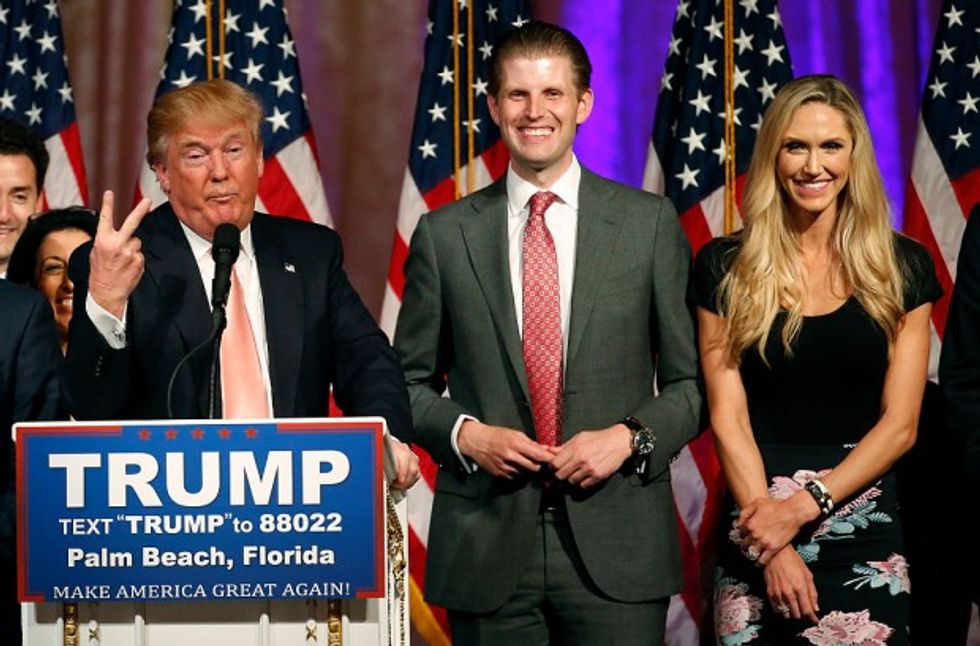 Eric Trump, center, stands with his wife Lara during a campaign event for his father, Donald Trump. (Rhona Wise/AFP/Getty Images)
Trump, responding to attacks Democratic front-runner Hillary Clinton leveled against his father's fitness to be commander in chief, said the flick left him "literally livid," slamming the former secretary of state for her foreign policy that "cost this country trillions of dollars, thousands of lives."
"I think in order to vote in this next election, you should have to watch that movie. I was livid," Trump said on Fox News' "America's Newsroom." "[Clinton] left these guys on a rooftop in the middle of Benghazi getting shot at, having mortars drop on their head because she wouldn't pick up a phone call in the middle of the night."
Eric Trump continued laying into Clinton over her record at the State Department, saying she has done "no job" for veterans and has done a "total disservice" to the country.
"Her policy is totally disastrous," he said. "My father would be an amazing, amazing commander in chief."
–
Follow the author of this story on Twitter: