President Barack Obama did his best to convince a gun owner that it is possible to enact "common sense" firearms laws without infringing on Americans' Second Amendment rights. His remarks came during a PBS-hosted town hall meeting in Elkhart, Indiana, on Wednesday.
Following the "NewsHour" broadcast, Obama took a "few bonus questions" from the audience. Gun shop owner Doug Rhude challenged the president's stance on the Second Amendment.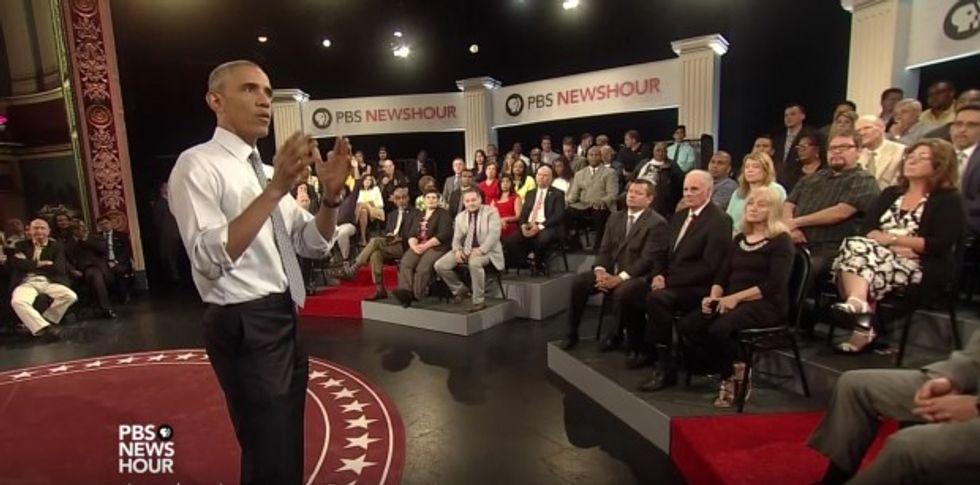 PBS NewsHour
Rhude argued people found guilty in drunken driving accidents are held accountable, but access to cars is not restricted for the "good guys." He then asked Obama why guns should be any different
"Why then do you and Hillary want to control and restrict and limit gun manufacturers, gun owners and responsible use of guns and ammunition to the rest of us, the good guys, instead of holding the bad guys accountable for their actions?" he pressed.
Obama said claims that he and other Democrats are "hellbent" on confiscating Americans' guns just aren't true.
"I just came from a meeting today in the situation room in which I've got people who we know have been on ISIL websites living here in the United States…and we're allowed to put them on the no-fly list when it comes to airlines, but because of the National Rifle Association, I cannot prohibit those people from buying a gun," Obama said.
He continued: "So sir, I just have to say respectfully, there is a way for us to have common sense gun laws. There is a way for us to make sure that lawful, responsible gun owners like yourself are able to use them for sporting, hunting, protecting yourself."
But no progress can be made on the issue if every gun control proposal is viewed as some "tyrannical destruction of the Second Amendment."
Watch the exchange below via PBS:
(H/T: RightScoop)
---