Republican presidential candidate Donald Trump offered a strange answer when questioned about his newly kindled political relationship with House Speaker Paul Ryan.
Days after Ryan officially endorsed Trump, the presumptive GOP nominee spoke to CBS' John Dickerson about their partnership ... sort of.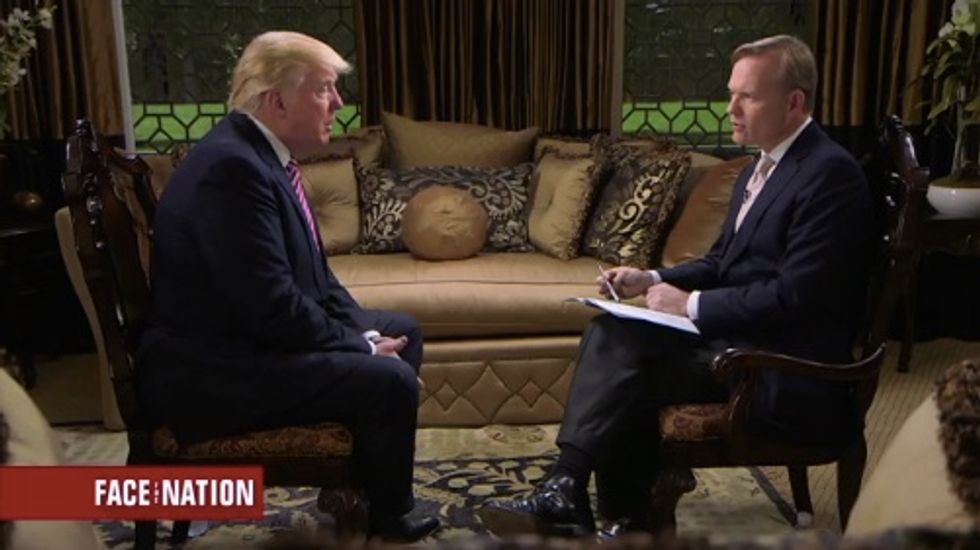 Image via Twitter/"Face the Nation"
"Which of his ideas — the famous Ryan ideas — is most appealing to you?" Dickerson asked Trump during an interview, which aired during Sunday's episode of "Face the Nation."
Trump, who has met with Ryan on multiple occasions, presumably to discuss his campaign policies as the November election draws near, gave a rather vague response.
"He's most appealing. He's a good man. He wants good things for the country," Trump said. "We agree on many things. We're not going to agree on all things, but we're going to agree on many things."
"For instance ... ," Dickerson interjected.
"Well, I think we'll agree on ... ," Trump began, pausing to think. "As an example, he really focuses on poverty. He wants to take people out of poverty. So do I. And we're going to come up with a plan."
Which of Paul Ryan's ideas is most appealing to you? @realdonaldtrump: "He's most appealing."
https://t.co/lgSlmmURAN

— Face The Nation (@FaceTheNation) June 5, 2016
Speaker Ryan offered slightly more detail when discussing his decision to endorse Trump, which he announced publicly Thursday.
Ryan, who praised Trump as someone who will defend Republican values and support conservative legislation, said his decision came after multiple talks with the candidate.
In a column for his hometown paper, the Janesville Gazette, Ryan wrote that he has spoken to Trump "at great length about things such as the proper role of the executive and fundamental principles such as the protection of life" and praised his "encouraging" list of potential Supreme Court nominees that was released after the two met last month.
"Through these conversations, I feel confident he would help us turn the ideas in this agenda into laws to help improve people's lives," Ryan explained. "That's why I'll be voting for him this fall."